INSE S670 Cordless Vacuum Cleaner 25kpa Powerful Suction 6 in 1 Multifunction
Shipping Countries: Only for US
Save $39 and Get Extra 12-Month Warranty
Regular price

$125.99 USD

Regular price

$164.99

Sale price

$125.99 USD
Why should I replace the filter?
Free Shipping over $15
3D Secure Payment System
Prompt Email Support
Share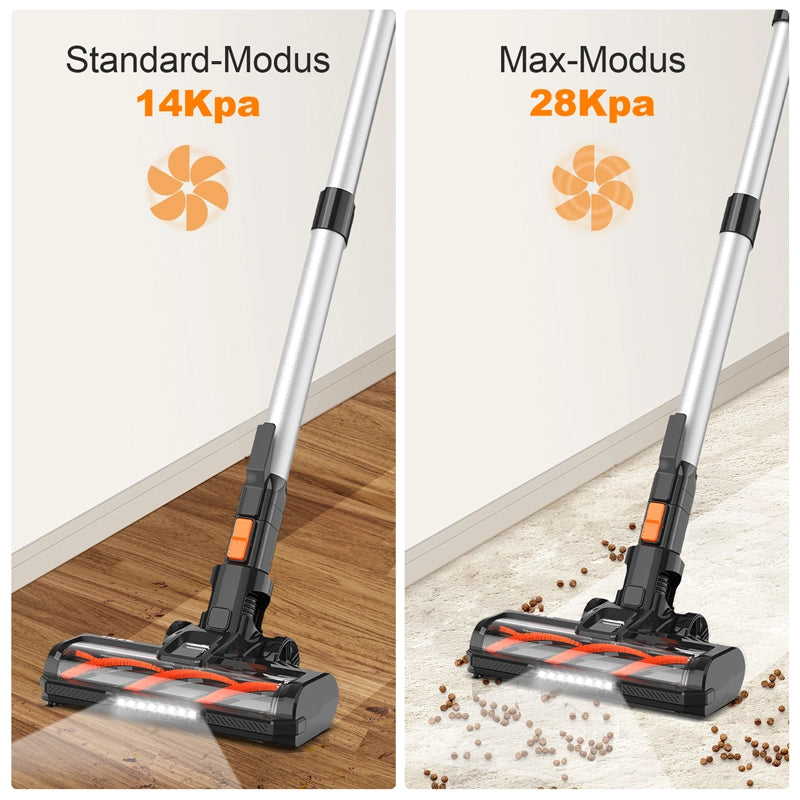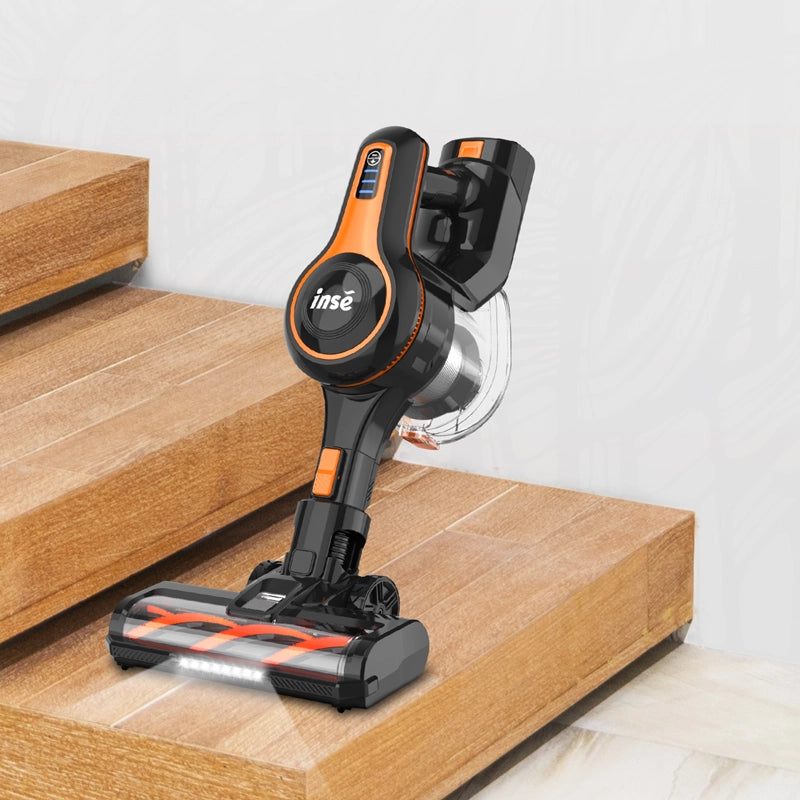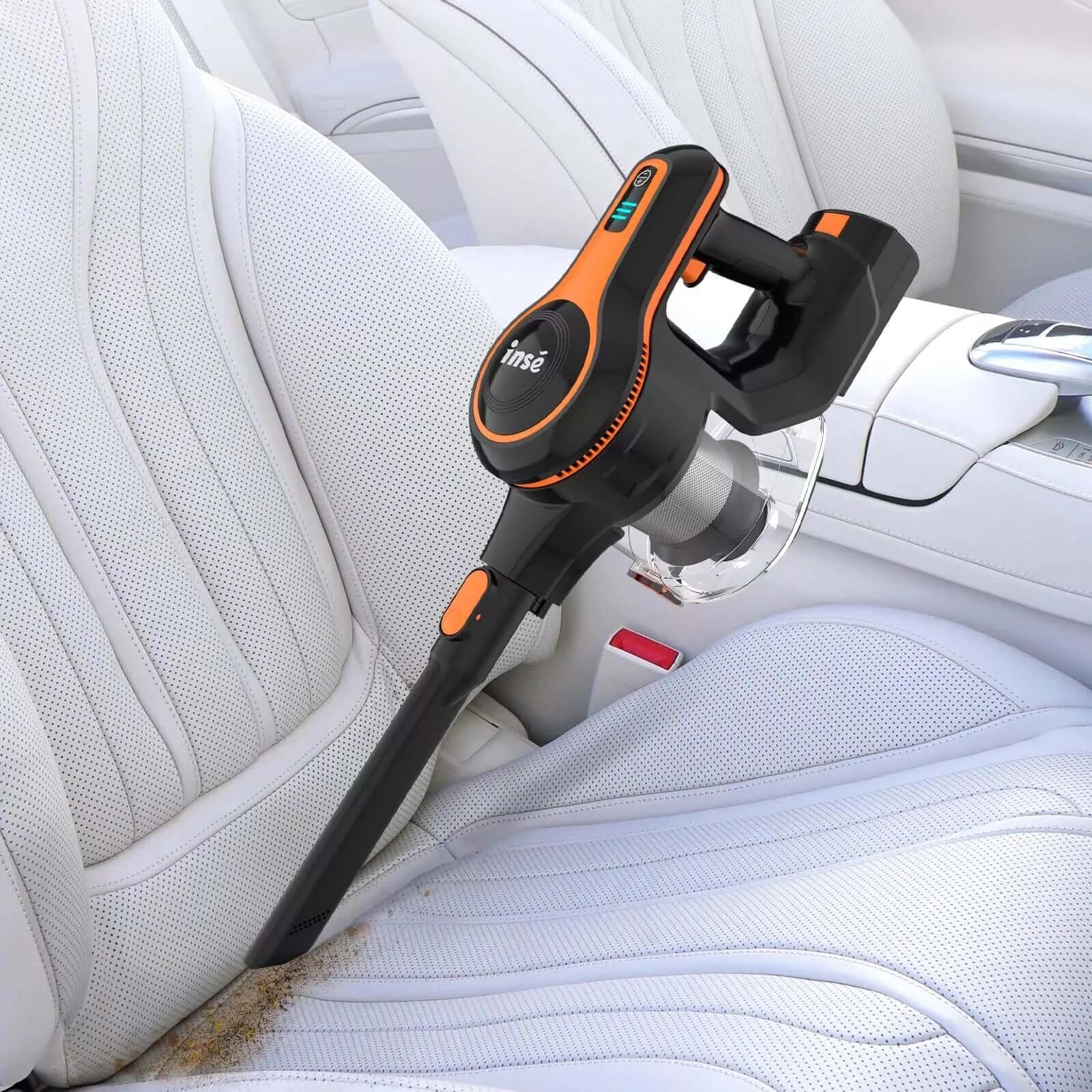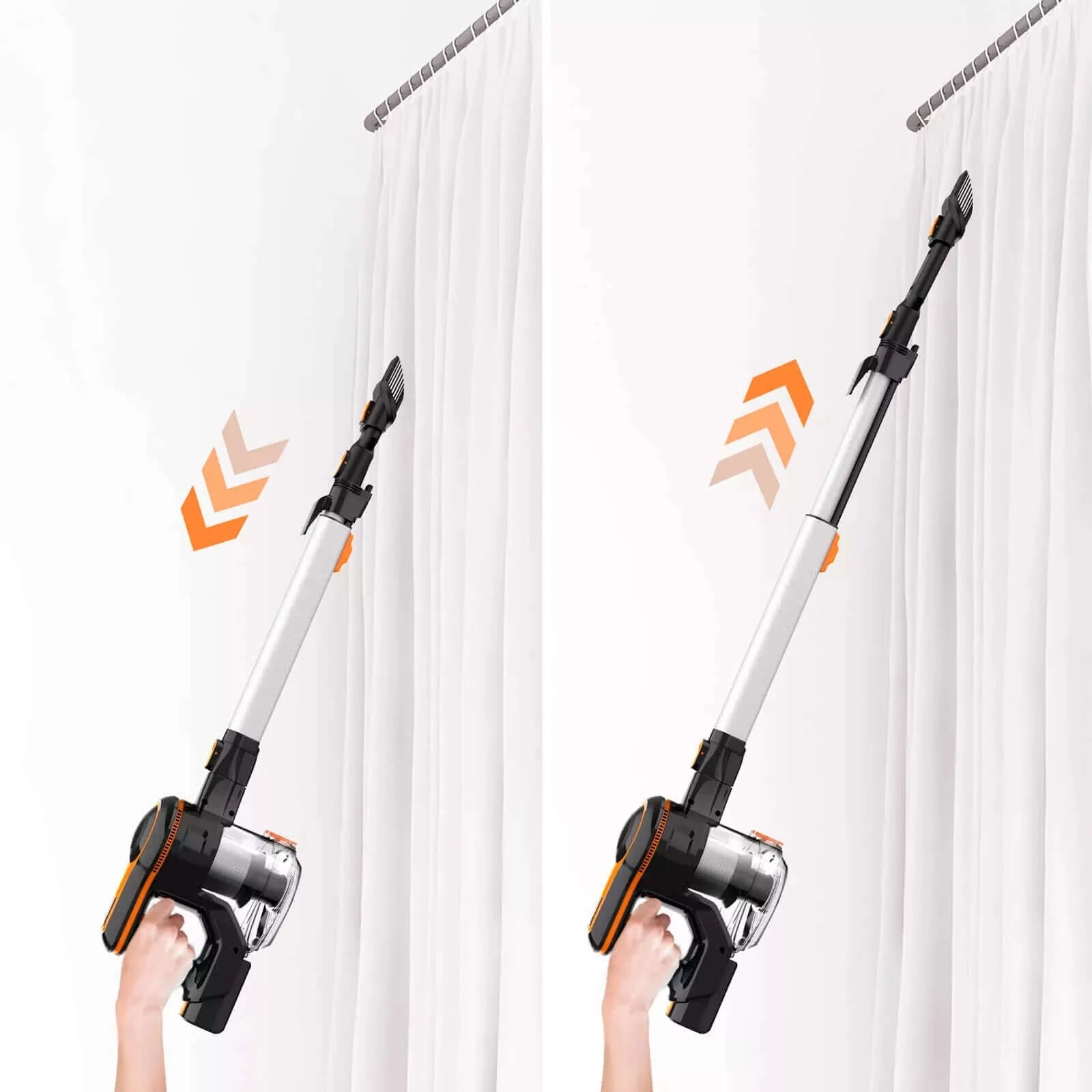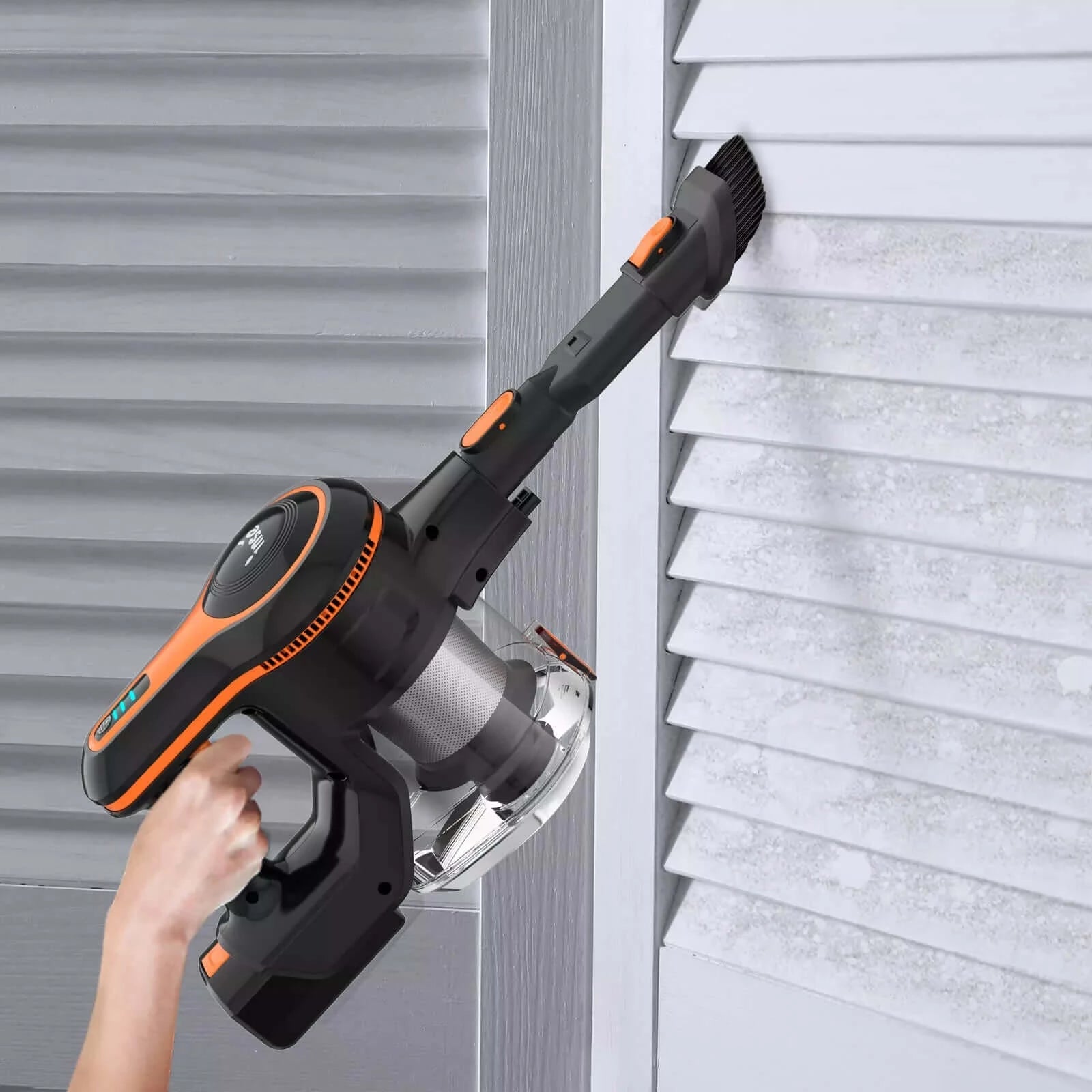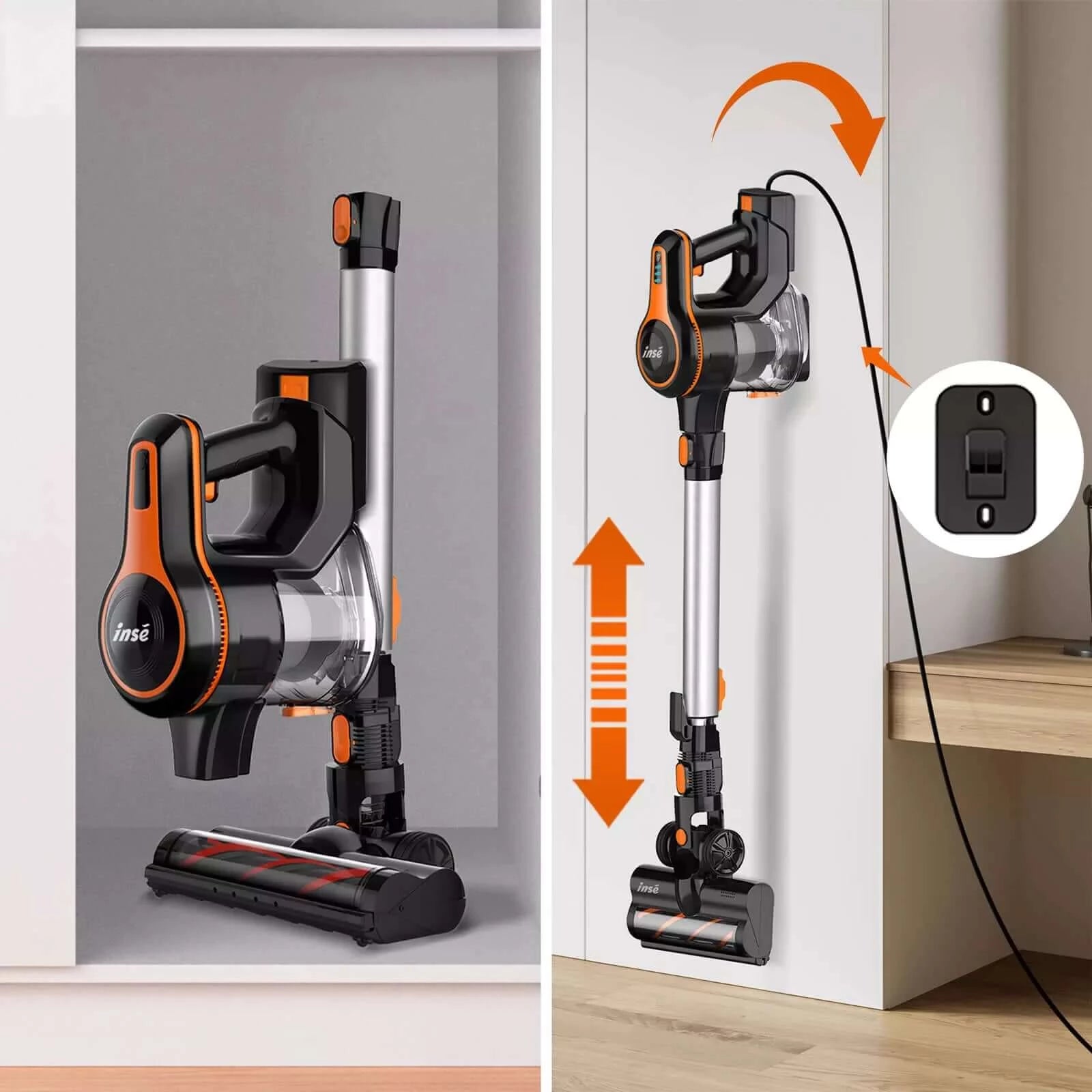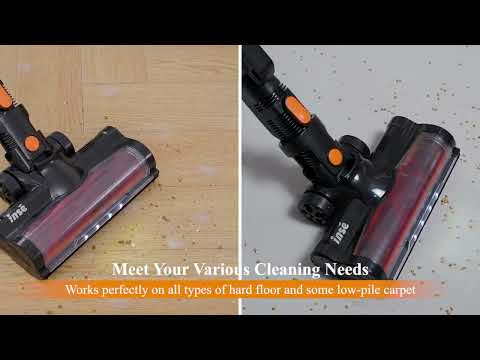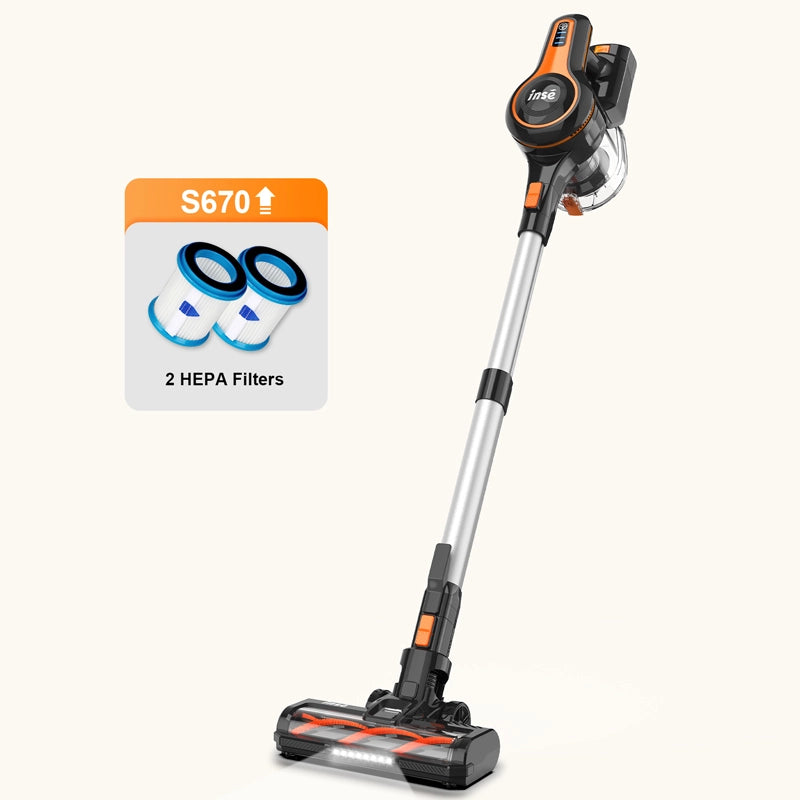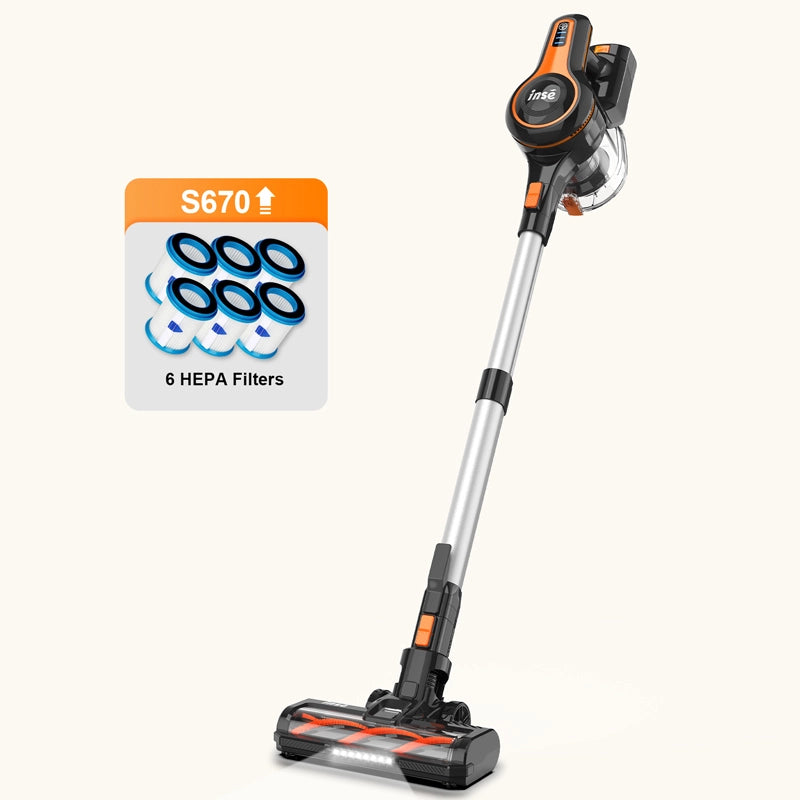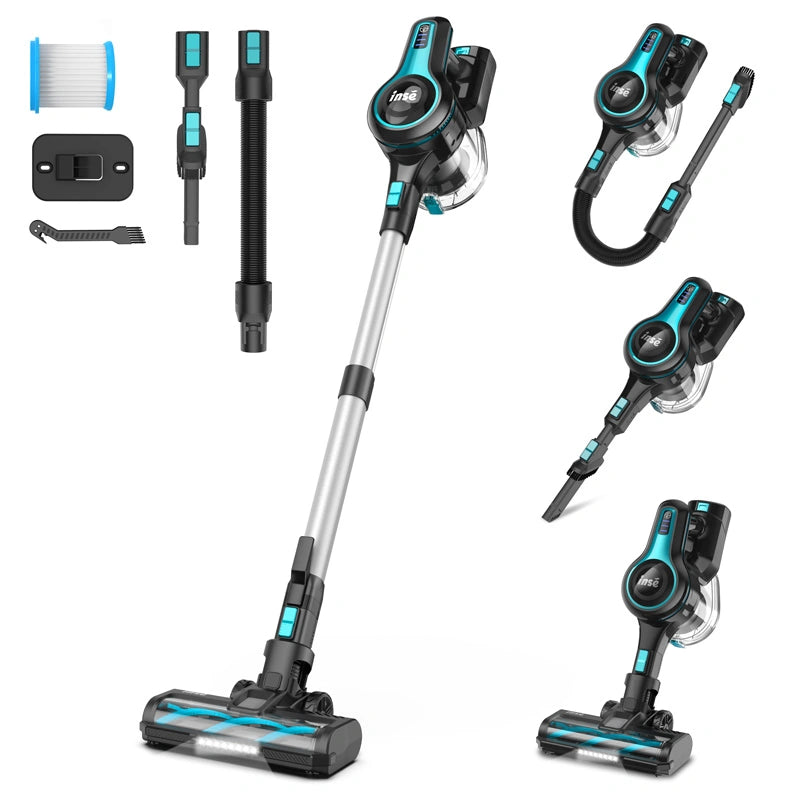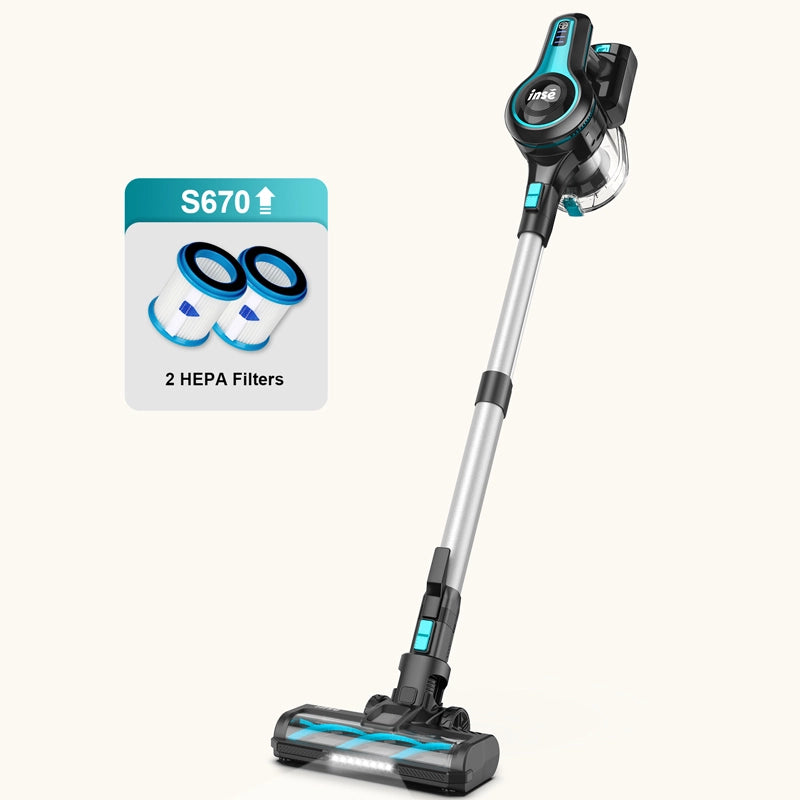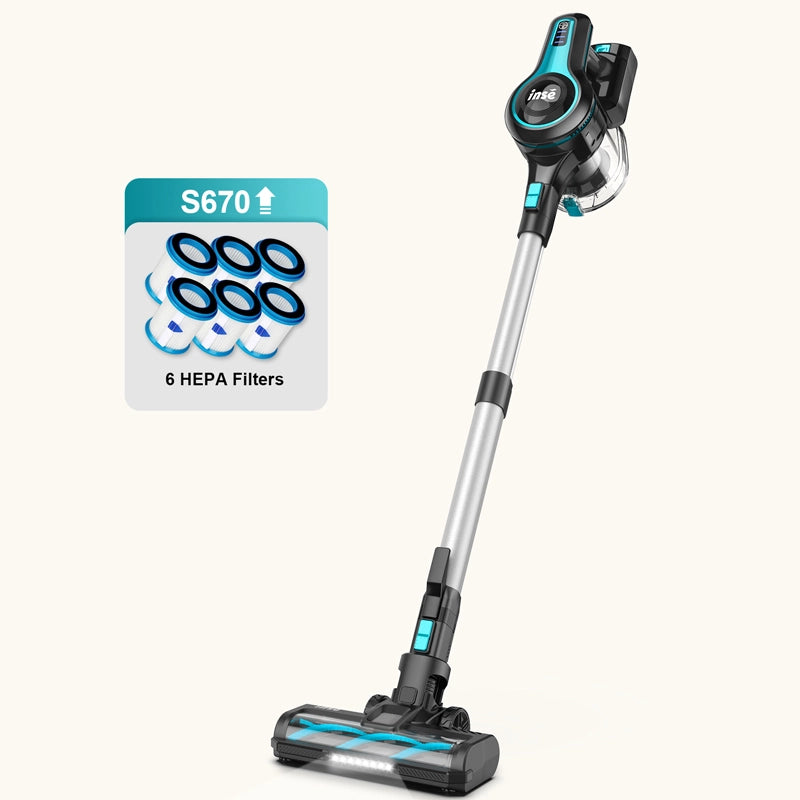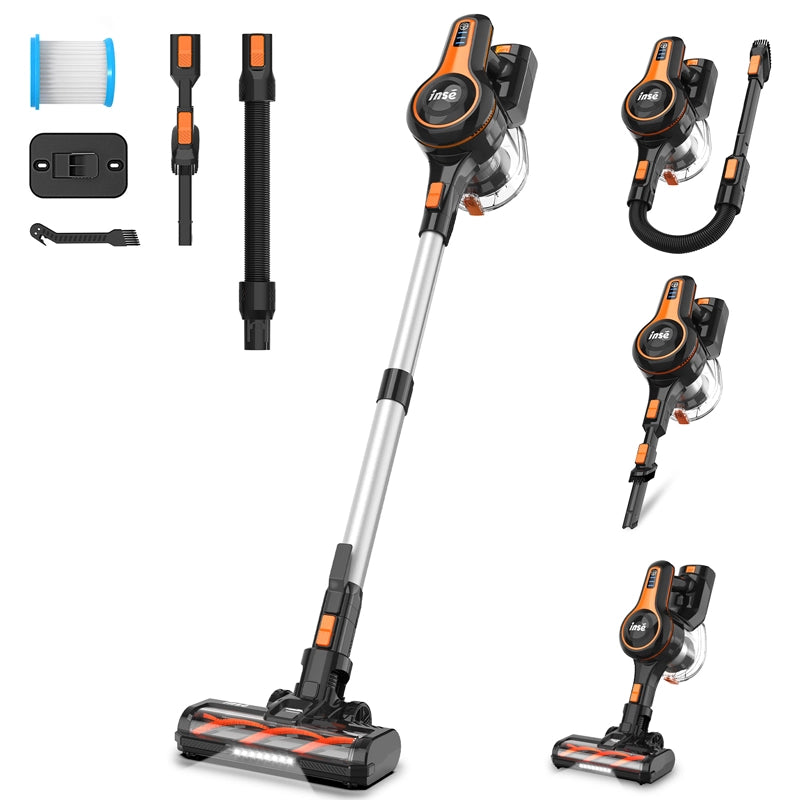 Why should I replace the filter regularly?
Maintaining the cleanliness of your vacuum cleaner's filter is crucial to ensure optimal suction power. Over time, if the filter gets clogged with dust and debris, it can severely impact the performance of your vacuum cleaner, leading to little or no suction at all.

To maintain the maximum suction of your vacuum cleaner, we recommend 1) cleaning the filter and stainless steel strainer regularly. 2) For cotton filter pads, wash them with clean water at least once a month and ensure that they are completely dry before putting them back. 3) For HEPA filters, use a cleaning tool to brush away the dirt, and DO NOT use water to wash them.

To ensure the best performance of your vacuum cleaner, we also recommend 4) exchanging the filter every 1-3 months, depending on your usage frequency. Before using the vacuum, make sure that the filter has been placed inside the dust box. Failure to do so may result in debris entering the host directly, causing damage to the motor.

If your vacuum cleaner has a pre-filter (gauze) with a blue arrow that wraps around the HEPA filter, do not remove it. The pre-filter is helpful in capturing more dust and can be washed in cool water."

By making these changes, the passage now reads more clearly and concisely, with specific instructions on how to maintain the filter and maximize the suction power of your vacuum cleaner.
Description

👉25Kpa Ultra-Strong Suction - the INSE S670 cordless stick vacuum cleaner is engineered to facilitate efficient, thorough cleaning and enable effective pet hair pickup.

👉2500mAh Battery - the extended capacity battery ensures an ample power supply to the motor and supports two power settings for effortless operation.

👉5-Stage Cyclone Filtration System - upgraded HEPA filter enables capturing 99.97% of pollen, dust, animal dander, etc. for a more thorough clean.

👉1.2L Super Large Dustbin - enables ample storage of debris and waste, and one press design keeps your hands clean.
Specification

Powerful Motor: 250W

Battery: 2500mAh

Suction Power: 25Kpa

Lightweight Body: 3.31lbs

Dusbin Capacity: 1.2L

Charging Time: 5.5h
Maintenence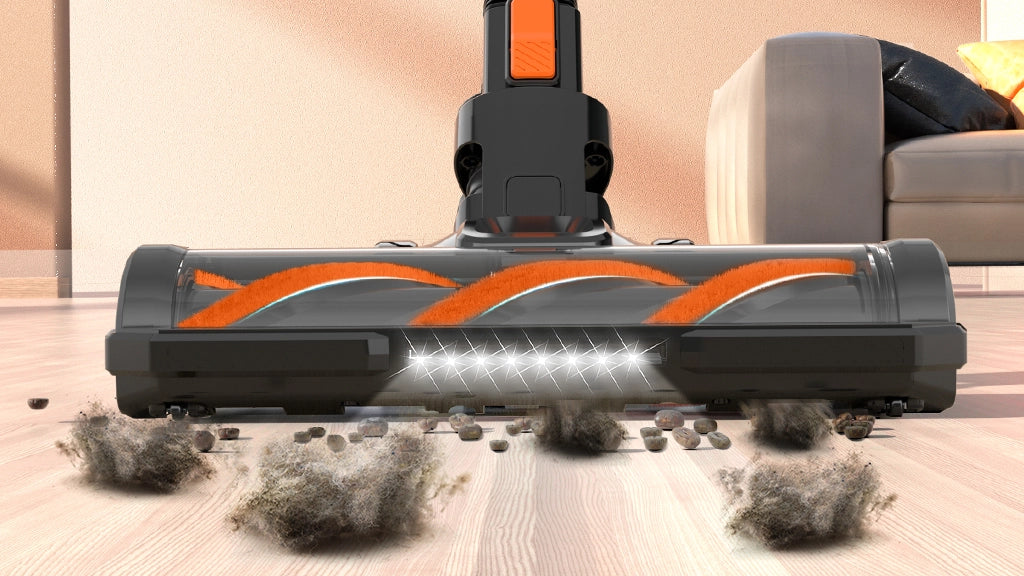 2-in-1 Roller Brush
This pet vacuum excels at dealing with pet hair. Its rubber trim on floor nozzles and attachments helps zap static and break bonds thus efficiently picking up pet hair. The soft and stiff roller brush eliminates the need to switch between hard floor and carpet types.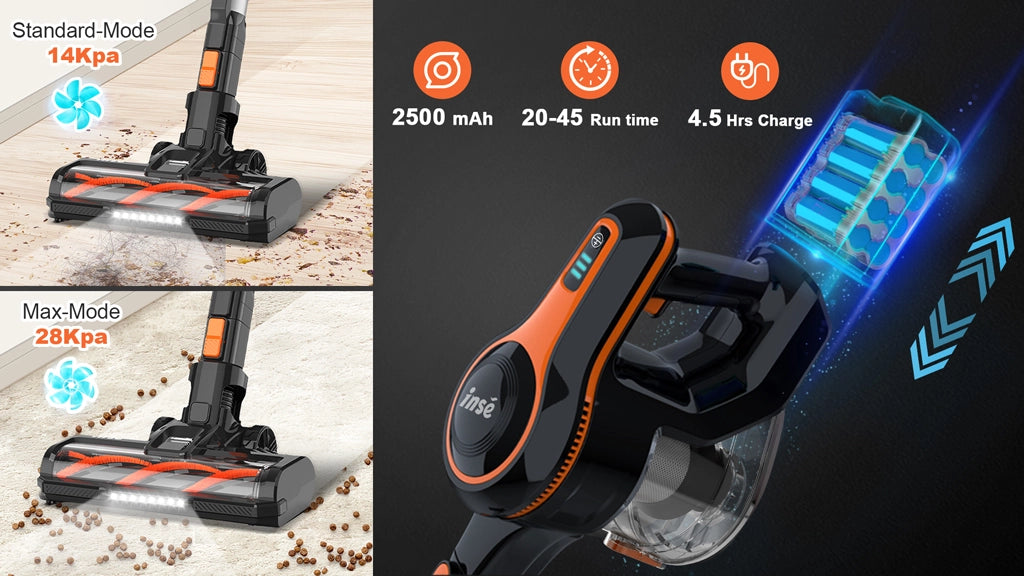 Long Lasting Runtime
With a 2500mAh battery capacity, this rechargeable vacuum could run longer time. Its low-power setting can run for up to 40-45 minutes, handling hair, dust, and small particles with ease. On the high power setting, it can still run for 15-20 minutes and pick up fine dust and larger particles such as cat litter.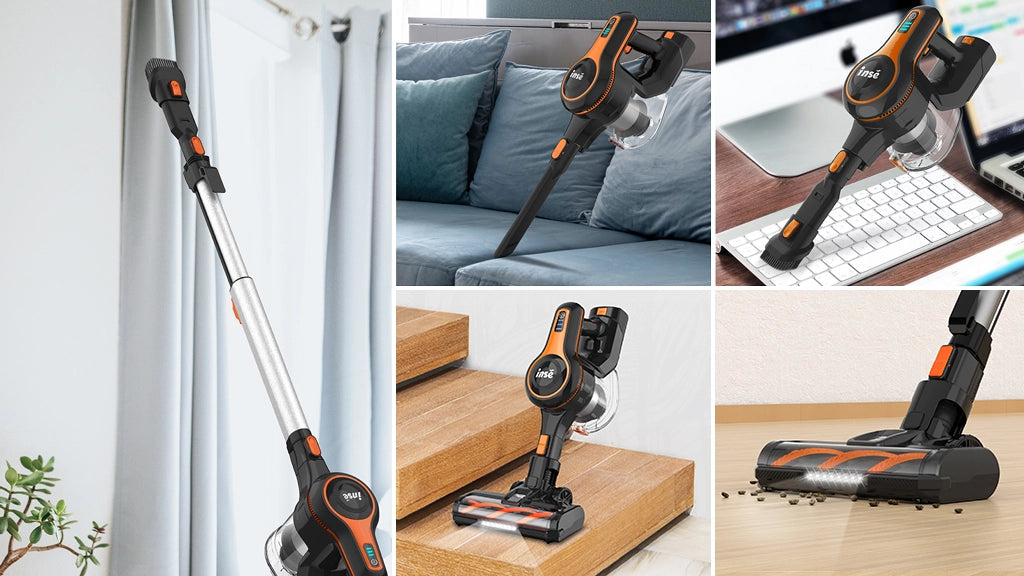 Assorted Cleaning Tools
This pet vacuum includes specialized tools for conquering pet hair on various surfaces, including sofas, ceilings, corners, and more. With its 6-in-1 multifunction design, the vacuum easily switches between stick and handheld mode, achieving different levels of cleaning in any scenario.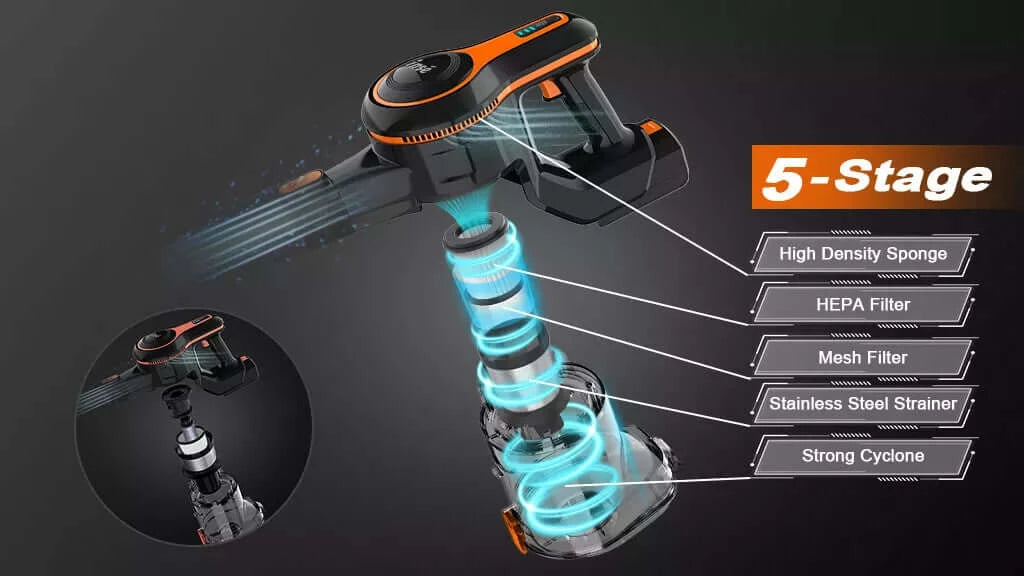 5-Stage Filtration
It is equipped with an upgraded HEPA filter, which efficiently tackles daily hair and debris. Compared to the old version that used cotton filters, this vacuum provides a more efficient cleaning experience and creates a clean and cozy living environment that guarantees the health of your family.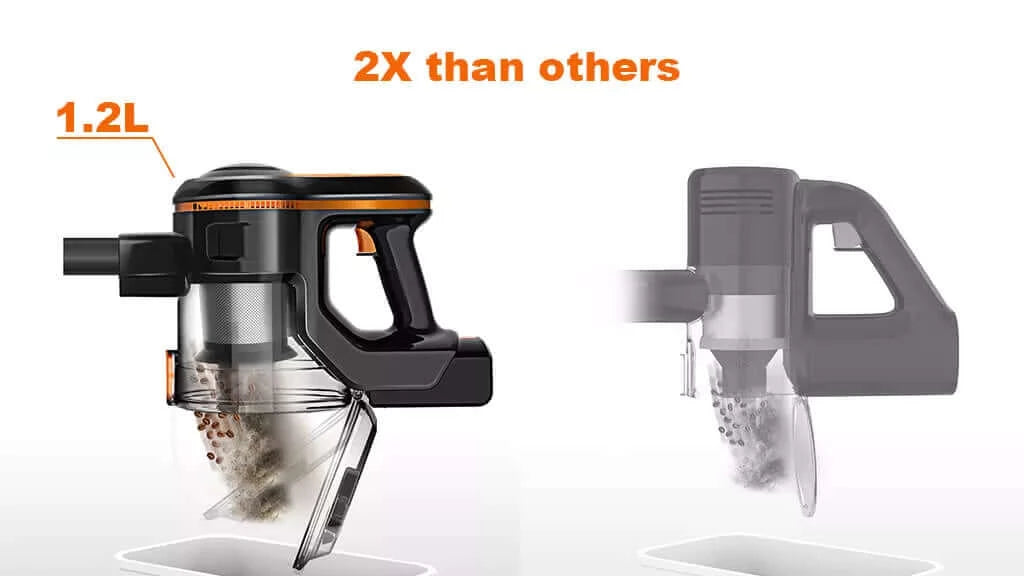 1.2L Large Dustbox
Its dustbin is twice as big as most other cordless vacuums, with a 1.2L capacity that reduces the need for frequent emptying. Its easy-to-empty dust cup ensures that dumping is quick and effortless, and traps more odors to eliminate smells in the vacuum.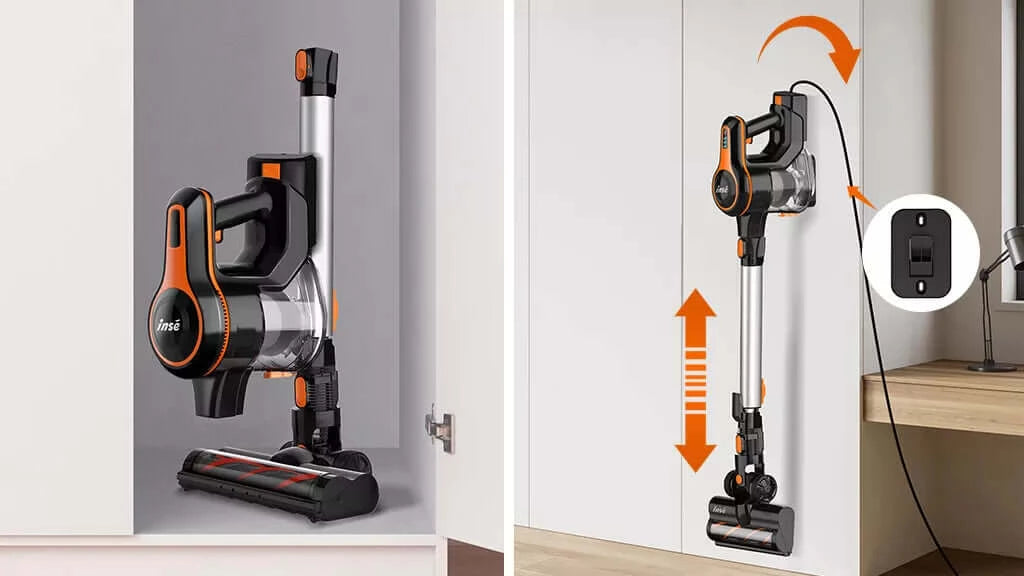 Space Saving
After use, this vacuum is prepared to be stored neatly. This wall-mounted cordless vacuum could also detach the motorhead to create a self-stand vacuum, saving space and keeping your room tidy and clean.
2-in-1 Multipurpose Vacuum

This is a vacuum for carpet and hardwood. Its advanced features prevent scratches on hardwood surfaces, while its powerful suction digs deep into carpet fibers, efficiently rolling up embedded debris.

No Tangled Hair

It has a cleaning gadget to clear out tangled hair from the roller brush, ensuring efficient cleaning performance. It's important to clean the gadget after a few uses to keep the vacuum working smoothly.

Friendly to Allergy Sufferers

One of the standout features of this dust vacuum cleaner is its sealed air system, which is specifically designed to cater to individuals with allergies.

Keep Maximal Suction

Note that the HEPA filter should not be washed with cold water. However, the metal filter and mesh filter are both washable, which helps to maintain the vacuum's maximal suction power.
Quick vacuum
Gave it as a housewarming gift. He loves it.
Lightweight
When I took this out of the box, it was so lightweight, I thought it was toy-like. It seemed flimsy. The roller, instead of traditional brushes, had a thin strip of a fuzzy material. I WAS SO WRONG! This little machine is a powerhouse! The suction is outstanding. The roller is a snap to clean! The only thing I had to learn by trial and error was that when emptying the dirt cup, there is only one way that the whole apparatus fits snugly, and it wasn't immediately apparent. But I got the hang of it and love it!
Really does the job.
I bought this during an Amazon Prime sale. I read the reviews, that it was comparable to a Dyson which I almost bought. I must say. It's a very light. Wasn't a hassle to vacuum, and the cordless feature helped. I I live in a studio, so by the time I was done, I still had plenty of battery power left. I didn't give it a five stars because it is a bit of a hassle to clean. But it's worth it for the price, and how light and easy it is to use. Highly recommend.
Quality
Item was very easy to assemble. I like the 2 speeds with trigger pull. Easy to clean. Used it once and very impressed for the price.
This is so convenient
It might not be the best vacuum cleaner in the world, but it works as well as my handheld cleaner that I have to bend over and clean small places and takes much longer. This is definitely a step up from a handheld vacuum. I don't think it vacuums, rugs very well at all.