INSE N5S Cordless Vacuum 145w 12kpa Suction Power 6 in 1 Stick Vacuum
Shipping Countries: US/CA/AU
Regular price

$104.99 USD

Regular price

$132.99

Sale price

$104.99 USD
Why should I replace the filter?
Free Shipping over $15
3D Secure Payment System
Prompt Email Support
Share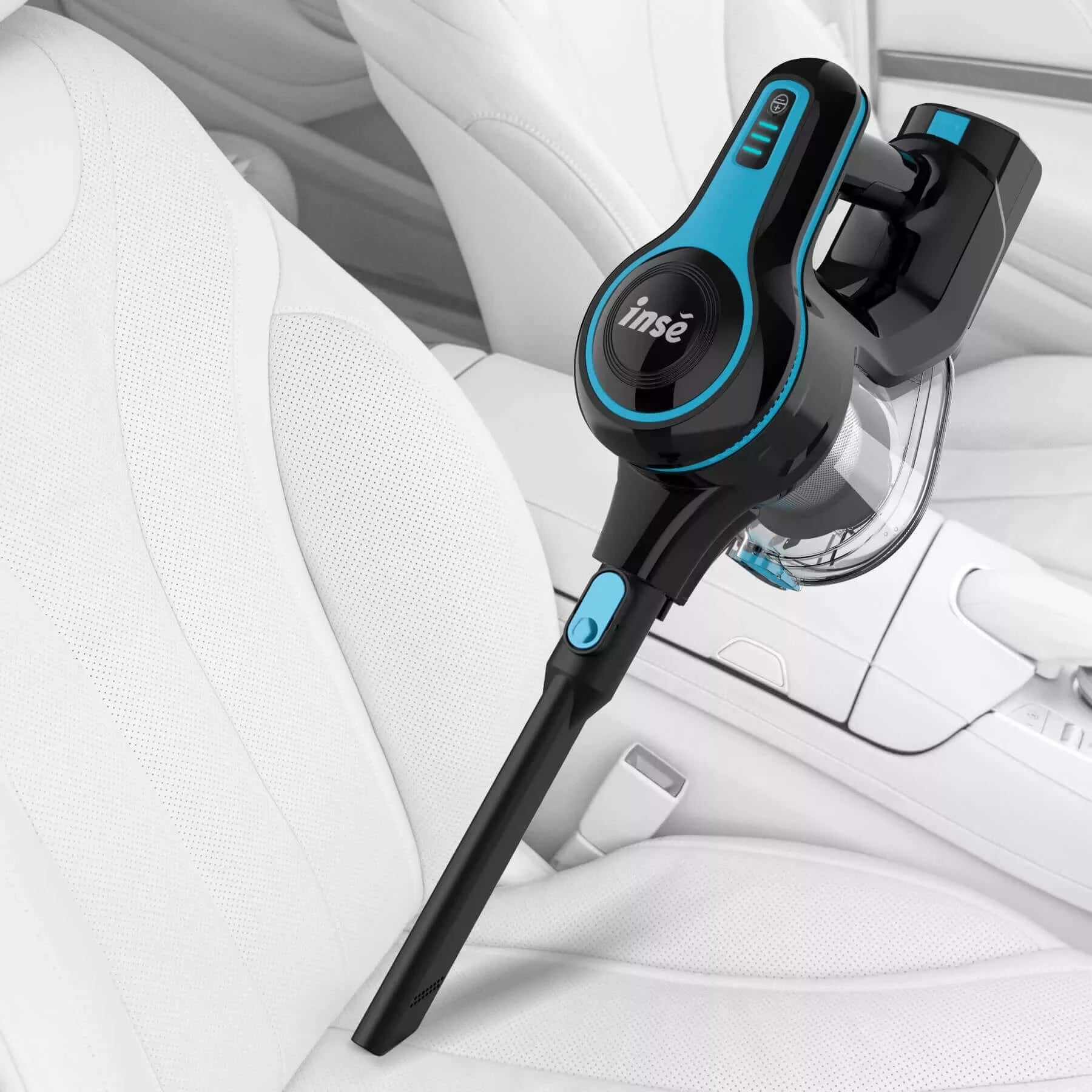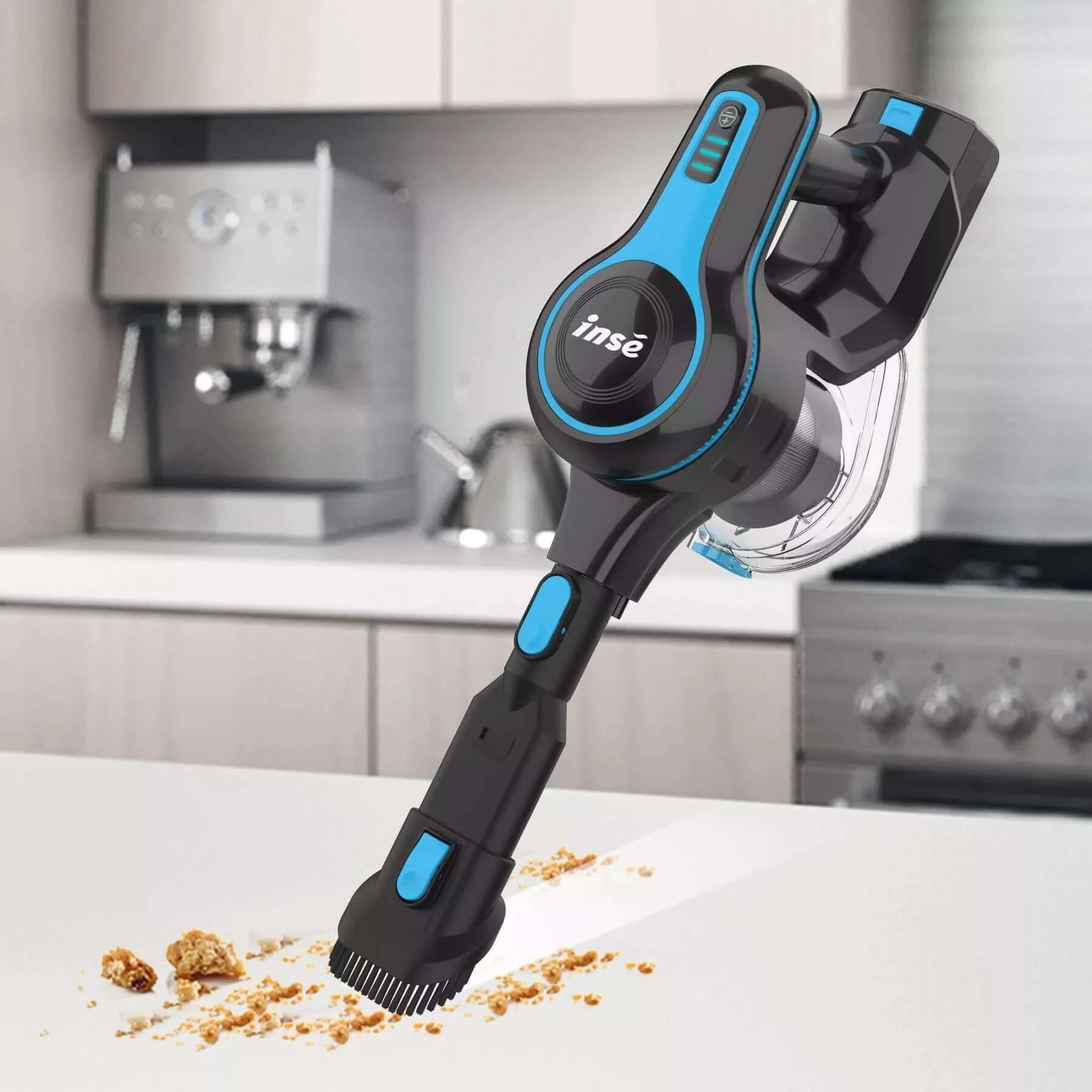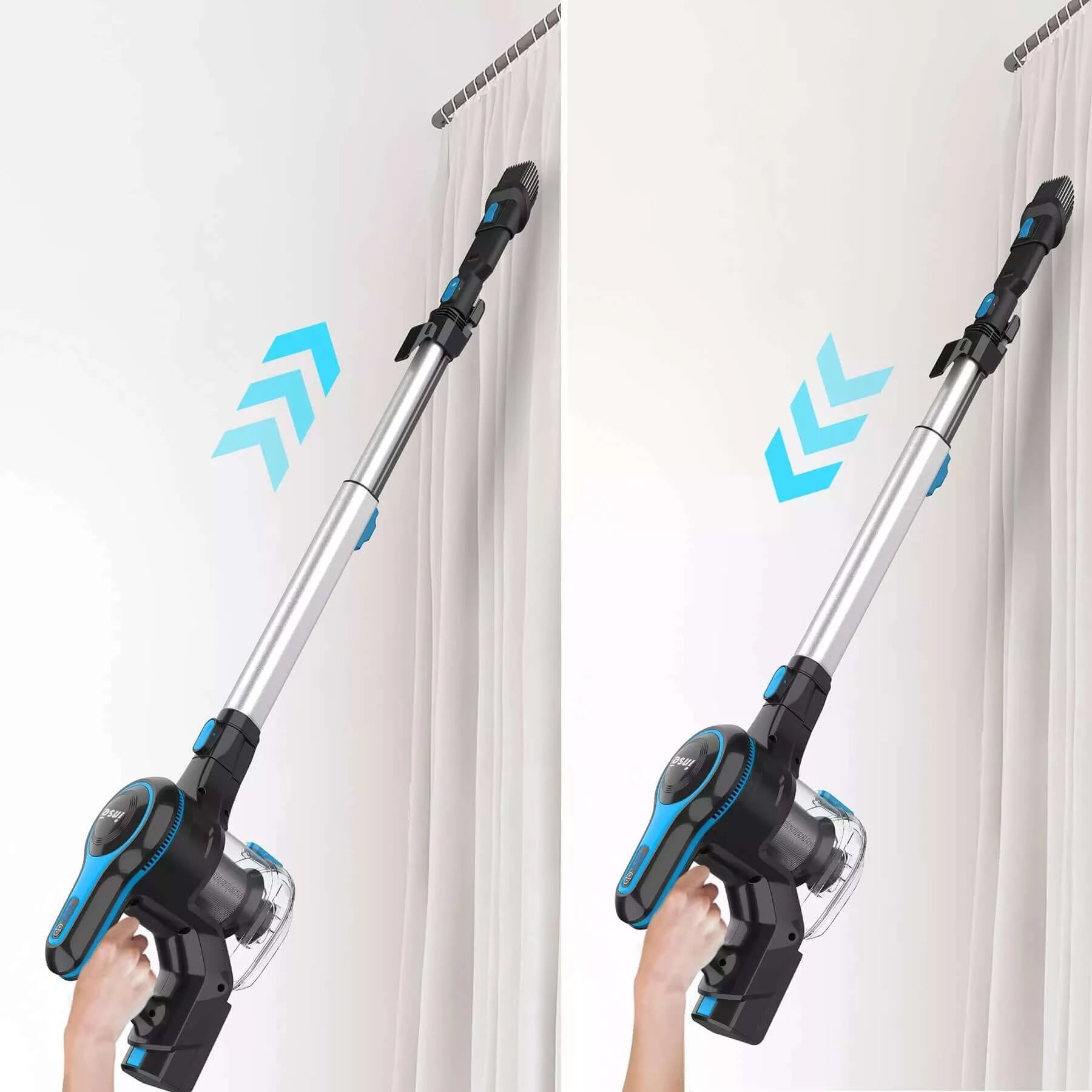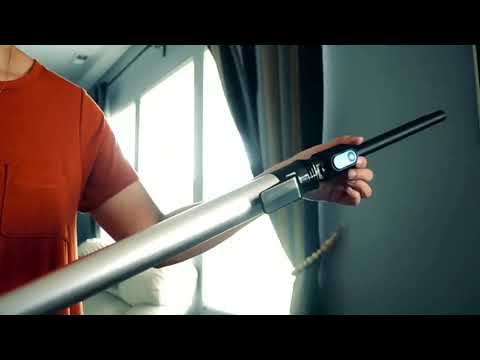 Why should I replace the filter regularly?
Maintaining the cleanliness of your vacuum cleaner's filter is crucial to ensure optimal suction power. Over time, if the filter gets clogged with dust and debris, it can severely impact the performance of your vacuum cleaner, leading to little or no suction at all.

To maintain the maximum suction of your vacuum cleaner, we recommend 1) cleaning the filter and stainless steel strainer regularly. 2) For cotton filter pads, wash them with clean water at least once a month and ensure that they are completely dry before putting them back. 3) For HEPA filters, use a cleaning tool to brush away the dirt, and DO NOT use water to wash them.

To ensure the best performance of your vacuum cleaner, we also recommend 4) exchanging the filter every 1-3 months, depending on your usage frequency. Before using the vacuum, make sure that the filter has been placed inside the dust box. Failure to do so may result in debris entering the host directly, causing damage to the motor.

If your vacuum cleaner has a pre-filter (gauze) with a blue arrow that wraps around the HEPA filter, do not remove it. The pre-filter is helpful in capturing more dust and can be washed in cool water."

By making these changes, the passage now reads more clearly and concisely, with specific instructions on how to maintain the filter and maximize the suction power of your vacuum cleaner.
Description

👉INSE N5S cordless vacuum cleaner is designed for small apartments and comes equipped with a powerful 145W motor that provides up to 12Kpa of suction, enabling cleaning of multiple types of hard floor and low/medium pile carpets.

👉With a 2200 mAh battery capacity, users can enjoy up to a maximum of 45 minutes of continuous cleaning of their homes.

👉This 6-in-1 Multi-function cordless stick vacuum is designed to reach every corner of your space and can also store up to 1.2 L of dust, eliminating the need for frequent emptying.

👉Additionally, the LED lights on the head and the small wheels under the flexible brush head make it easy to clean even in the most inaccessible places.

👉Furthermore, the upgraded HEPA filtration system effectively filters out more debris, reduces suction loss, and maintains a strong suction.
Specification

Powerful Motor: 145W

Battery: 2200mAh

Suction Power: 12Kpa

Lightweight Body: 3.31lbs

Dusbin Capacity: 1.2L

Charging Time: 5h
Maintenence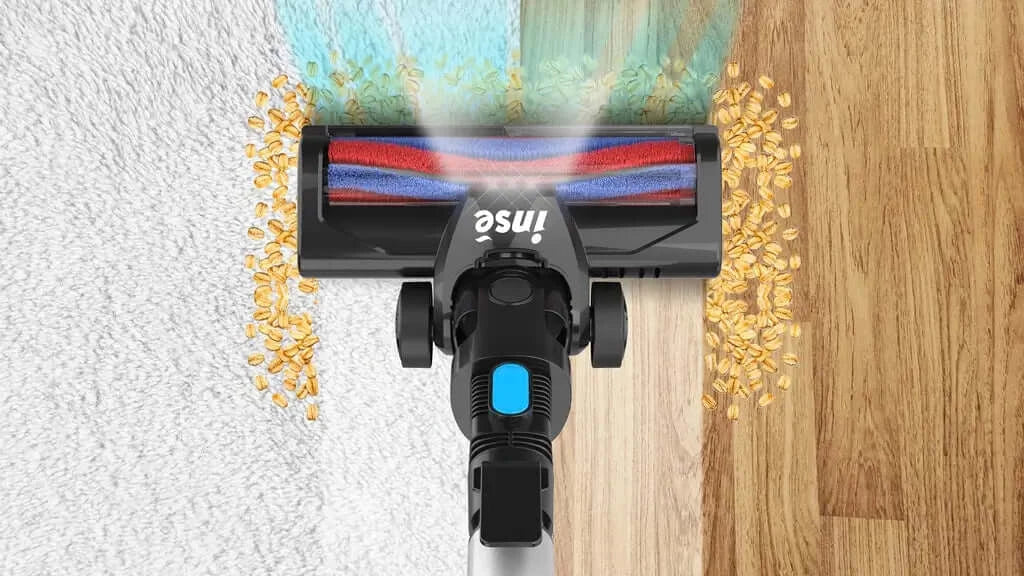 Adequate Suction
This powerful 145W motor generates a suction of up to 12Kpa, making it an ideal vacuum for small apartment cleaning. It features a soft fabric strip underneath the brush head, allowing for effortless cleaning of laminate and hardwood floors without damage. Additionally, its low and medium-pile carpet-cleaning capabilities make it an ideal choice for dealing with debris on rugs.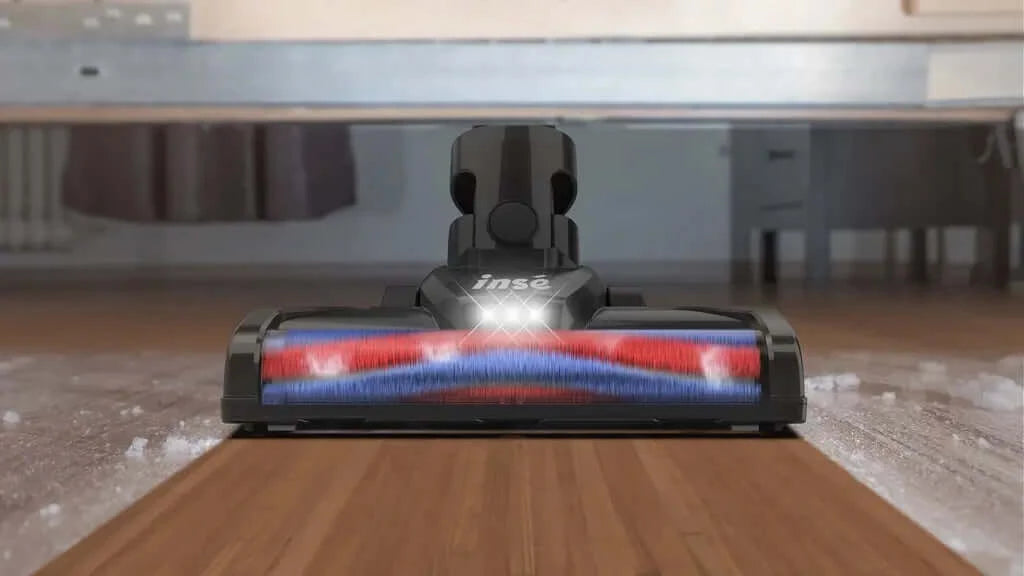 No Hidden Debris
This cordless vacuum has a light on the forehead of the brush head that illuminates hard-to-see corners and spaces, like under beds and furniture, making it easier to clean. Its flexible brush head is also equipped with small wheels, allowing it to be effortlessly maneuvered anywhere.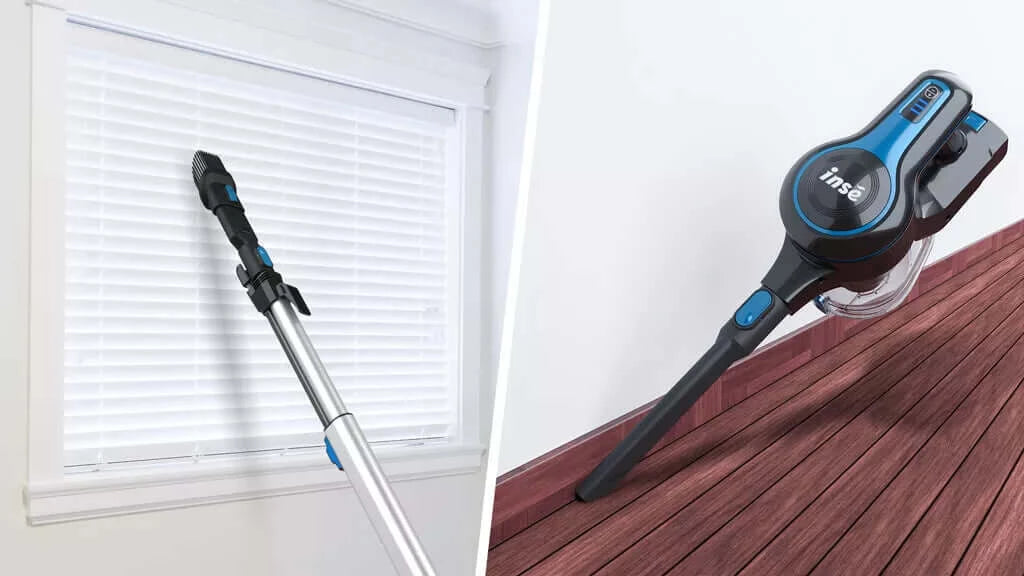 Clean High to Low
Say goodbye to tangled power cables - this easy home 6-in-1 cordless stick vacuum eliminates the need for plugging in/out. It can also transform into a handheld vacuum cleaner, making it versatile enough to meet all your cleaning needs. From high to low, bright ceilings to dark corners, this vacuum has got you covered.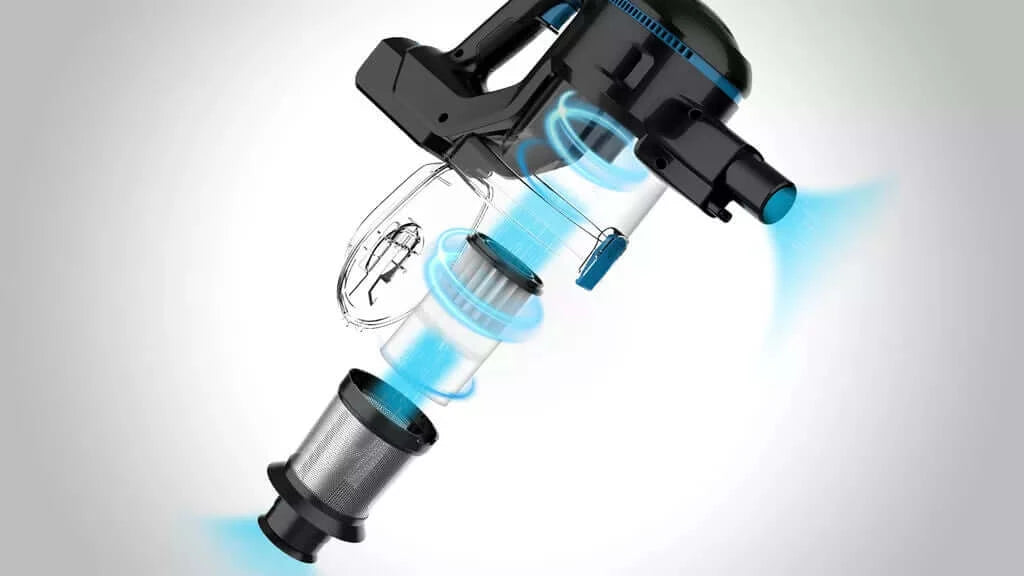 High Efficiency Filtration
For those seeking a high-quality vacuum cleaner for home, this option should be at the top of the list. It is both convenient to use and maintain, promoting a healthy home environment for families. Its HEPA filter blocks 99.97% of dust and debris, releasing fresh air and preventing harmful germs from growing and surviving.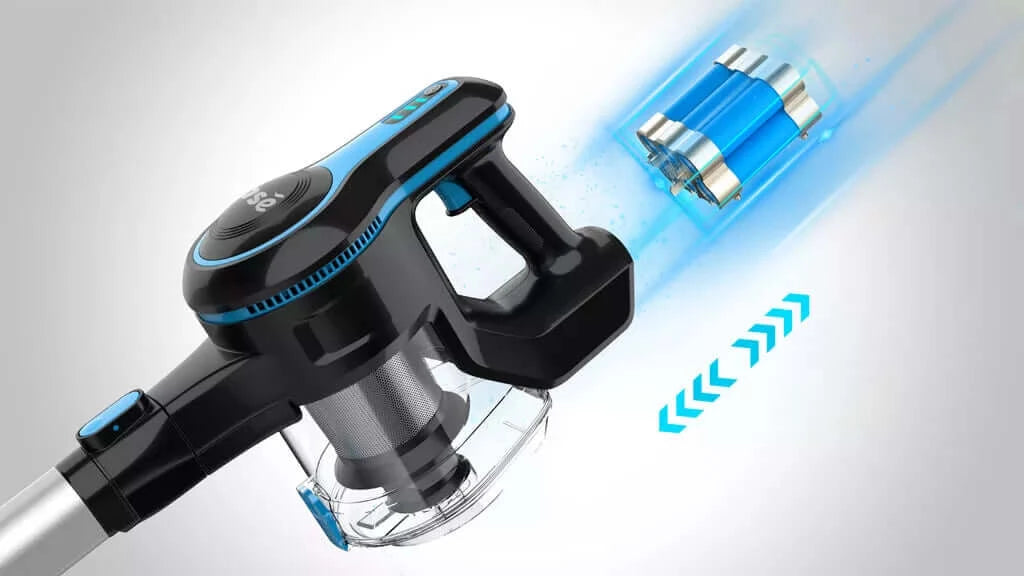 Long Lasting Runtime
Equipped with a 2200mAh capacity battery, it can run for approximately 20 minutes on high power, effectively sweeping away big particles and dust. Additionally, it has an eco-power setting that can handle daily waste and hair, and the battery is removable for added convenience.
1.2L Large Dustbox
When purchasing a vacuum sweeper, the dustbin size is an important consideration, especially if you need to vacuum a lot of debris or large items such as pet hair. This cordless stick vacuum features a large 1.2L dustbin, reducing the need for frequent emptying during vacuuming.
Clean Stairs

This hardwood floor vacuum is an ideal choice for homes with stairs, as it offers a high degree of maneuverability while taking up minimal space.

Clean sofa

This vacuum for sofa combines a motorized head with a 2-in-1 cleaning brush, effectively improving the longevity and cleanliness of your furniture.

Clean Crevice

The motorhead and crevice tool of this vacuum can be used together to efficiently clean out debris that is stuck in tight spaces.
Clean Curtain

With this combination, it can facilitate an extended tube reach and could act like a ceiling vacuum to efficiently clean the curtains.

Clean Ceiling

This combination can extend to a great distance, and with the crevice tool on high, you could clean the corners on the ceiling.

Better Filtration

Compared to the previous version, this vacuum is equipped with an upgraded HEPA filter, trapping more everyday dirt.
Great little vacuum and amazing customer service
I bought this N5S at the beginning of the year and loved how well it worked picking up everyday messes around the house. It's light and the battery life lasts long enough to do my bottom floor of the house.
One day last month I noticed that the machine wasn't charging any more. I sent a message to customer service (after sending a video of the problem) and got a reply in 24hrs. I was shipped the part, a new battery, in 4 days. Unfortunately, it wasn't the battery so I had to go back and send another video and the problem was diagnosed and resolved and another part was sent. My messages with Andrea were clear, timely and professional. I am really pleased with everything about this company and have dealt with their Canadian company too.
Bottom piece is light
so it doesn't suck everything up unless you press down on it but with two little kids, it does the job. also doesn't hold charge very long on the higher setting get 1 use out of it and charge so you don't get cut off the next time.
Awesome vacuum
I used a shark for years and finally gave out on me. I got this new one in the delivered opened it all up it looked like a toy to me but it is so much better than the shark I used for years it is amazing, good battery time, fantastic suction I can't say more about it it is a fantastic vacuum I recommend it highly to anybody.
Easy Cleaning
I needed a vaccum I could quickly use in a pinch. It works great and charges great.
Once you've gone cordless, no going back!
Bought this after seeing my daughter-in-law's Dyson. Just couldn't see the $$ for that, but this was similar, so... Love not dragging the cord around! Seems to me that it does the job (we have a retirement house, fairly small, lots of tile) and is a snap to charge and use.