We Love Pets, but Hate Pet Hair!



It's essential to realize that some bacteria can be transferred from animals to people and, depending on the severity, can make you very unwell.
Investing in a good quality vacuum can help if you use it regularly to remove as much hair as possible to avoid allergy.
It can also collect things like dust mites, pollen, and mold, which are other common asthma triggers.
Making sure your pet is healthy is the best way to help reduce the risk of parasites on them.
How to Choose a Pet Vacuum?
Powerful Suction

Pet hair can be frustrating especially when it gets lodged in vacuum components due to insufficient suction. Choosing a vacuum with potent suction is essential. INSE S9, with an impressive suction up to 30Kpa, does the job extremely well, swiftly picking up pet hair and retaining it in the dust cup, reducing the likelihood of it sticking to the roller brush or clogging the wand.

Standard HEPA Filter

Pet fur can accumulate outdoor allergens, making it crucial to have an effective vacuum filtration system. INSE cordless vacuums come equipped with HEPA filters, the most efficient filter type available. These filters successfully eliminate 99.97% of particulates measuring 0.3 microns or larger, ensuring a clean and healthy living space for pet owners.

Anti-tangled Brush Roll

Check the materials and design. Rubber brushes that INSE S9 has could substantially deter hair entanglement. Furnished with a unique V-shaped texture could efficiently guide hair to the middle, permitting smooth picking up. Furthermore, incorporating anti-tangle technology featuring blades that INSE S62 has could effectively sever hair tangled around the brush, enabling swift and straightforward suctioning into the dustbin.

Low Noise Level

Pets, particularly timid puppies or cats, are often alarmed by noise and may flee when a vacuum powers on. Therefore, a pet vacuum with a low noise level is an important factor to consider if your pets are noise-sensitive. The INSE P20 Pro is a pet grooming vacuum praised by pet parents for its quiet operation. It is designed to reduce loose pet hair from the source, making it a favorite amongst both pet owners and their pets.

Embrace INSE Vacuums Designed for Pet Hair
I. INSE S9 Pet Hair Vacuum-Suck Up All Hair Swiftly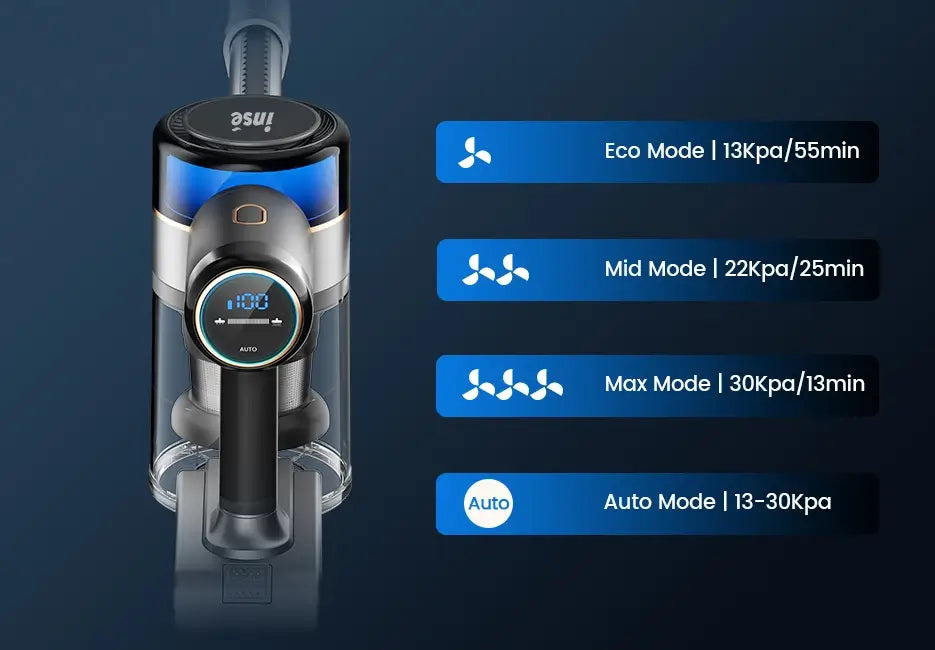 Ideal for Pet Home
The INSE S9 pet vacuum, equipped with a 400W brushless motor, boasts a maximum suction power of 30Kpa on its highest setting. This robust suction strength enhances its proficiency in effectively capturing pet hair, cat litter, pet food, and other kinds of mess on various surfaces such as hard floors, low pile carpets, stairs, sofas, curtains, and RVs. It's an ideal choice for pet owners seeking a versatile cleaning solution.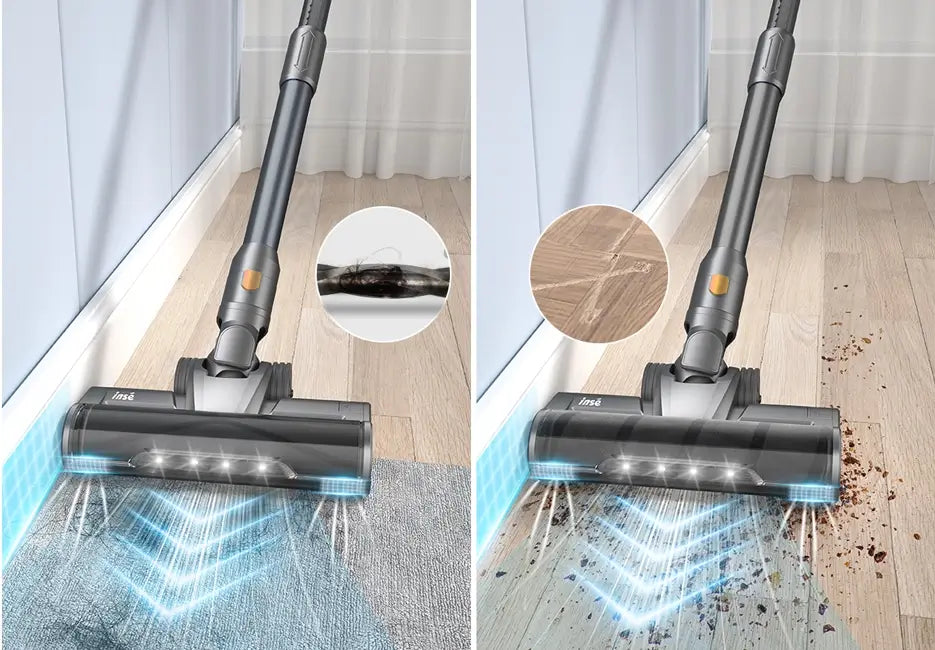 No Pet Hair Tangled
S9 has two brush rollers, one V rubber brush is tailored to clean pet hair, cat litter, dog food, etc. effectively from low and middle-pile carpets. Its V shape design amasses hair in the middle to prevent tangling and ensures efficient suction. The other soft one is designed for hard floors which could also be used to roll up pet hair.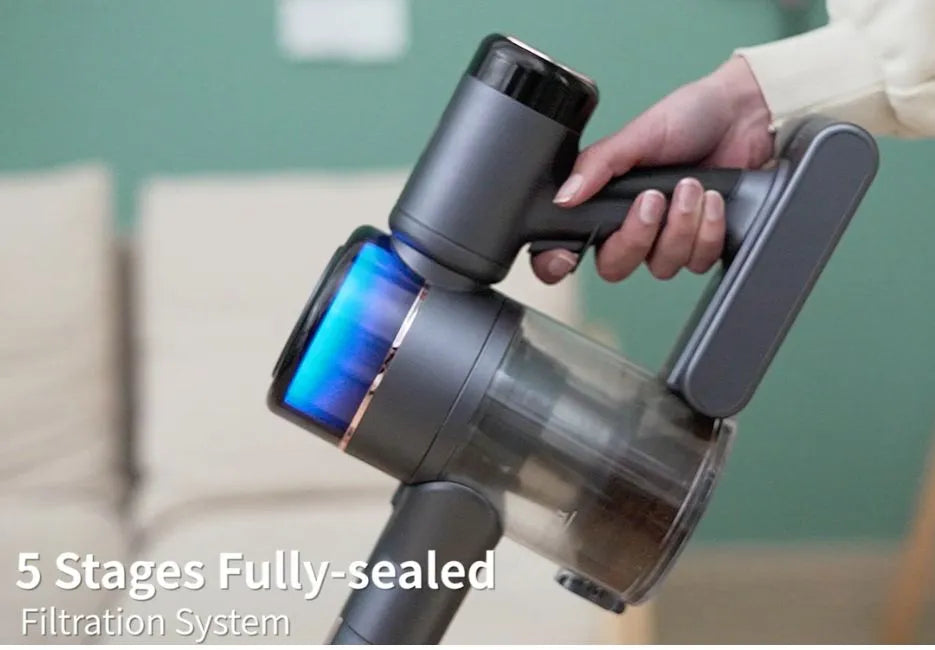 Filter Thoroughly
5-layer filtration includes a HEPA filter and a metal filter, along with Multi-Cone Cyclone Technology, the INSE S9 captures 99.99% of dust, and provides an excellent cleaning experience.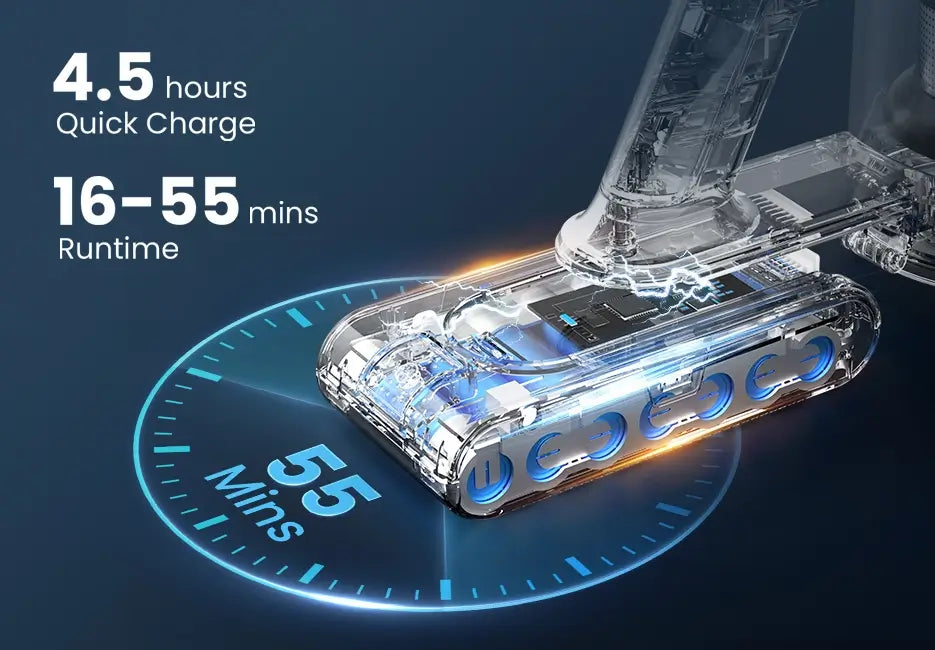 Other Superior Features
With a runtime of up to 55 minutes, this best cordless vacuum for pet hair ensures no interruptions during your cleaning procedure. Its auto-suction mode intuitively adjusts power based on the type of debris or hair encountered. Discover more features today.
Shop INSE S9
II. INSE P20 Pet Grooming vacuum-Reduce Pet Hair at the source
Groom Like a Massage

The metal pins on the dog grooming brush mimic the sensation of a soothing massage for pets. No more excess skin oils and painful matting and hot spots. Moving heavy undercoats is no longer torture for our adorable companions.

Deshed Gently

Regular deshedding maintains pet comfort throughout the year, decreasing static during spring and autumn, ensuring coolness in the summer, and averting bacterial growth or obstruction of hair follicles due to oil accumulation.

Trim at Home

Utilizing the hair clipper to trim lengthy dog hair is straightforward and safe with the inclusion of four detachable plastic guard combs. Its sharpness ensures efficient pet hair clipping while its friendly design makes it ideal for beginner home dog grooming.
Pets Won't be Afraid

With a working noise level as low as 60 dB, you can effortlessly carry out DIY dog grooming at home. The silent operation allows you to vacuum pet hair during grooming or trimming sessions, without causing any distress to your pets.

Keep All in Dustbin

A sizable dustbin is a must for a pet grooming vacuum, as it retains loose pet hair and minimizes the need for frequent emptying. A user-friendly release button simplifies this process, ensuring efficiency and ease of use.

Work For All Pets

This inse pet grooming vacuum is a game-changer for all pets, regardless of size, coat thickness, or whether they have double fur or multiple layers of fur. Additionally, it comes with two cleaning tools, ensuring a clean environment.
III. INSE S10 Cordless Vacuum - Affordable&Smart Choice
Multi-Surface Cleanliness

High-Performing

Follow Your Pace

Foldable Version
The INSE S10 efficiently captures debris and pet hair on hard floors and low-pile carpets, ensuring thorough cleanliness with no residues left behind.
Shop INSE S10
With its powerful 350W/140AW brushless motor, the INSE S10 generates a high-speed airflow of up to 26Kpa. The multi-cone filter design segregates dirt, creating an optimal vacuum environment and improves efficiency by 30%.
INSE S10 cordless pet vacuum offers two working modes: manual trigger and continuous cleaning. Manual trigger mode saves power for brief clean-ups, while continuous mode ensures effortless whole-house cleaning without needing to hold the trigger.
The alternative INSE S10X model features a bendable component and flexible hose, providing added convenience and comfort for individuals experiencing back pain when stooping, stretching, or assuming uncomfortable positions.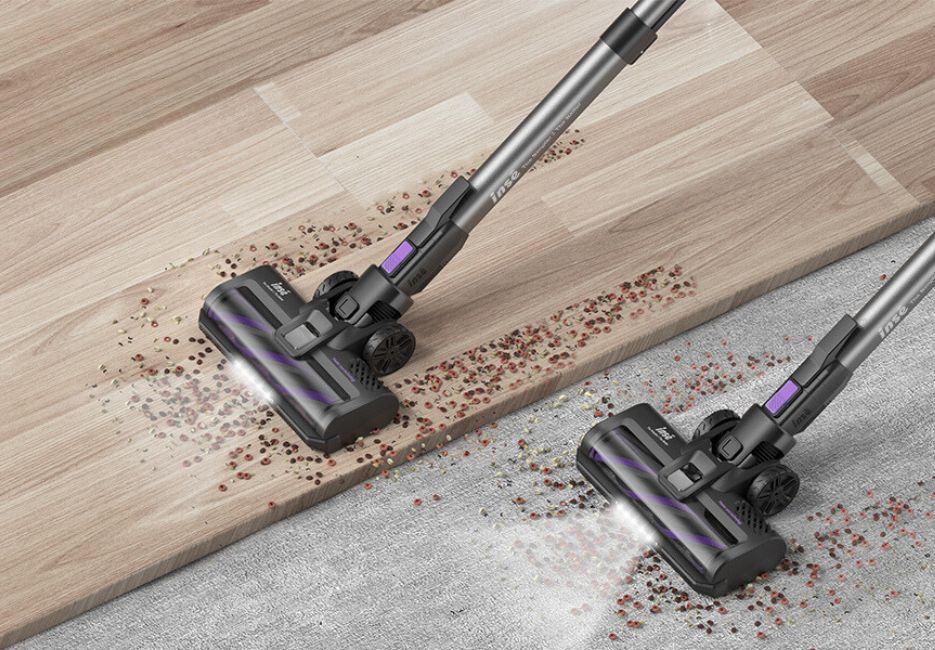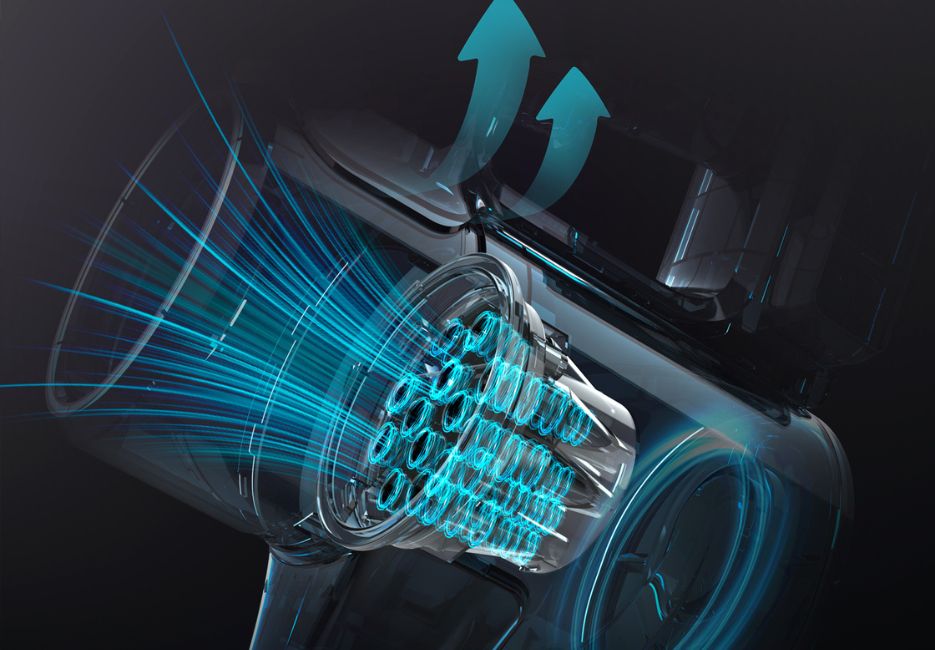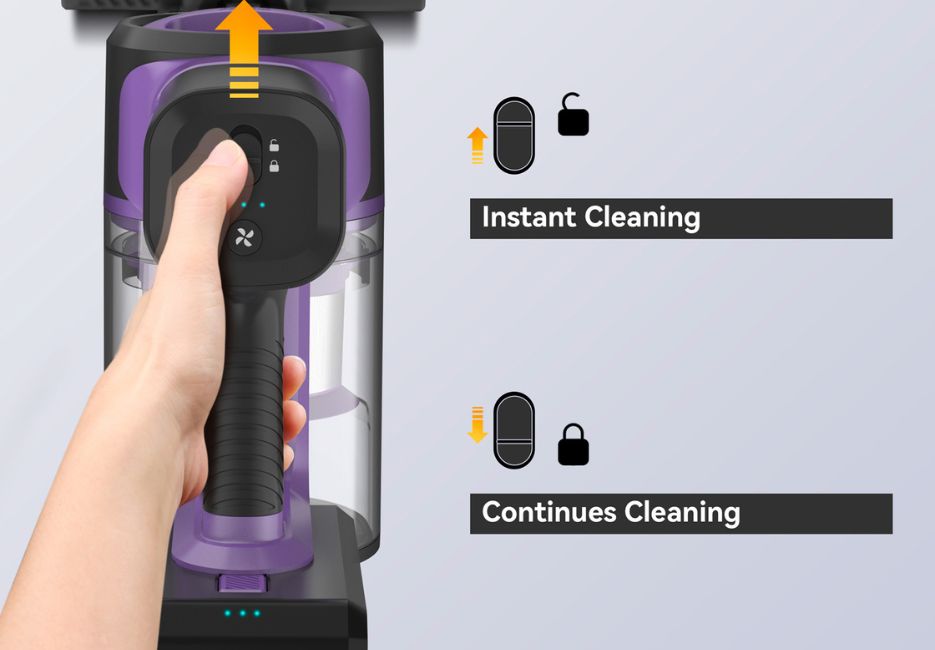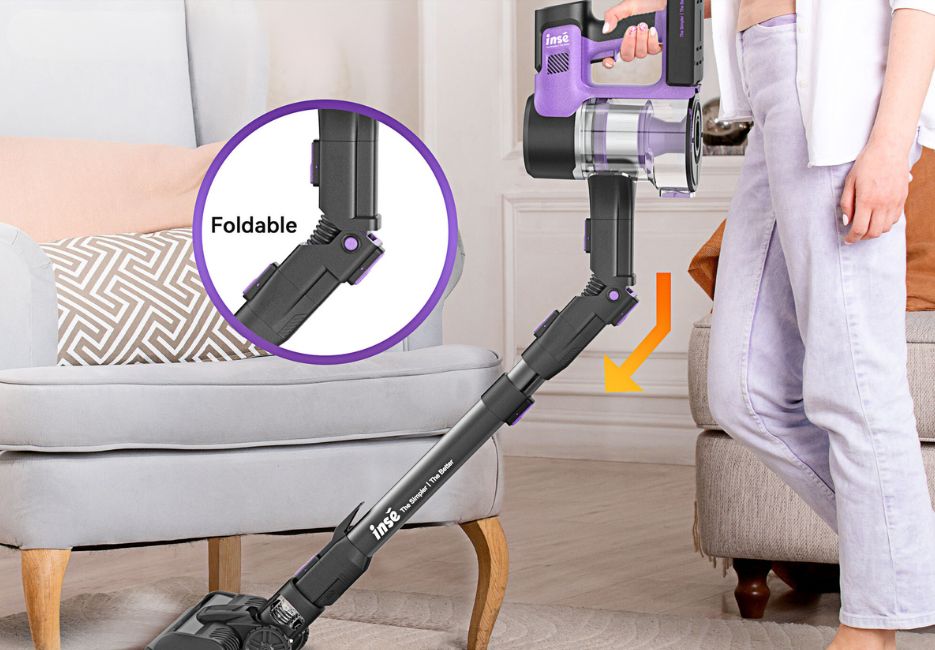 IV. INSE V120 Cordless Vacuum-No Pet Hair left
Super Suction Vacuum

Anti-Tangle Brush Roll

Extended Runtime

LCD Display
Witness unmatched cleaning with this cordless stick vacuum's 150AW brushless motor delivering a formidable 33Kpa suction. Seamlessly switch among three modes (Eco, Standard, and Max), even handling large debris like dog food in Eco mode.
Shop INSE V120
Equipped with a V-shaped roller brush, it efficiently collects and vacuums debris from the center, effectively preventing hair entanglement around the roller.
This vacuum offers up to 60 minutes of cleaning. With a recharge time of just 3.5 hours, you can swiftly resume your whole-house cleaning, save more time to play with your pet kids.

Monitor performance with the vacuum's smart LCD display providing real-time information such as battery level, suction modes, full dustbin reminder, and tangled roller alerts for smooth operation.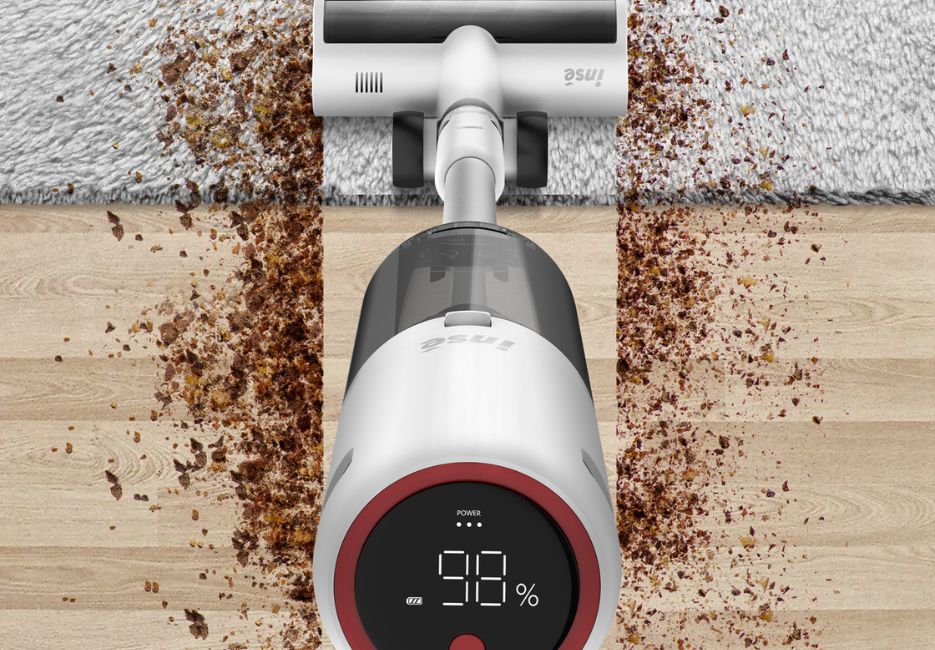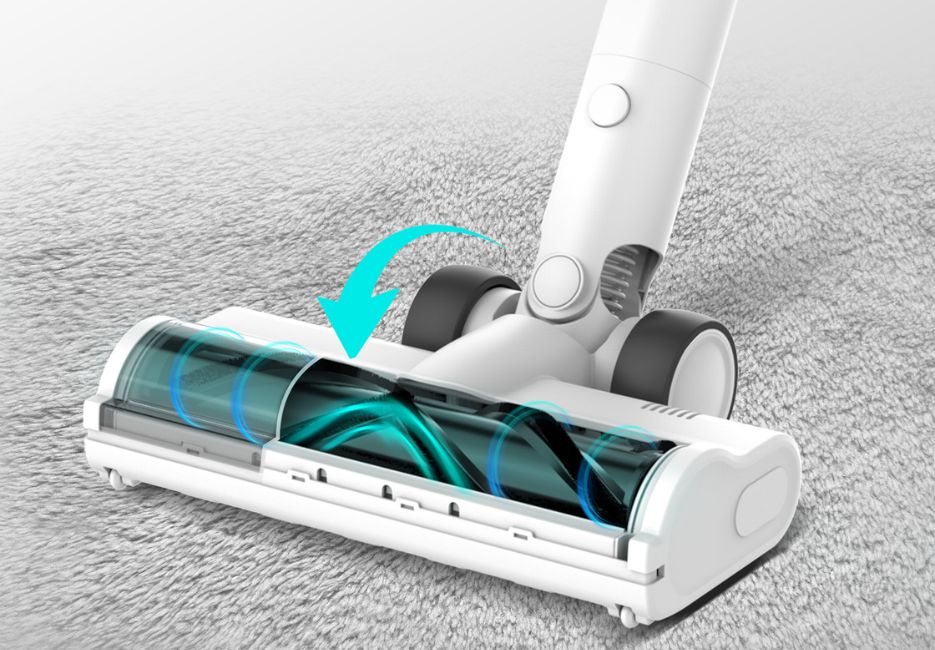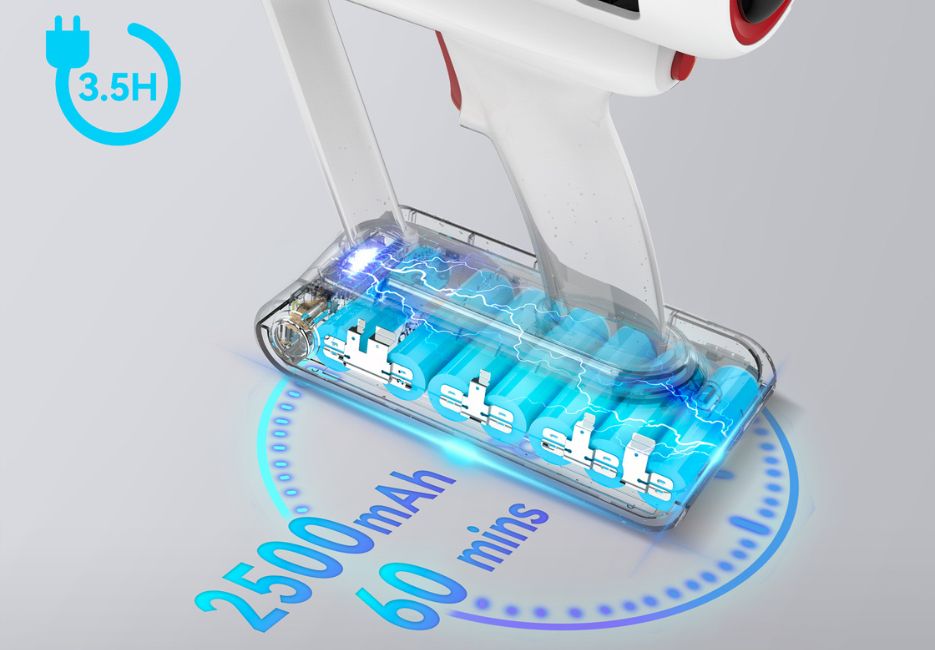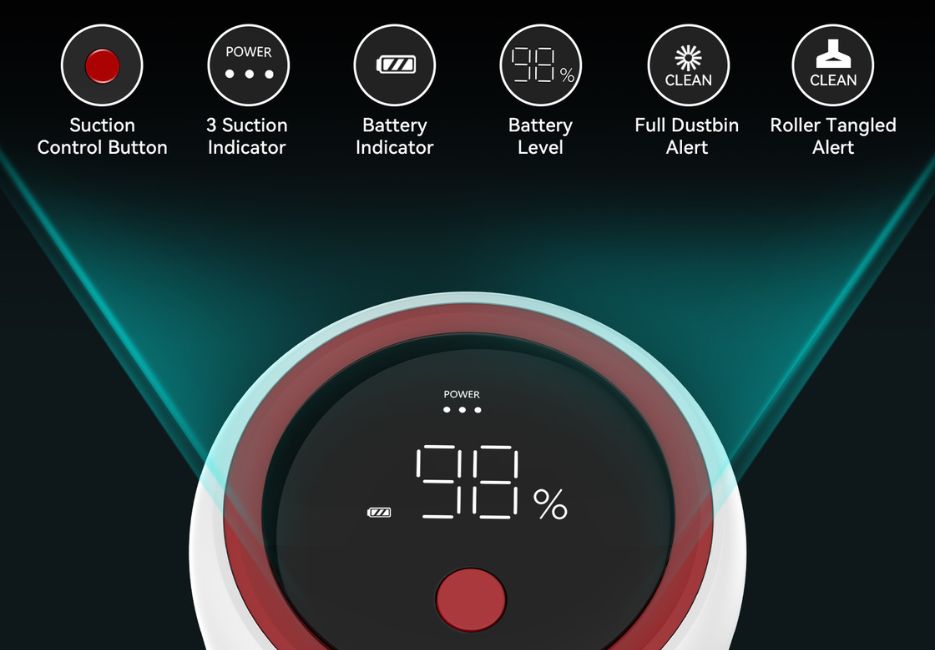 Frequently Asked Questions
Is a pet vacuum necessary if my pet sheds just scarcely? 

Almost all pets, dogs or cats, shed all year long. No matter what your pet breed is, its hair lands on every surface on furnishing, covers, and clothes as it may love being around everywhere in your house. It could bring allergens or something, not only visible pet hair. Using a vacuum with exclusive accessories and strong suction could largely extract the pet hair that is entangled with the fabric fibers and etc.

Thus, if you expect a hair-and-allergen-free home, it is suggested to get a vacuum for pet hair even if your pet sheds scarcely, and it could be more than just a pet hair vacuum.
Does a pet vacuum cleaner need a lot of maintenance?

It depends. Most pet vacuum cleaners don't need a lot of effort to maintain, replacing the bag or emptying the residue will make the job done. But cleaning out the roller brush, hose, wand, filters from time to time will definitely ensure a normal suction and its life span. It is recommended to replace the filter every three months, based on how often you use the vacuum.
How often should pet parents vacuum?

It is determined by how many pet kids you have and their hair shedding degrees. A pet owner who has a Great Dane may need to clean once every week, but those with long-haired dogs want to clean their house twice to three times a week. And it is also determined by the season as some breeds will shed a lot in summer and spring.
Does vacuuming remove pet dander?

Yes, vacuuming does help in removing pet dander. Especially hepa vacuums are proven to be the most effective as they can capture about 99.97% of particles that are 0.3 microns or larger, which includes pet dander. It's also worth noting that regular vacuuming can significantly improve indoor air quality by reducing allergens.