INSE V120 Cordless Vacuum For Hard Floors with 33Kpa Powerful Suction
Shipping Country: Only For US
Save $95 and Get Extra 12-Month Warranty
Regular price

$194.99

Sale price

$99.99 USD
Why should I replace the filter?
Free Shipping over $15
3D Secure Payment System
Prompt Email Support
Share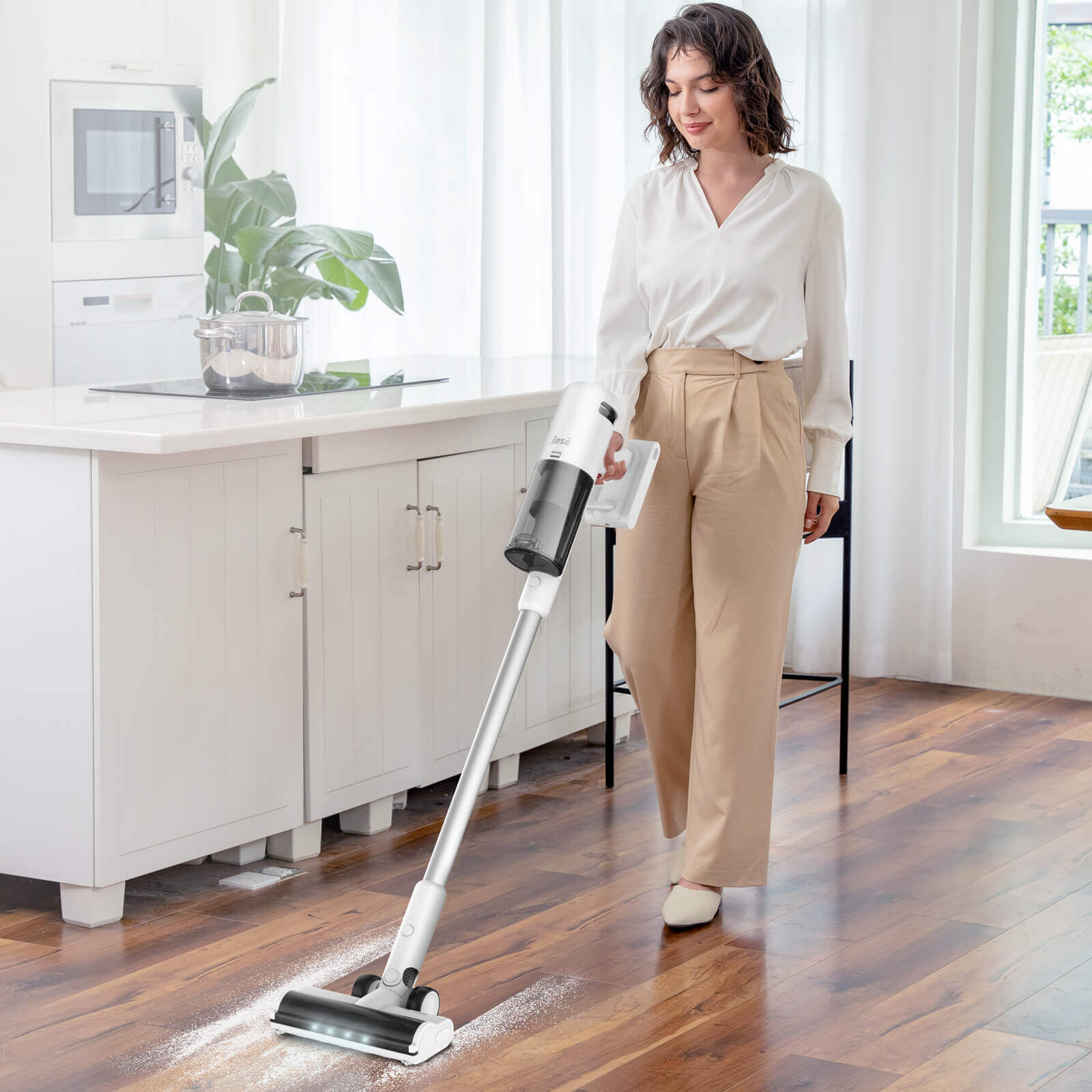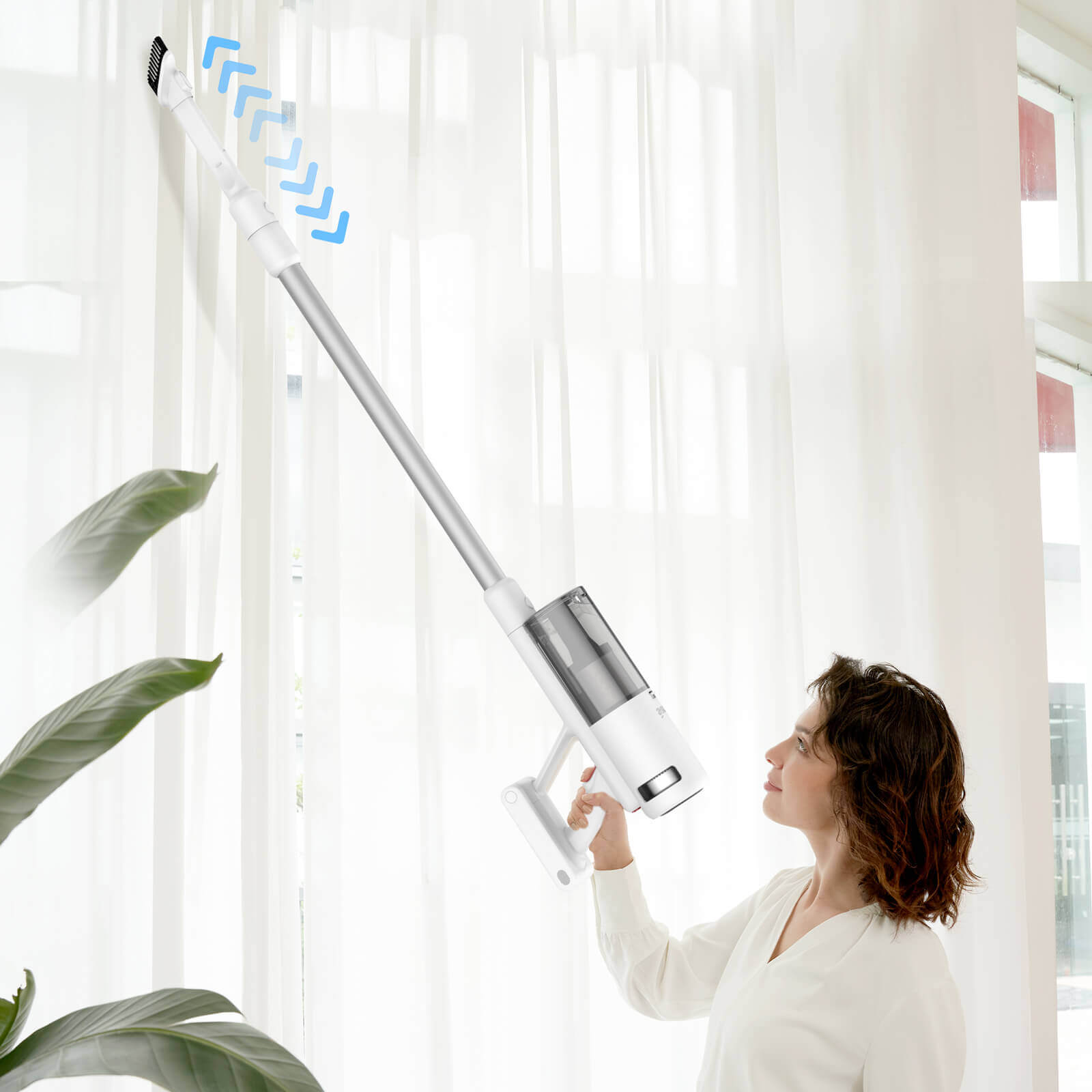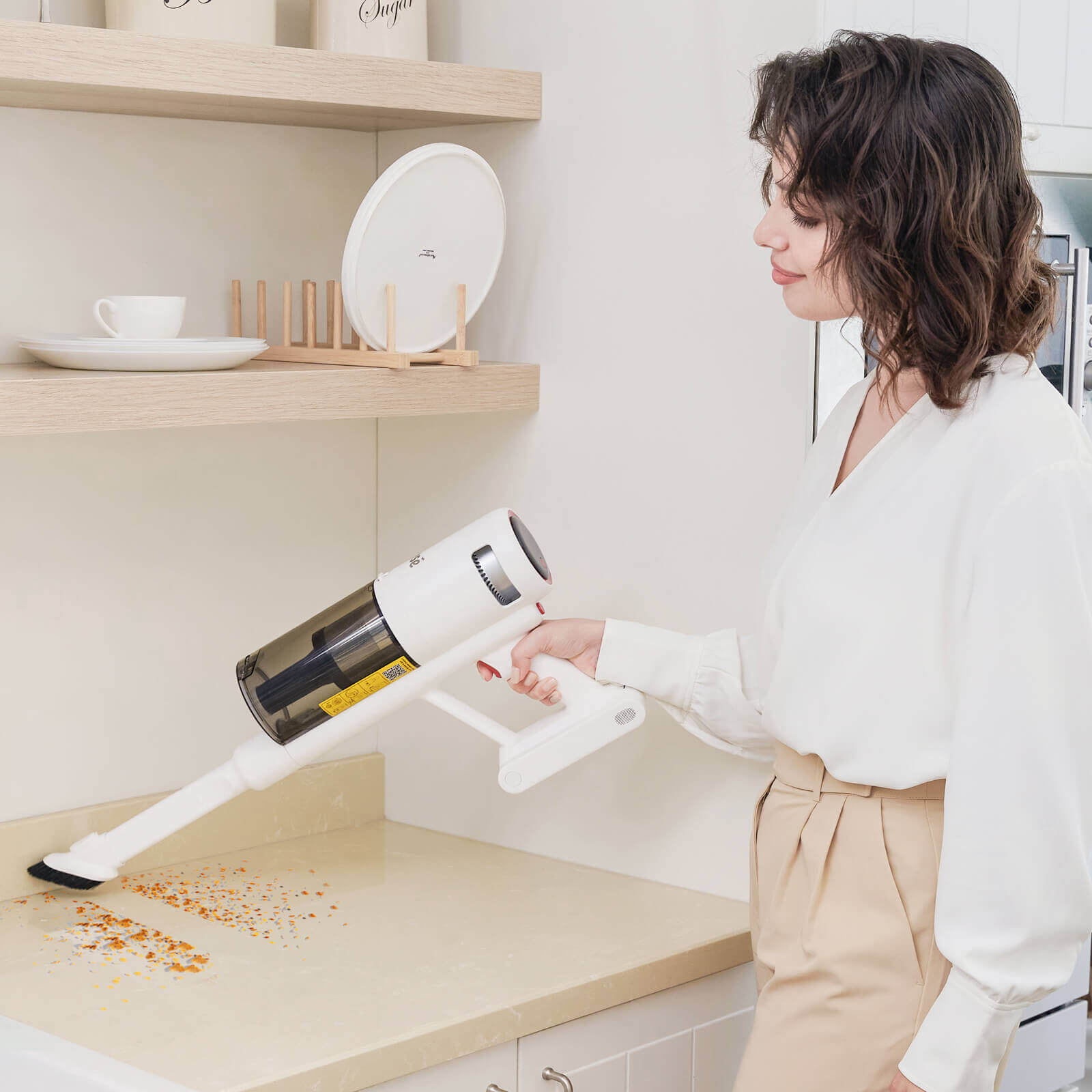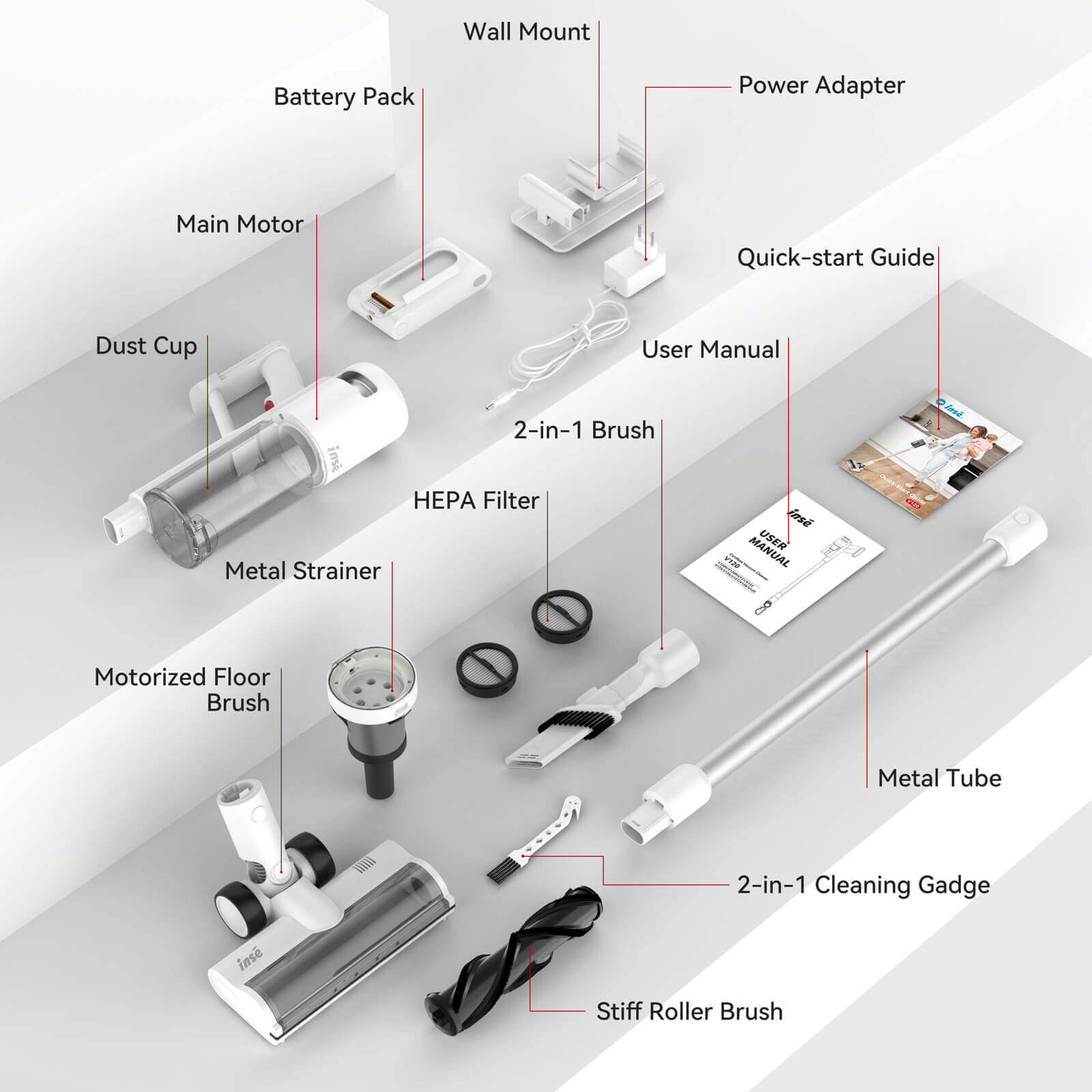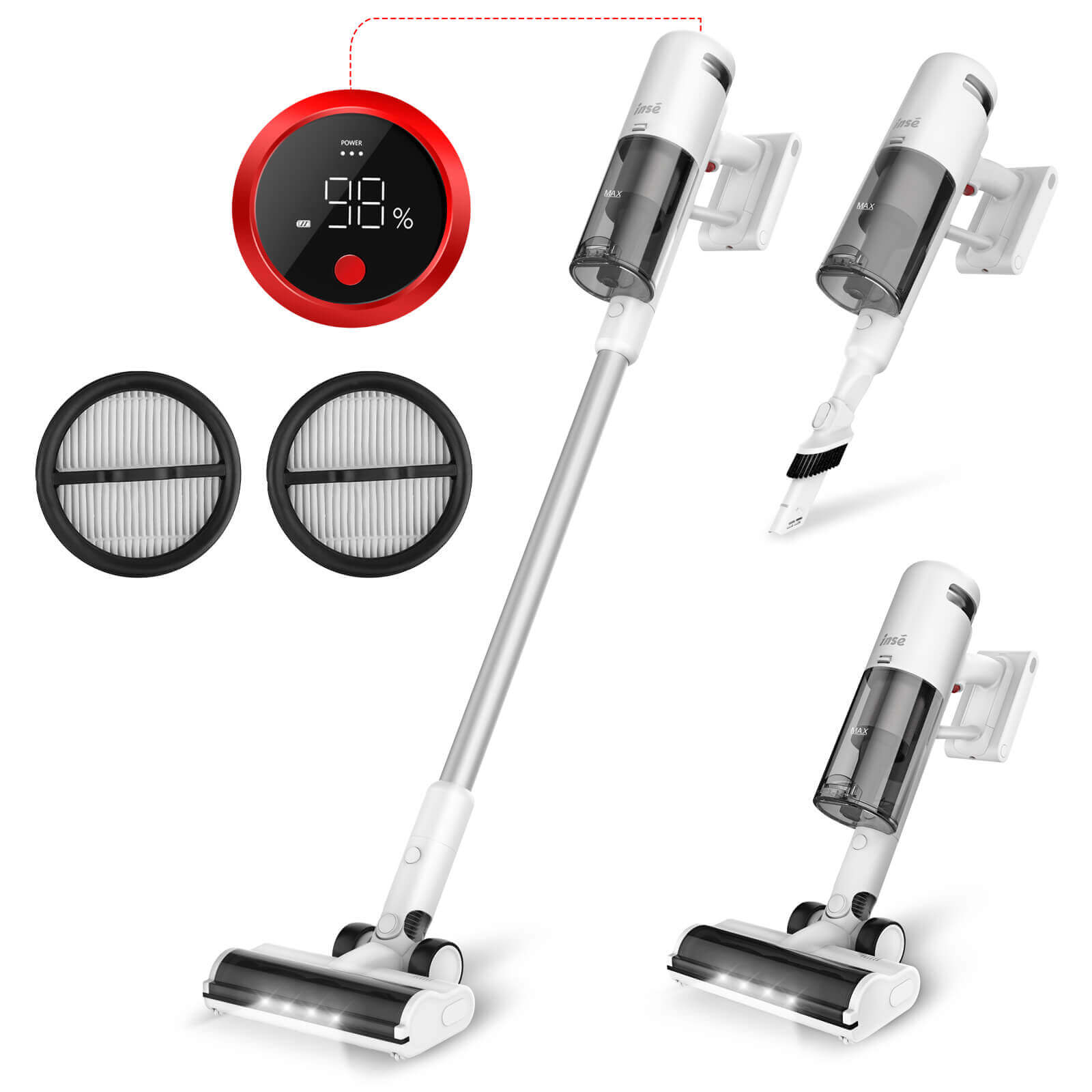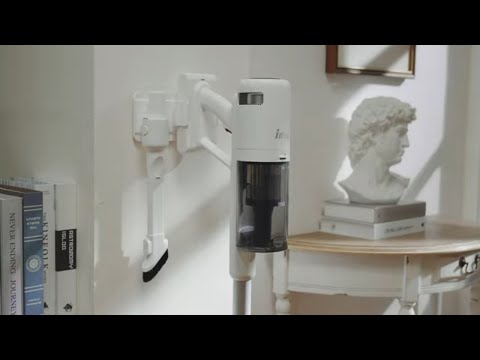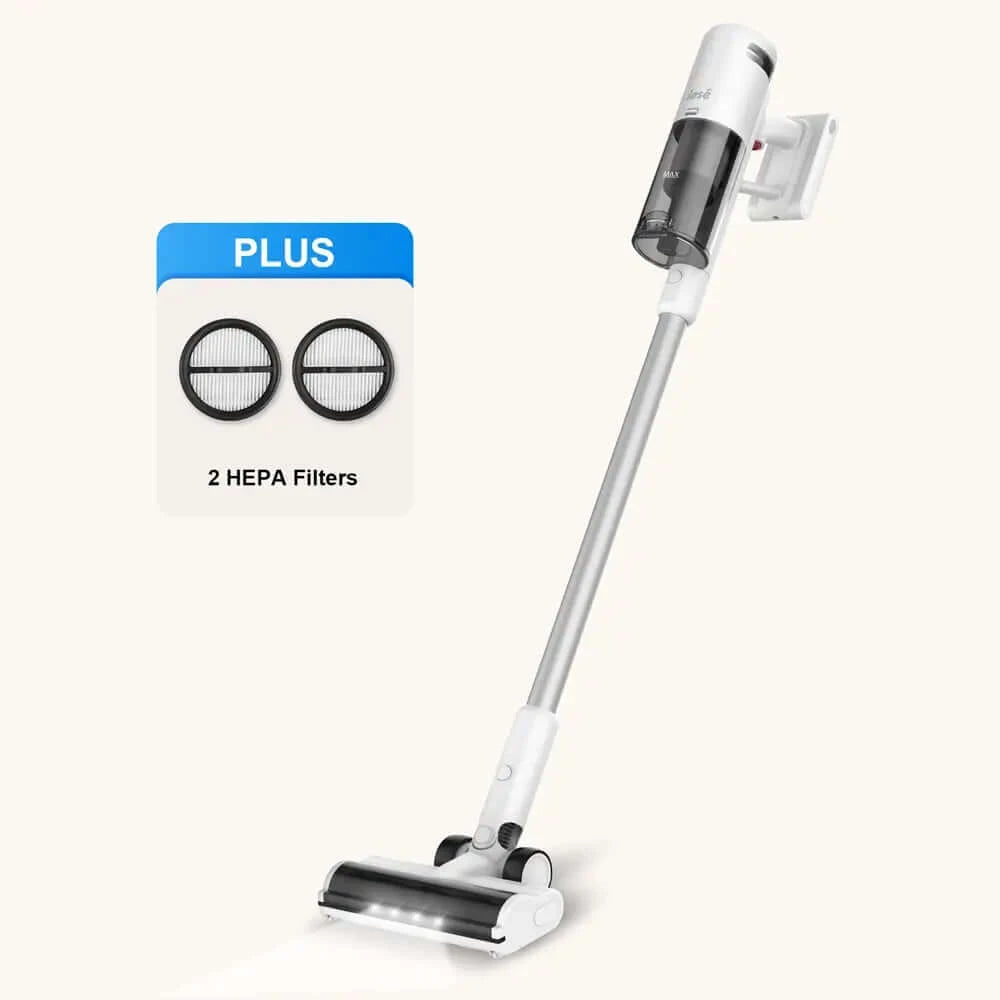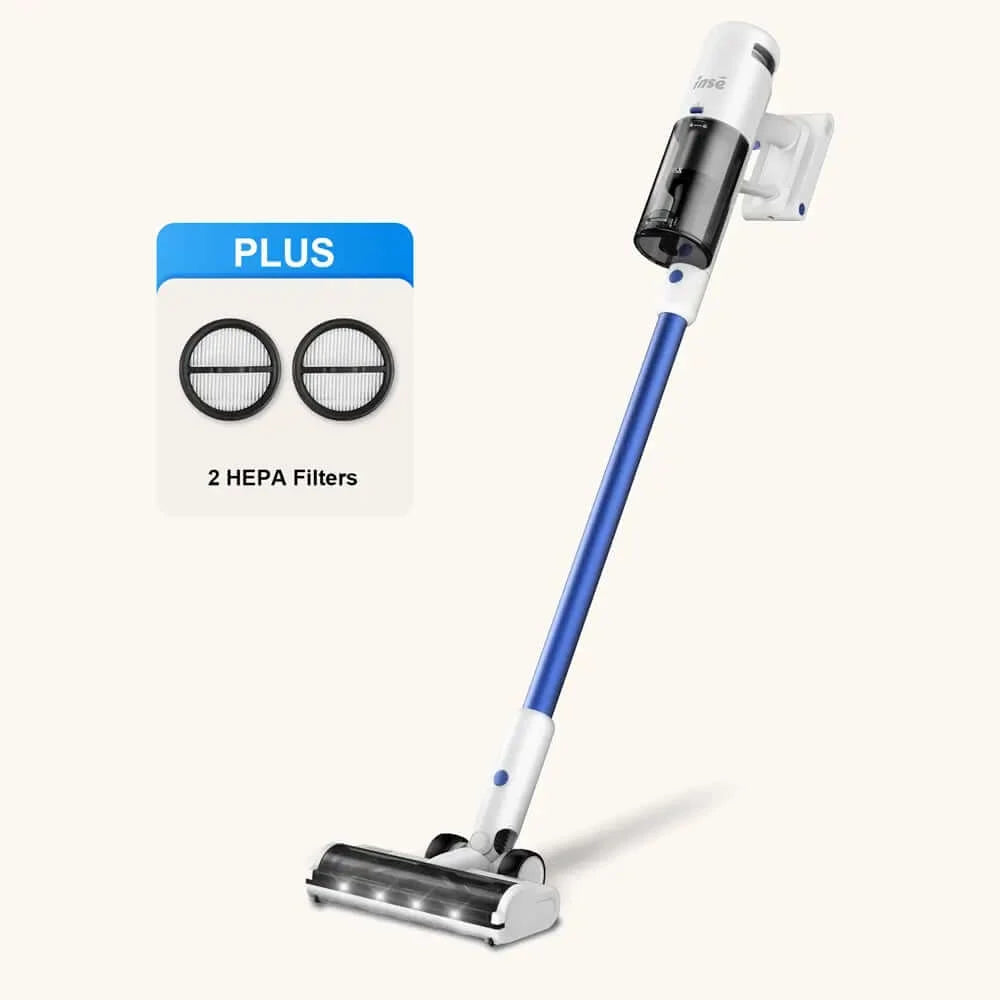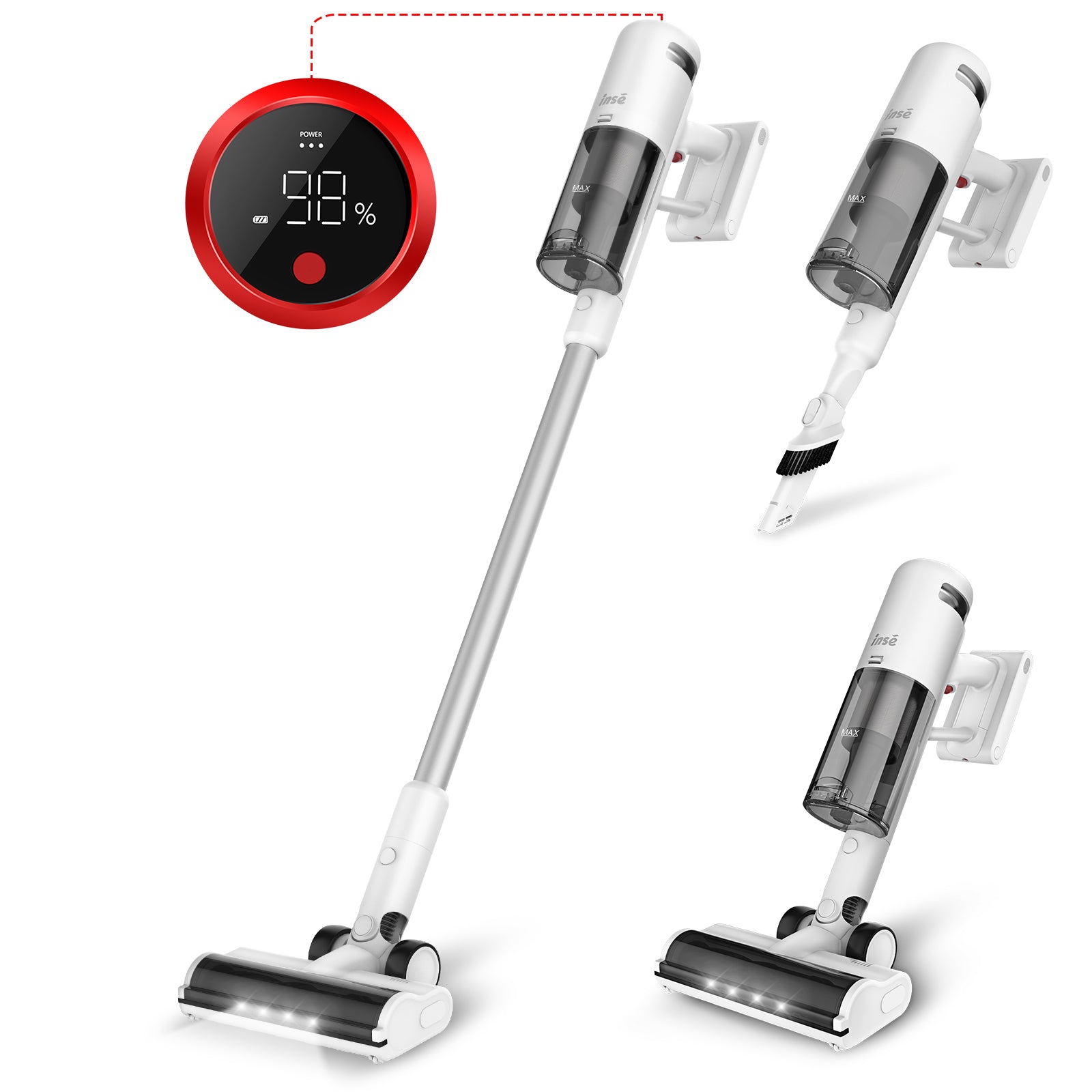 Why should I replace the filter regularly?
Maintaining the cleanliness of your vacuum cleaner's filter is crucial to ensure optimal suction power. Over time, if the filter gets clogged with dust and debris, it can severely impact the performance of your vacuum cleaner, leading to little or no suction at all.

To maintain the maximum suction of your vacuum cleaner, we recommend 1) cleaning the filter and stainless steel strainer regularly. 2) For cotton filter pads, wash them with clean water at least once a month and ensure that they are completely dry before putting them back. 3) For HEPA filters, use a cleaning tool to brush away the dirt, and DO NOT use water to wash them.

To ensure the best performance of your vacuum cleaner, we also recommend 4) exchanging the filter every 1-3 months, depending on your usage frequency. Before using the vacuum, make sure that the filter has been placed inside the dust box. Failure to do so may result in debris entering the host directly, causing damage to the motor.

If your vacuum cleaner has a pre-filter (gauze) with a blue arrow that wraps around the HEPA filter, do not remove it. The pre-filter is helpful in capturing more dust and can be washed in cool water."

By making these changes, the passage now reads more clearly and concisely, with specific instructions on how to maintain the filter and maximize the suction power of your vacuum cleaner.
Description

➡️Powerful 33Kpa Suction-INSE V120 features a 150AW brushless motor, generating 30Kpa suction for effective cleaning on carpets, floors, stairs, and cars.

➡️60-Min Runtime & Lightweight-With a detachable 7x2500mAh battery, enjoy up to 60 minutes of cleaning in standard mode. Weighing just 9 lbs, it's perfect for one-handed use.

➡️LED Smart Display & Easy Emptying-The LED screen displays suction control, battery level, and alerts for easy, intelligent cleaning. Adjust suction modes with the speed button and empty the dustbin with one click.

➡️Consistent Suction & Ergonomic-The INSE V120 maintains powerful suction, brushing from floor to air outlet. Its ergonomic handle makes cleaning easy, perfect for pet owners and busy households.

➡️Multi-Purpose & User-Friendly-Equipped with various attachments, it cleans sofas, cars, keyboards, and high places. The Easy Rest design allows safe propping against furniture, making cleaning hassle-free.

➡️5-Stage High-Efficiency Filtration-This fully-sealed vacuum captures 99.99% of dust particles, providing purified air and preventing secondary pollution. Features a high-efficiency cyclonic cone and an extra, unwashable HEPA filter.

Specification

Powerful Motor: 150AW

Battery: 2500mAh

Suction Power: 33Kpa

Lightweight Body: 3lbs

Dusbin Capacity: 1L

Charging Time: 3.5-4h
Maintenence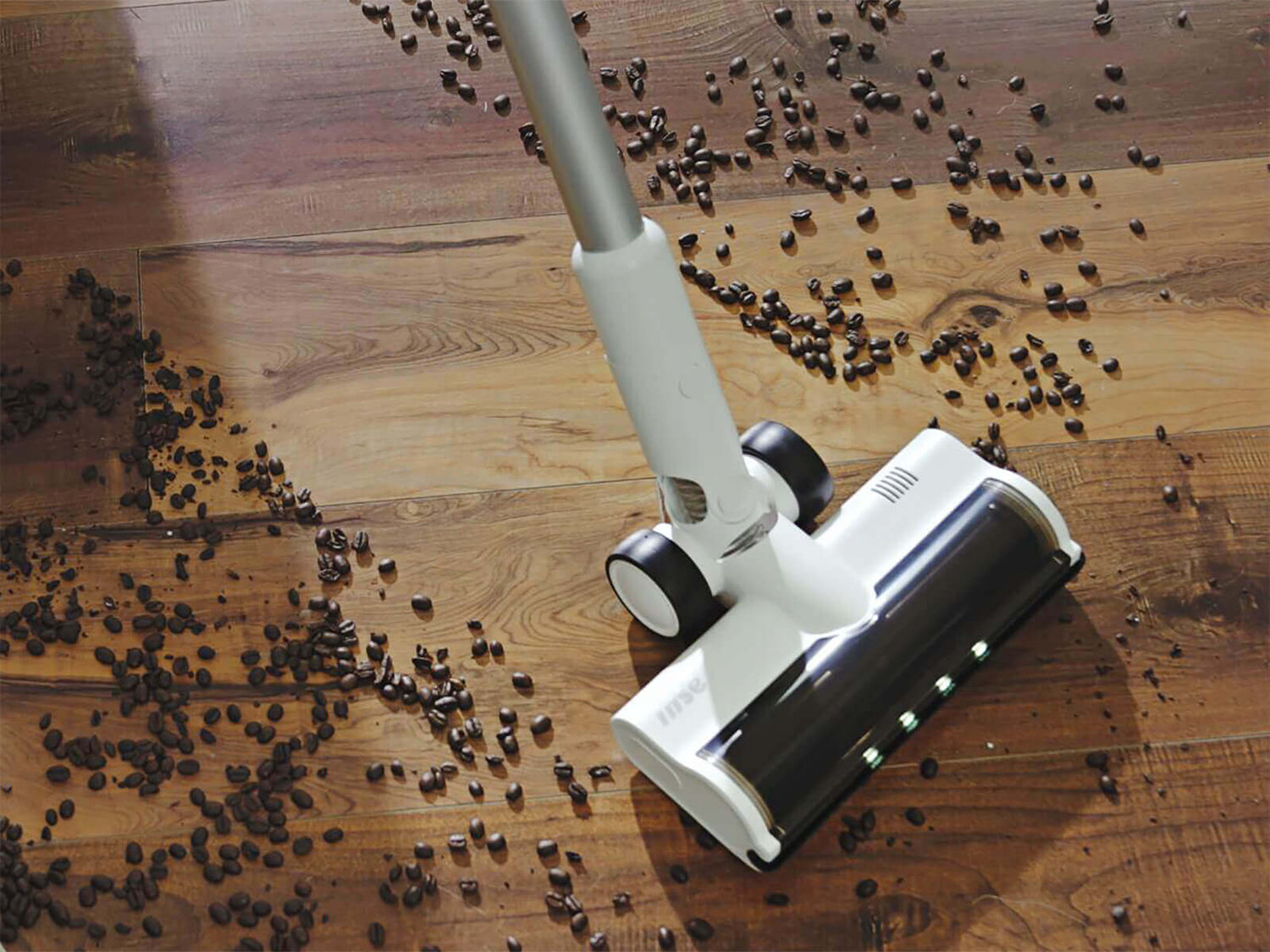 Ultra Strong Suction
Experience unparalleled cleaning power with this cordless stick vacuum, featuring a 150AW brushless motor that delivers an impressive 33Kpa suction strength. Effortlessly switch between three suction modes (Eco, Standard, and Max) to tackle any mess, with the Eco mode even capable of handling large particles like dog food.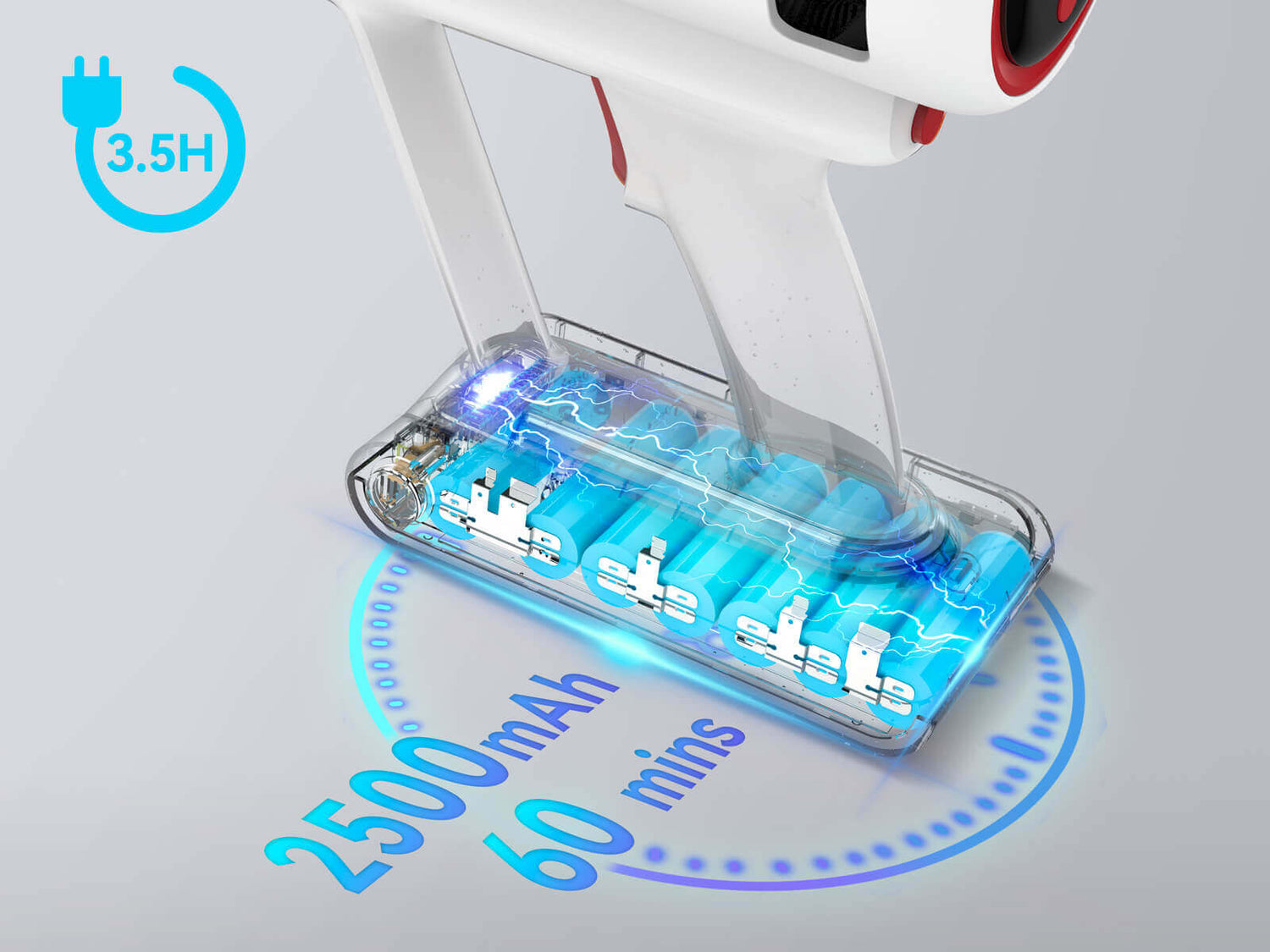 Long Lasting Runtime
The vacuum includes a detachable and rechargeable battery pack with a large capacity of 7*2500mAh. This battery provides up to 60 minutes of cleaning time, and it only takes 3.5 hours to fully charge, so you can quickly get back to cleaning your entire house.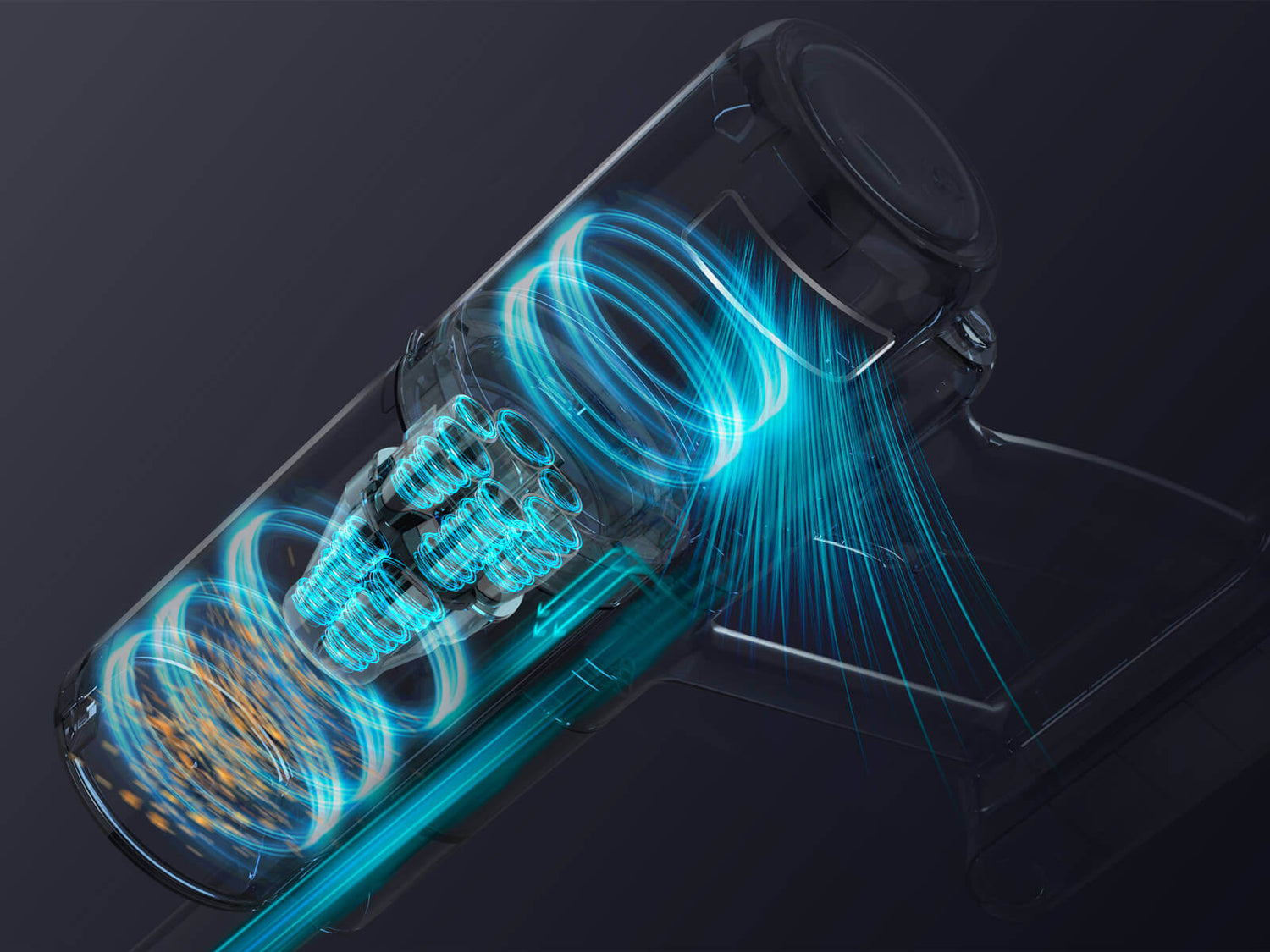 Powerful Cyclones
Its 6 powerful cyclones create forces of up to 18,800g to effectively remove dust from the airflow. This results in the release of fresh, clean air that is especially beneficial for users with asthma. Enhanced filtration ensures device longevity and lasting performance.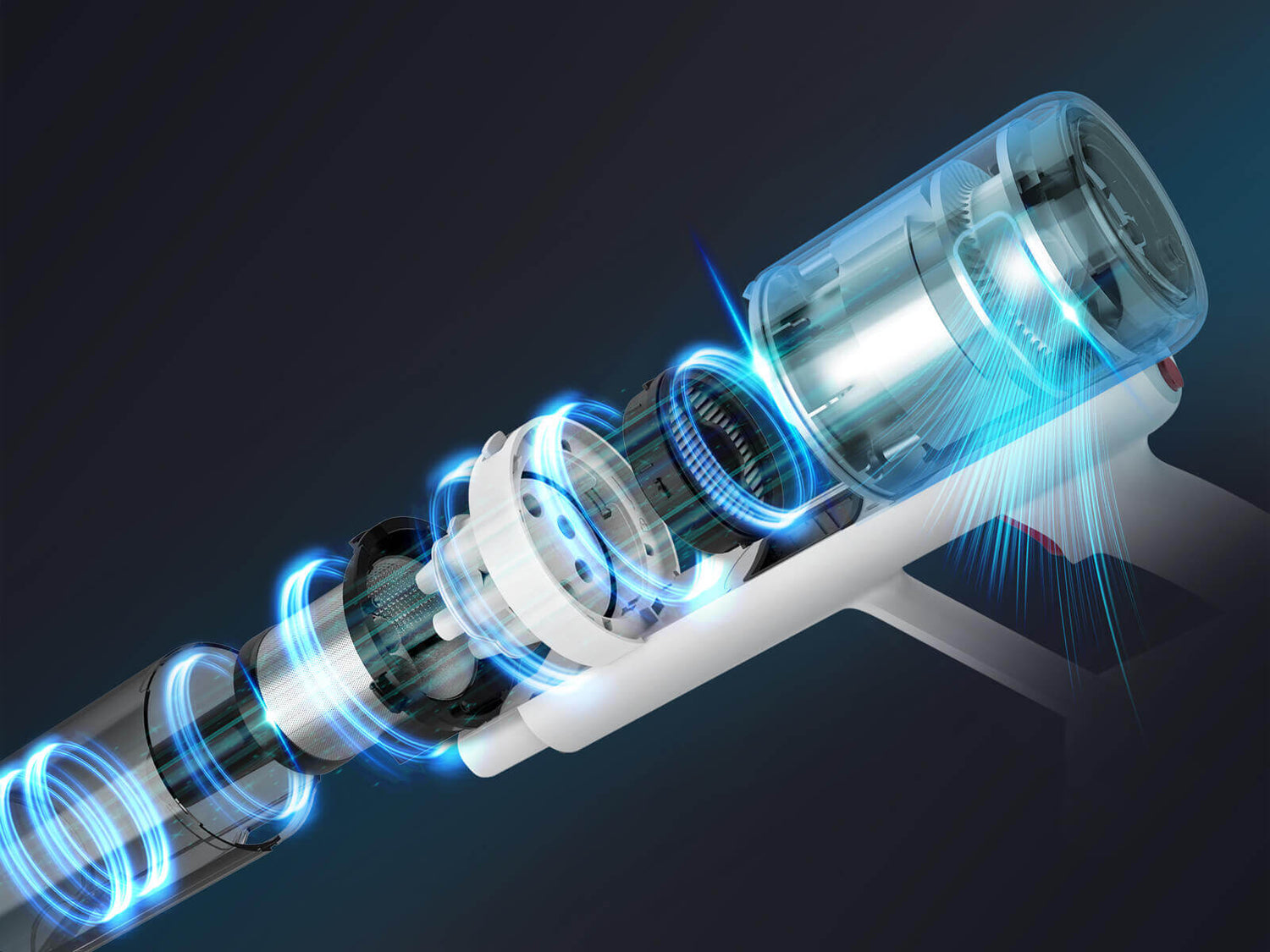 Fully Sealed
Experience ultimate air purification with our 5-stage high-efficiency filtration system, capturing 99.99% of 0.1um-sized particle dust, keeping your family safe from secondary pollution. Please note that the dustbin cover cannot be closed if lost or improperly installed.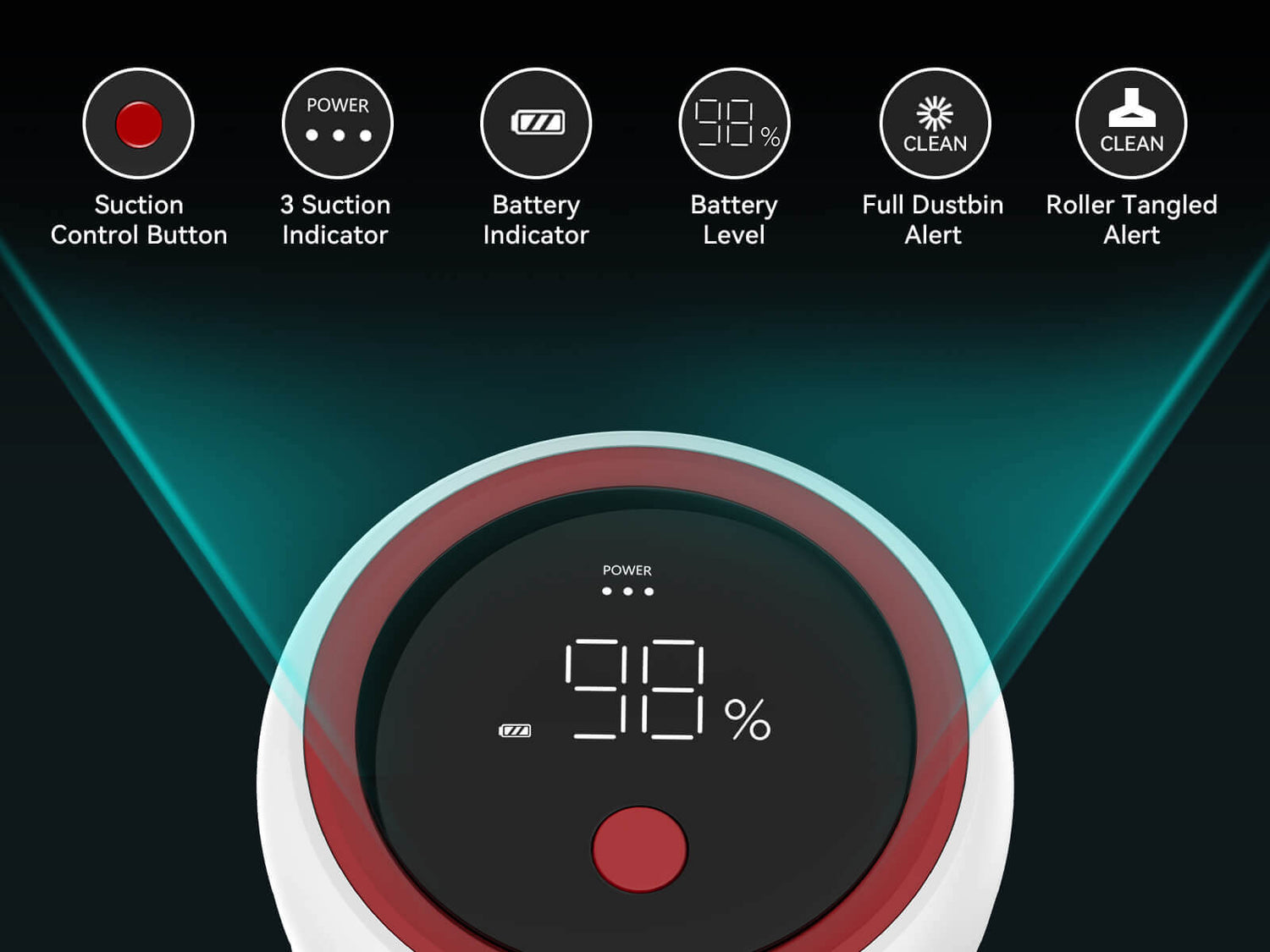 LCD Display
Stay on top of your cleaning with the vacuum's smart LCD display, which allows you to monitor performance in real time. The display shows important information such as battery level, three suction modes, dustbin full reminder, and roller tangled alert for seamless operation.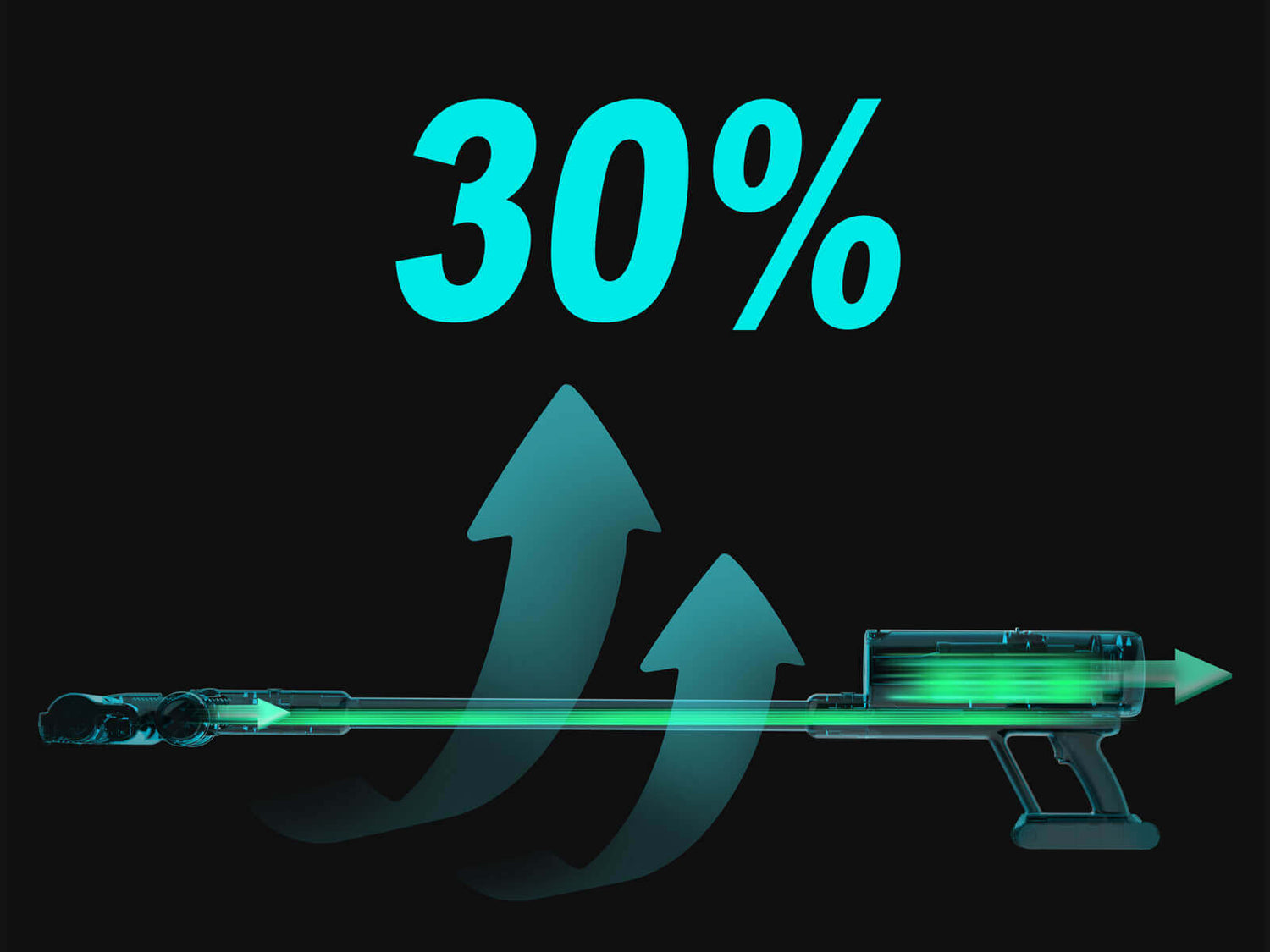 One-Line Cyclone
The easy home cordless cyclonic stick vacuum's one-line design allows for direct suction without any loss, as the cyclone passes through the metal tube that runs straight through the dust cup and motor. Enjoy super strong and efficient suction power.
For Hard Floors & Low Carpets

With ease, pick up large particles such as dog food, cat litter, and debris from a variety of surfaces including marble, tile, hardwood floors, stairs, cars, and carpets.

Anti-Tangled Hair V-Shaped Brush

Featuring a V-shape roller brush, it is designed to gather and vacuum up garbage from the middle, effectively preventing hair from wrapping around the roller.

Motorized Brush with LED Lights

Boasting 180° sideways swiveling and 90° up and down movement, it easily accesses hard-to-reach areas. Plus, the built-in LED lights guarantee no shred of dirt goes unnoticed.
Wall Mounted & Easy Rest

Choose your preferred charging method and leave the vacuum leaning on countertops or furniture without the worry of it falling over.

Washable Strainer & Dustbin

Maintain the vacuum's powerful suction by regularly cleaning the dustbin components. Please note that it is not recommended to wash the HEPA filter.

No Dust Inhaled In

Its 1L dustbin capacity allows for less frequent emptying, while the one-press design helps prevent dust inhalation during the emptying process.
Quite good
I bought inse v120 becouse from the features, I read that it has a battery life of 60 minutes and I was hoping that at maximum suction power, it reaches perhaps 20 minutes.
I always use it at maximum power and i'd say it works well but for those with a large house, i'd recommend buying a second battery.
the price paid seems good to me.
Problem solved
Recently I ordered some filters, six pack, there was a mistake in filling the order and only two arrived. But once again Danna was there to fix the order in a professional, friendly, and quick manner.
Broken
Broken after one year use. Works great when it works. Wait for a response from the company.