Benefits of Grooming Pets Regularly





Better hygiene and smell - Regular cleaning and brushing can improve your dog's hygiene and odor by removing dead skin and buildup.
Inspect fleas & pests - A benefit of grooming regularly is you will be able to check for fleas and pests, and treat them early.
Get rid of matted hair - Dogs with medium/long hair are prone to developing mats, which can be addressed by either brushing them out or shaving the affected area.
Healthy and shiny coats - Regular brushing helps to remove dead skin, dirt, and other debris while distributing natural oils throughout your dog's coat, resulting in a healthier and shinier appearance.
Win Win - Grooming your dog not only makes them happy, but it also shows off what an awesome pet parent you are! Give your furry friend a fabulous makeover and enjoy the bonding experience.
1. Grooming Brush

The metal pins on the dog grooming brush let pets feel like having a massage. No more excess skin oils and painful matting and hot spots. Moving heavy undercoats is no longer torture for cute pets.

Shop Now

2. Deshedding Brush

Regular deshedding keeps pets comfortable year-round, reducing static in spring and autumn, maintaining coolness in summer, and preventing bacteria growth or clogged hair follicles due to oil buildup.

3. Hair Clipper

It is easy and safe to use the hair clipper to cut long dog hair with four detachable plastic guard combs. Sharp for clipping pet hair and friendly dog grooming for beginners at home.

4. Crevice Tool

With its 55-inch flexible hose, the crevice tool can effortlessly access hidden hair in tight spaces, effectively collecting pet hair from furniture, corners, and crevices, ensuring a clean and fresh environment.

5. Cleaning Brush

The cleaning brush serves a dual purpose. It can be used as a clothes brush to vacuum away leftover hair from sofas and dog kennels, and as a paw-cleaning brush to remove dust after a walk.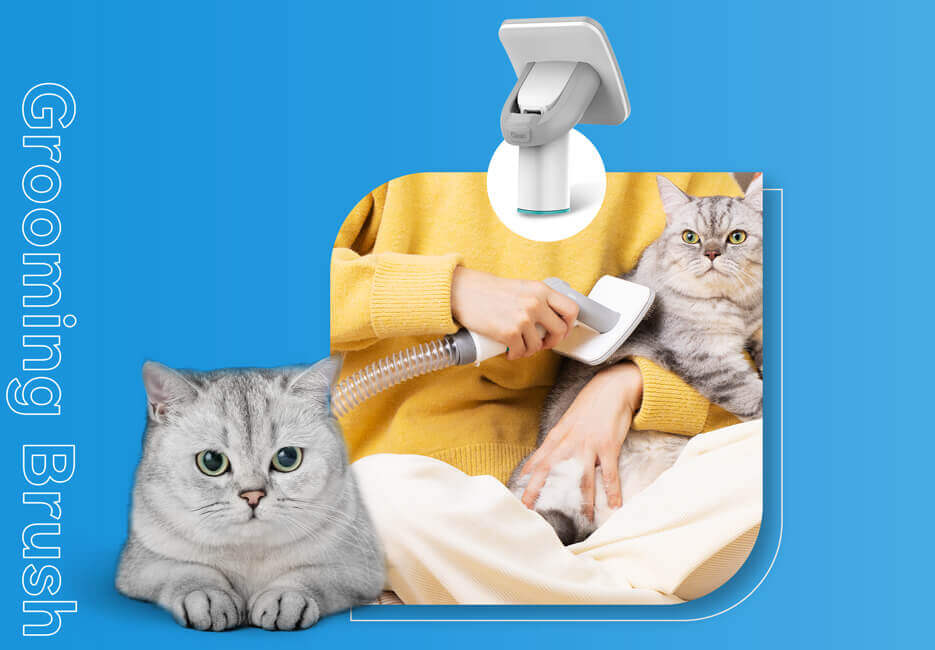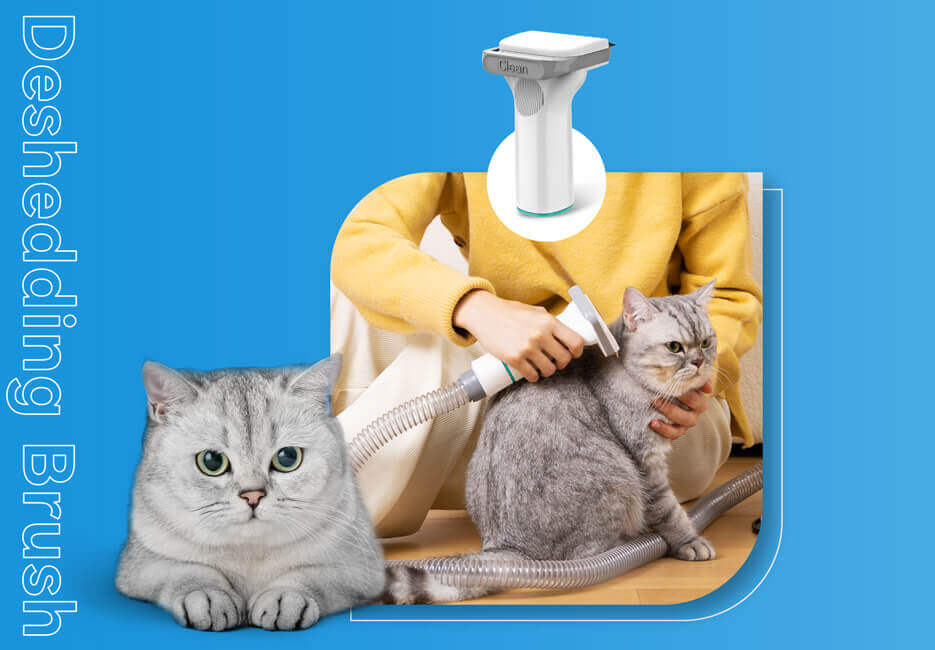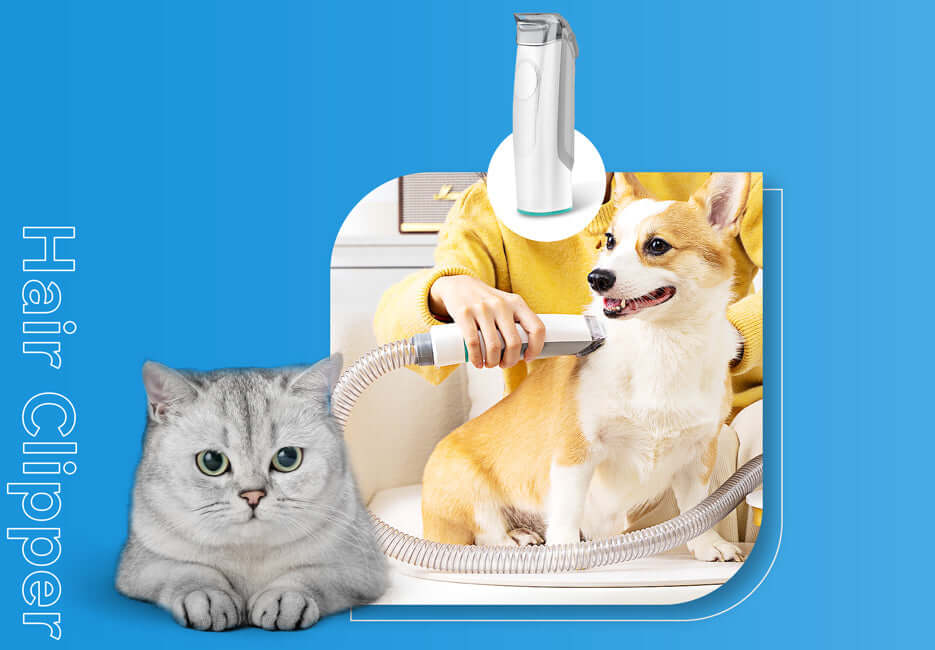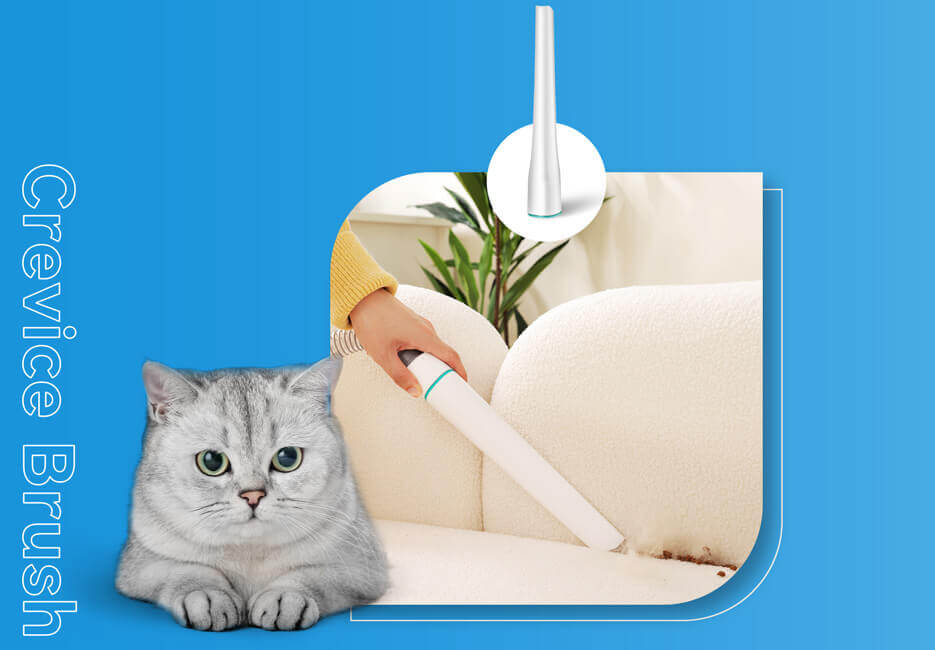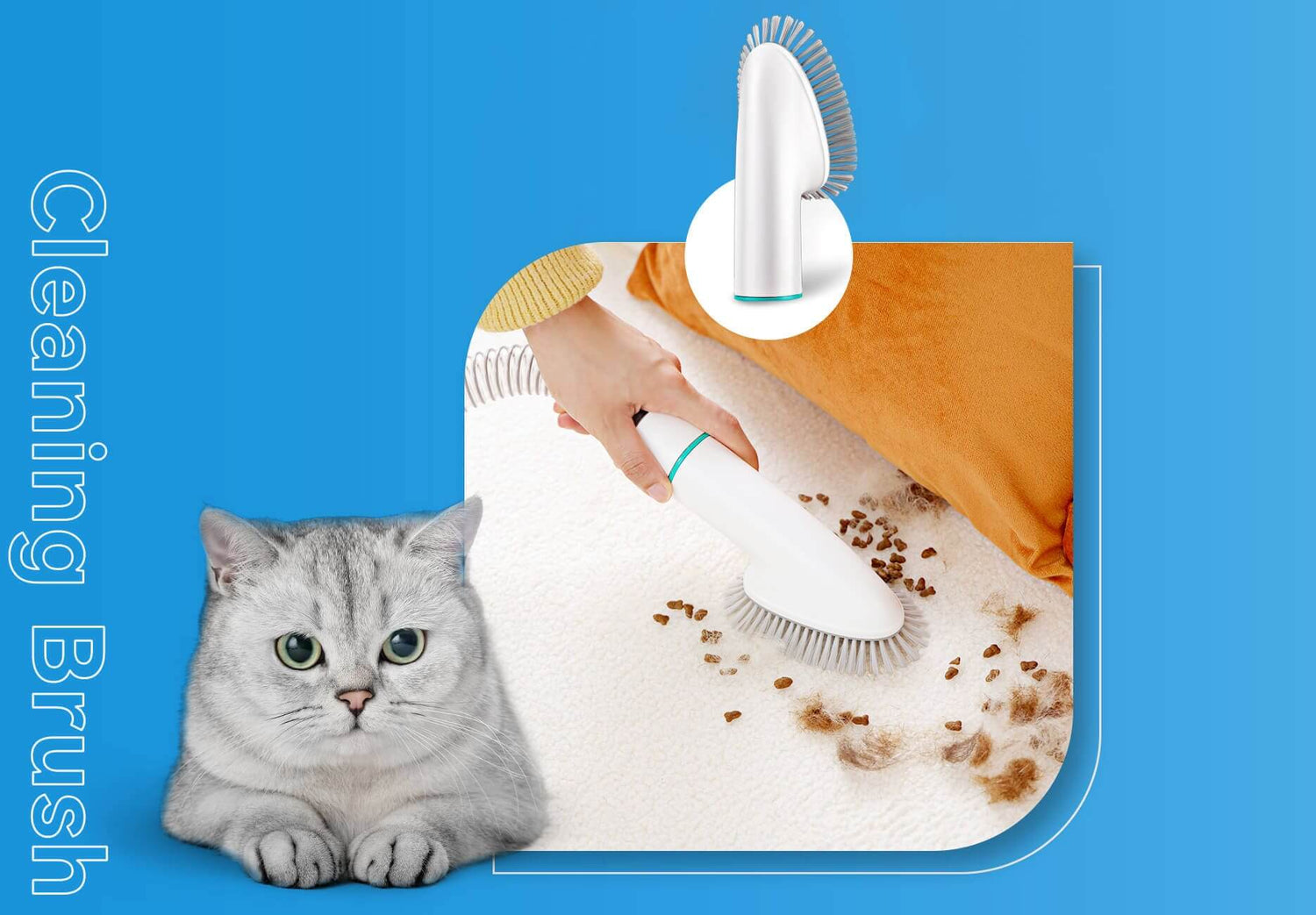 Featuring a spacious 0.3-gallon (1.2L) dustbin, this dog grooming brush holds more pet hair, reducing the need for frequent dumping and making it especially convenient for paw parents of long-haired fur babies.
INSE P20 Pro dog grooming vacuum offers three power modes tailored to various pets' needs. Eco mode, with 9,000pa suction power, is perfect for cats and small dogs like Chihuahuas and Shih Tzus. Medium mode, at 12,000pa, accommodates medium-sized dogs such as Australian Shepherds and Border Collies. Max power mode delivers a powerful 17,000pa suction to effectively groom long-haired and thick-coated dogs like Samoyeds, Golden Retrievers, Huskies, German Shepherds, and Bernese Mountain Dogs.
⭐ One-Press Clean

After grooming your dog, simply press the brush button to suction up all the hair with the vacuum.

⭐ Detachable Dustbin

To dispose of the collected hair, simply press the released button to detach the dustbin and empty it without any mess or hassle.

⭐ Beginner Friendly

With just a few simple steps to assemble the grooming tools and hose, you can start grooming your pet effortlessly.
INSE P20 Pro Dog Grooming Kit Pet Hair Clipper Vacuum for Dog Cat
Shipping Countries: US/CA/UK
Save $81 on BFCM Big Sale
Regular price

$179.98

Sale price

$98.98 USD
Professional Customer Support
Free & Fast Shipping Over $15
30-day Worry Free Return

Order the INSE P20 Pro with confidence and give it a try if you're not sure whether your pets will like it. We've got you covered with our product trial offer.
*This time-limited special offer is exclusively for the inse p20 pro.
Buy Now, Pay Later

1. Pay With Paypal   


 


When you place an order with your Paypal account, you will be redirected to the PayPal payment page, where you can confirm your payment by logging in with your PayPal username and password.

If you are already a PayPal customer, you can log in with your user data and make a payment.

Are you a newcomer to PayPal? You can then log in as a guest or open your PayPal account and confirm your payment.

Collections are usually booked in a few minutes and your order will be processed immediately.

*PayPal: Paid in full in 6 months. No Interest. Pay now or pay over time with PayPal Credit. Just use PayPal Credit in PayPal checkout.





2. Pay With Shopify Payment 


Through Shopify Payment, we accept Visa, Shop Pay, Mastercard, Google Pay, American Express, Apple Pay, Diners Club, Discover, Meta Pay, and Venmo. You could choose any payment method for your preference.

 

What's New - Buy Now and Pay Later!

Through Shop Pay, you could purchase any INSE vacuum and pay at your own pace without any fee. Purchase over time to maximize your budgets.

-- How Does It Work?

Choose your payment schedule at checkout – starting at 4 interest-free payments of a certain amount every 2 weeks. Or you could pay monthly installments for up to 12 months.

-- What are the other benefits?

No hidden fees—ever.

No impact on your credit score to apply.

Shopify will organize to plant trees at no extra cost to reduce the environmental impact of deliveries through Shopify Sustainability Fund. 
You could track your orders using the Shop app.
Flexible payment plans up to $17,500

---
Please note that INSE does not collect your credit/debit card number or personal information when you make payment. 

For questions regarding your transactions on our site, please consult your card-issuing bank for information.

If you have any questions with paying, don't hesitate to contact us via support@inselife.com
12-Month Warranty

For INSE P20 Pro, we provide a 12-month worry-free warranty. For any questions or concerns, please contact us at info@inselife.com for a quick and professional solution.
Maintenence
Share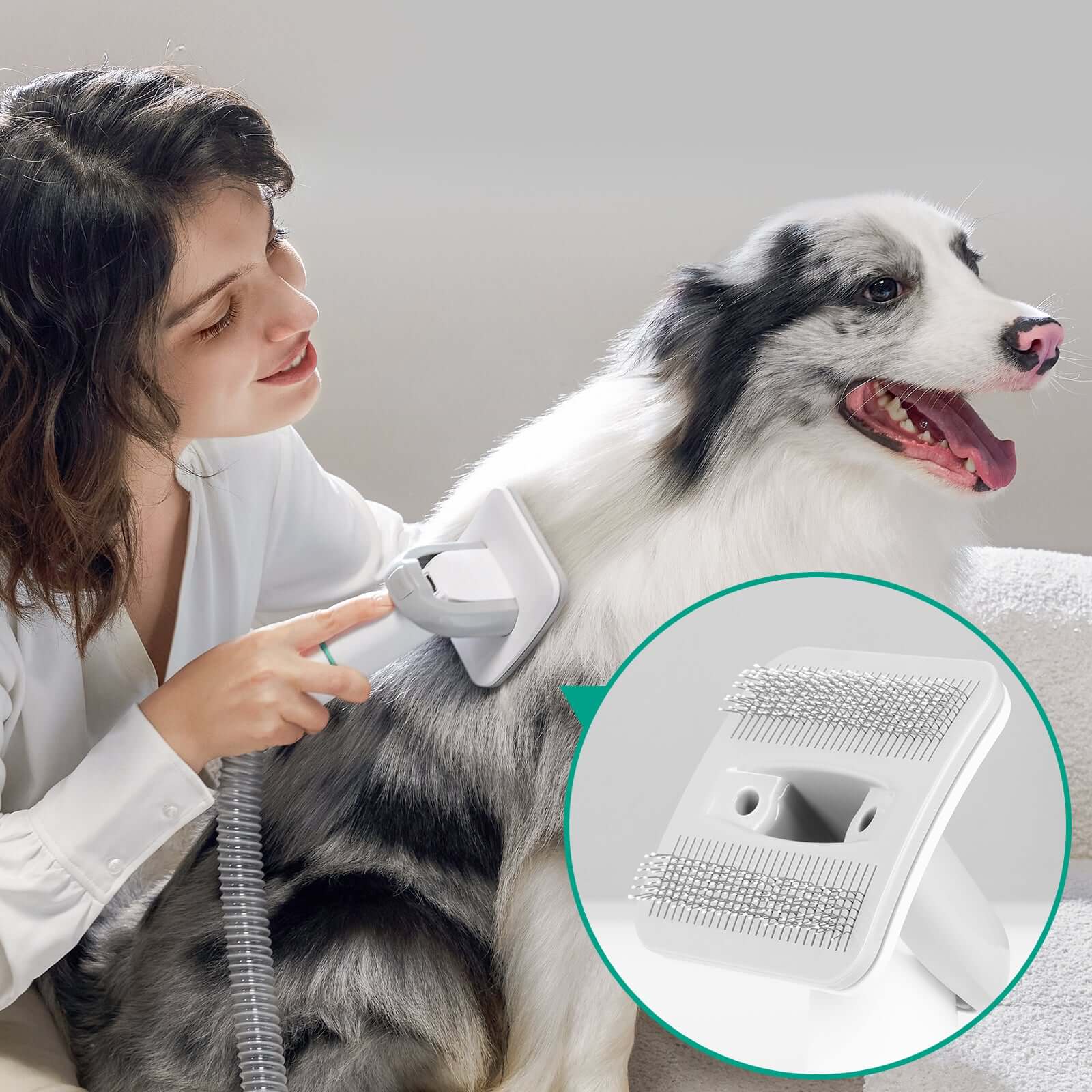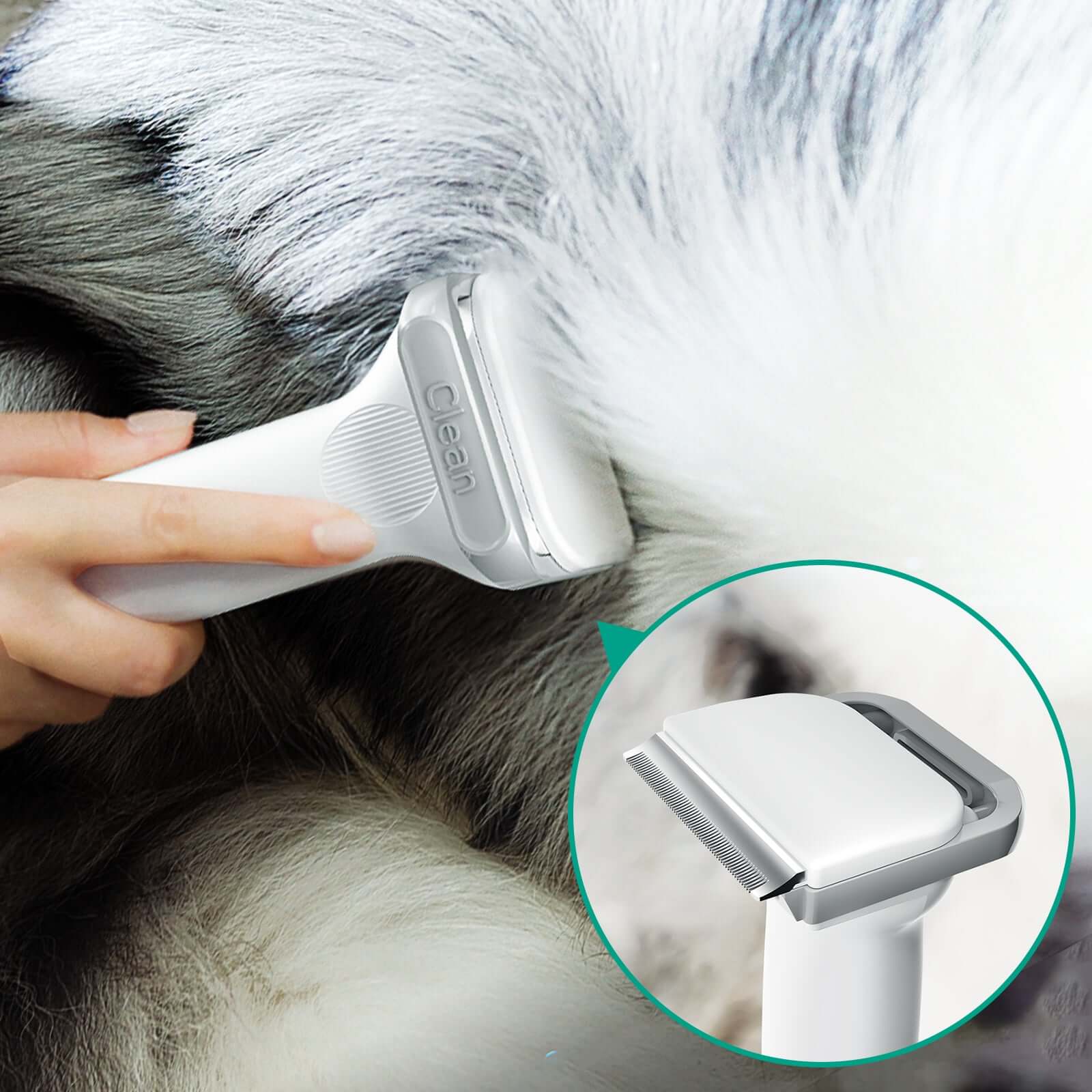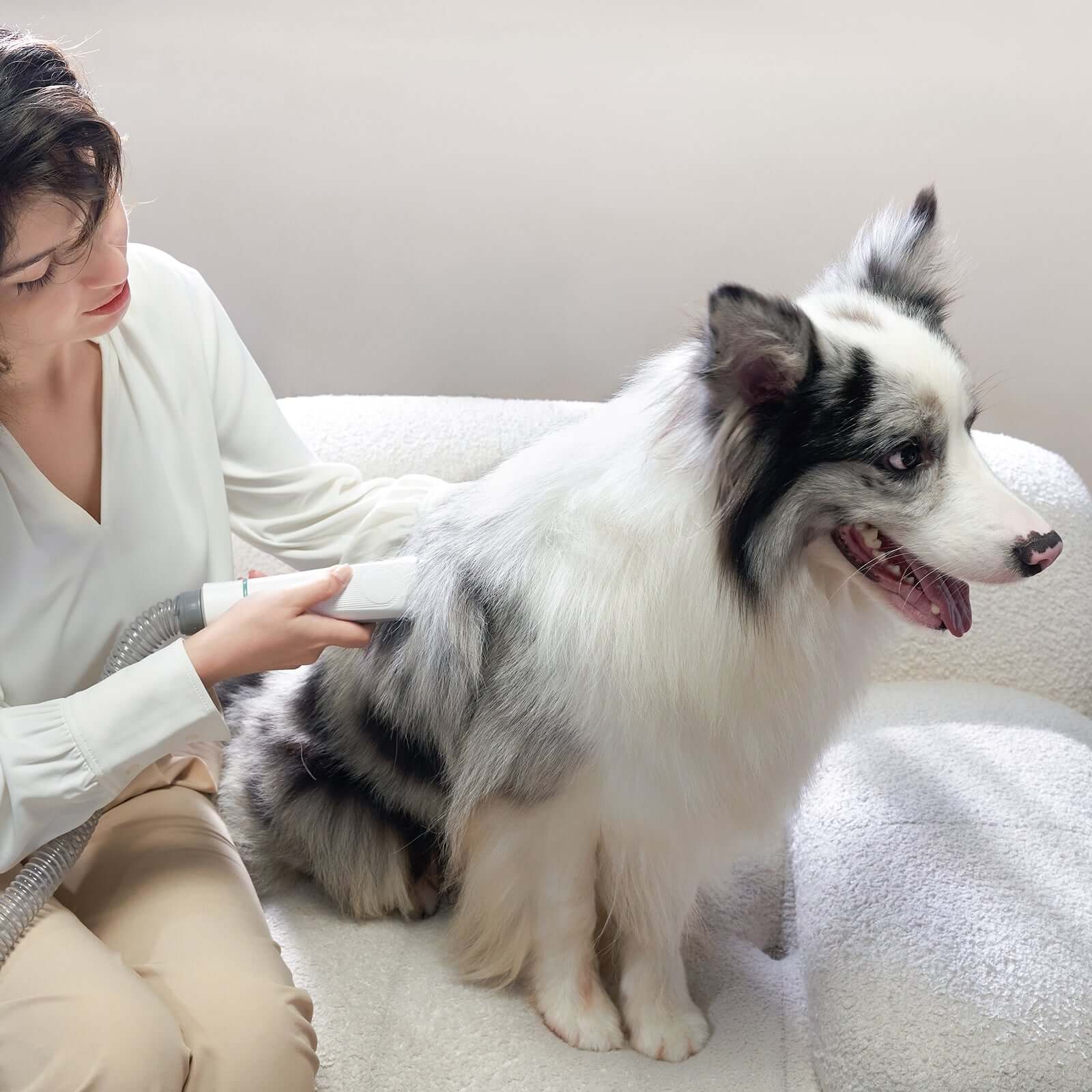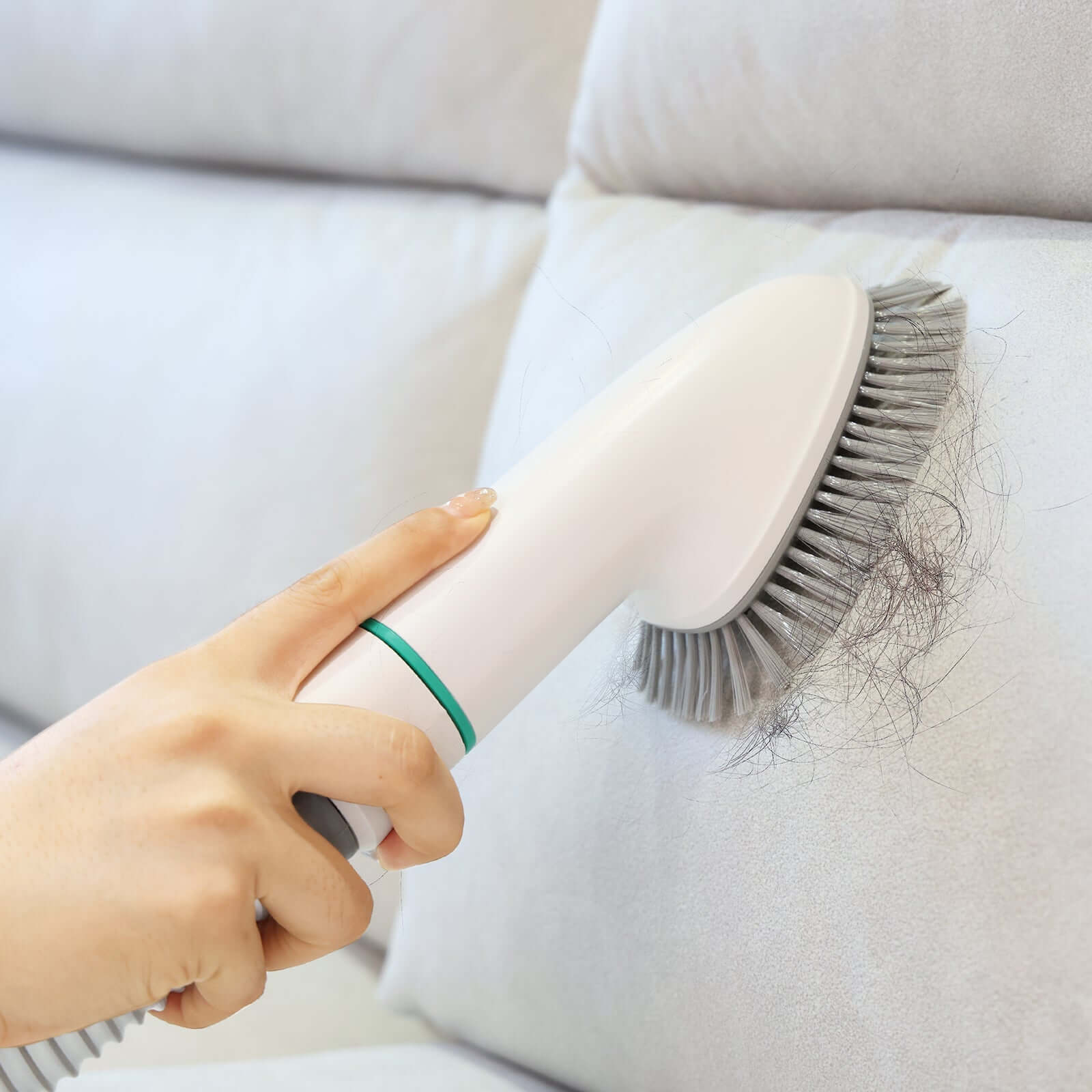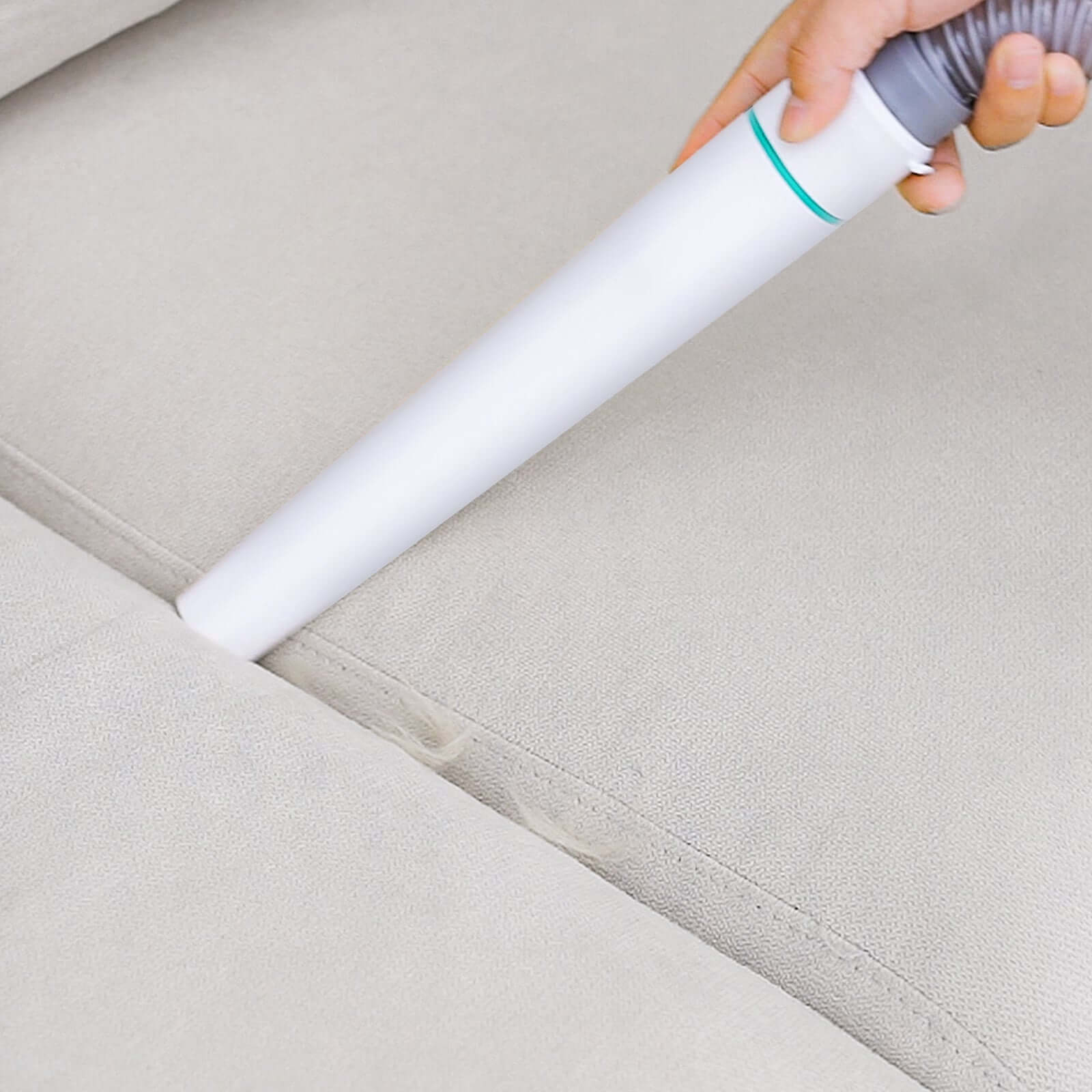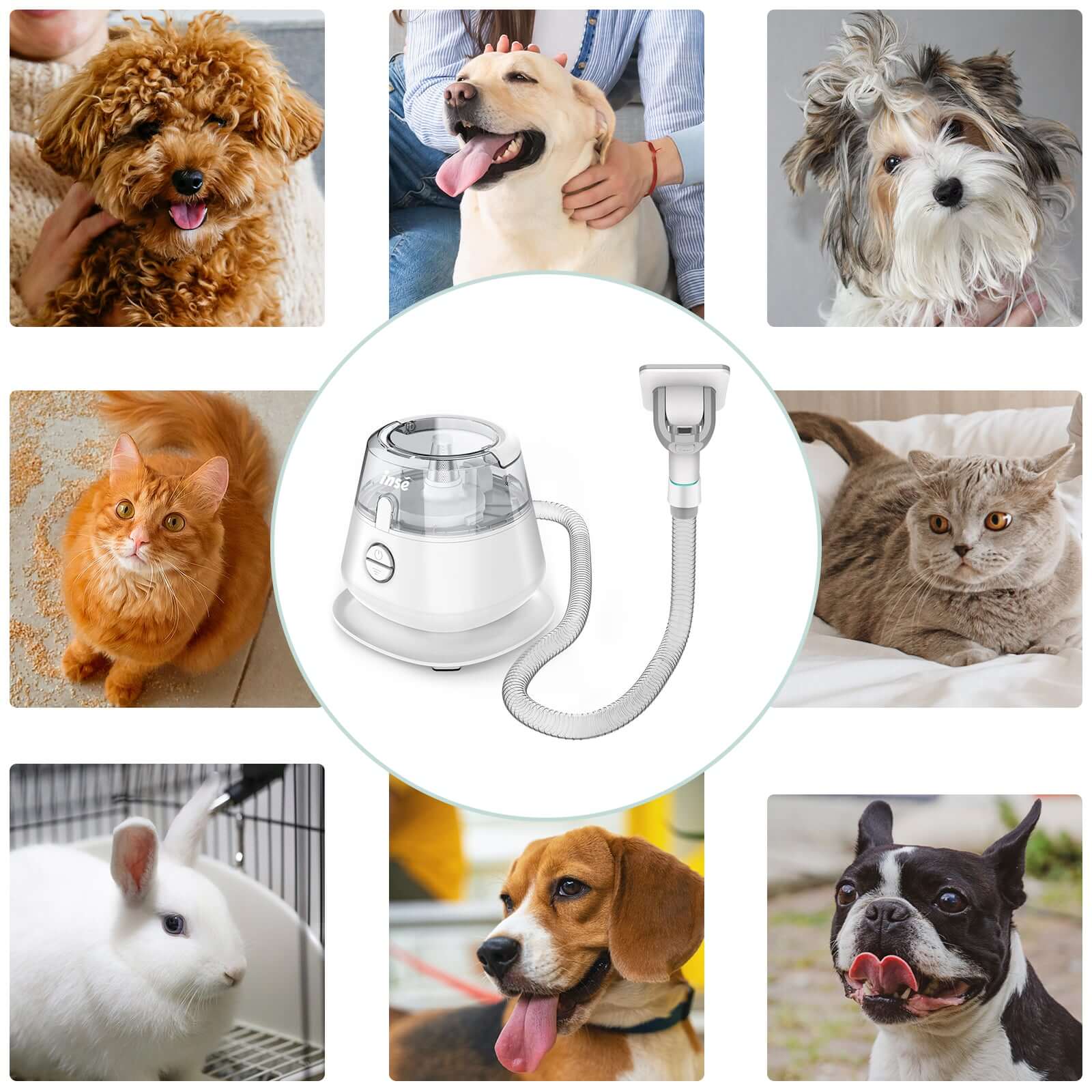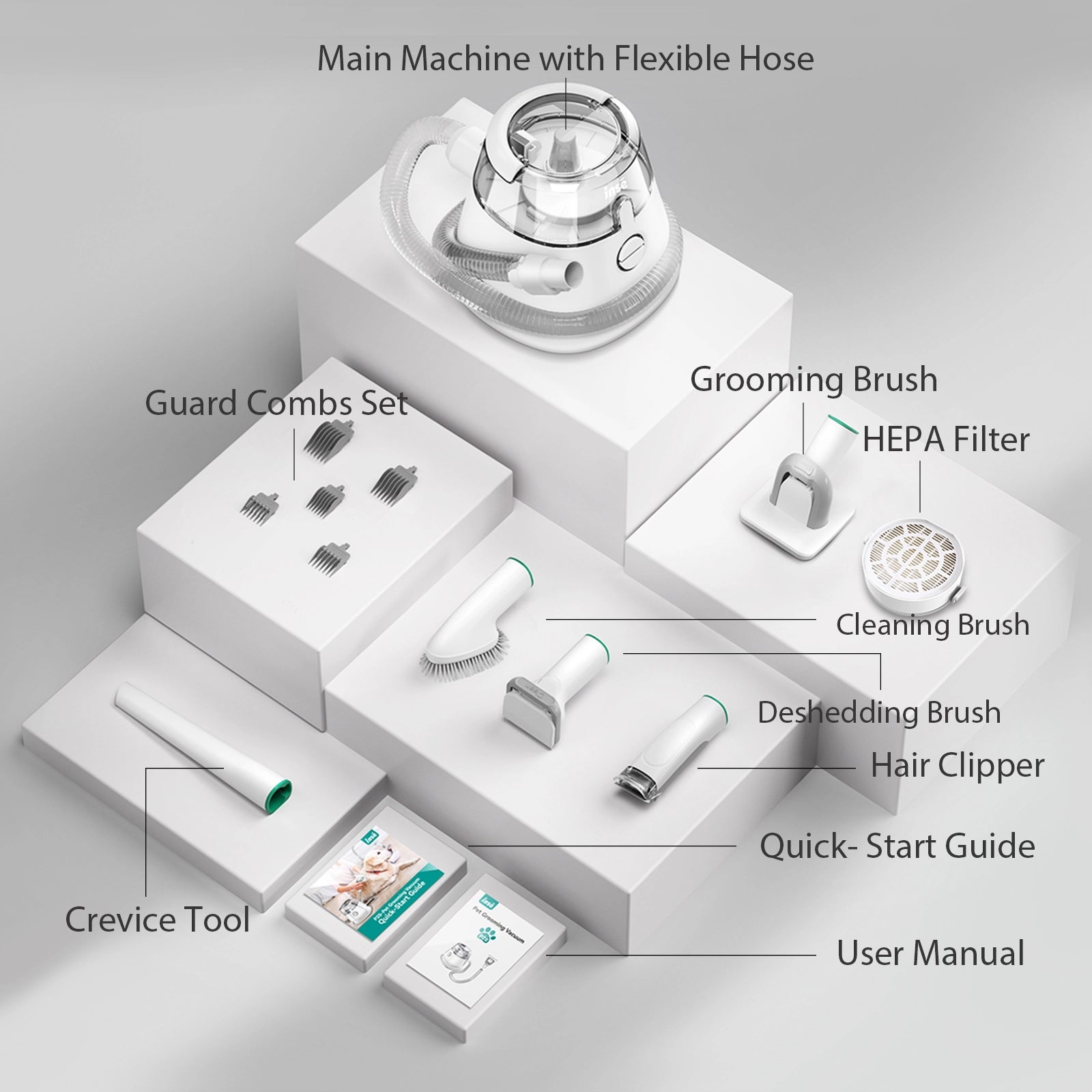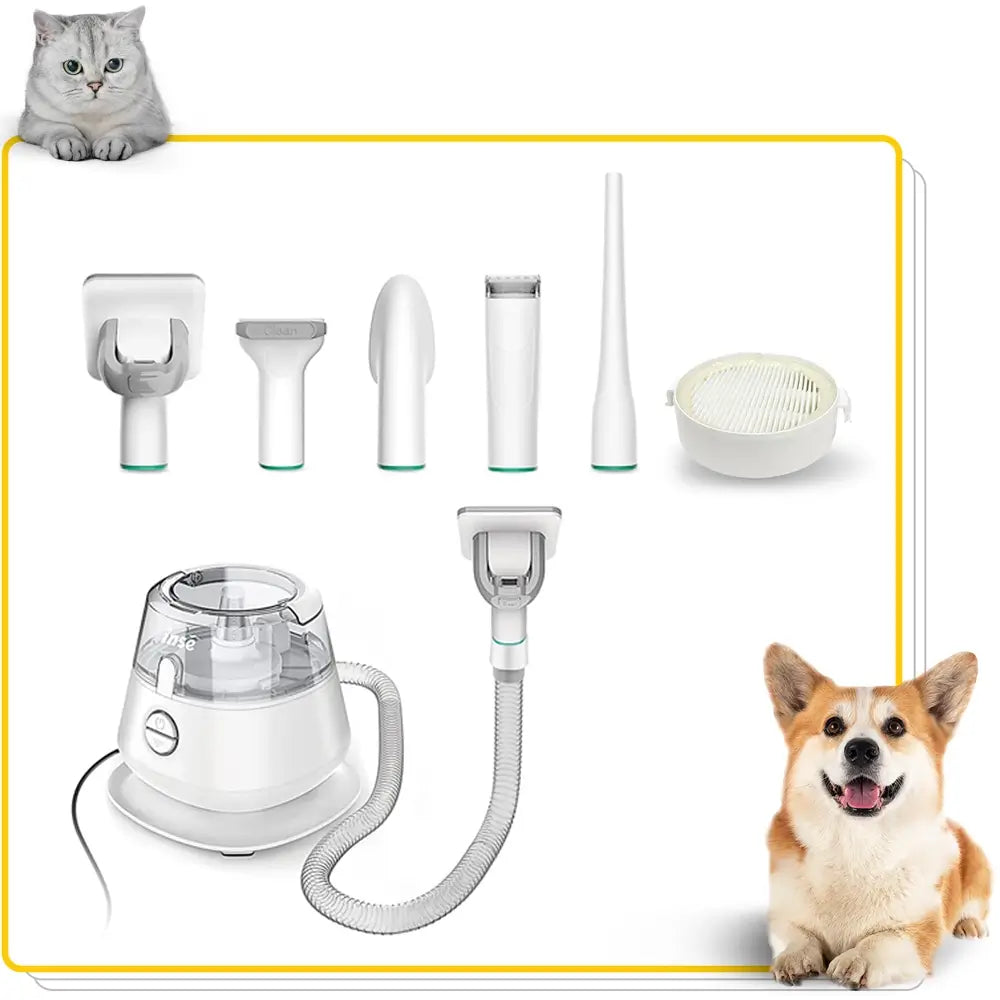 Real Pet. Real Test.
Real Good!
INSE P20 Pro revolutionizes at-home pet grooming by combining five professional tools, leaving your dog or cat looking tidy and beautiful without any messy hair on the floor.
Dog Grooming FAQs
Is it loud while the vacuum is on?

"Different settings will control power and hence sound. I had it on the highest for Ayce and he didn't mind it! Every dog is different though."——from @ayce.and.aria on Instagram

INSE P20 dog grooming vacuum operates at a lower decibel level than regular home vacuums, making it much quieter. You can start in eco mode with a lower noise and allow your pets to get used to the sound.

It seems works great, but there's absolutely no way my dog/cat will let me.

If your dog or cat is sensitive to vacuum cleaners and resists grooming, it's best to take things slowly.


Start by using their favorite snacks to get their attention, just like professional dog trainer @ayce.and.aria did in her video "How I groom my Aussie?"
Next, use a grooming brush or de-shedding brush without turning on the vacuum to help your pet get familiar with the process.
Once your pet is comfortable with the grooming, you can gradually introduce the vacuum by starting it on eco mode, which has the lowest sound, and continue grooming with ease.
How to groom my dog at home?

To groom a dog at home, you will need to brush dog's fur regularly, bathe the dog occasionally, trim nails, clean ears, and brush your dog's teeth. Make sure to use the right grooming tools and techniques for your dog's breed and coat type. It's also important to be gentle and patient during the grooming process.


Here is a "A Beginner's Guide to DIY Dog Grooming" at home, and "12 DIY Dog Grooming Tips" for your reference.

How often to use the dog grooming kit?

The frequency of using a dog grooming kit depends on the breed of your dog and its grooming needs. Some long and thick-hair dogs may require daily grooming, while other short-hair dogs may only need grooming once a week or every few weeks.


In general, it's a good idea to brush your dog's fur regularly to prevent matting and tangling. It is also suggested to read this grooming frequency guide to learn more.

My dog is a big-time shedder. How often does the canister need to be changed during one use?

The canister of the p20 pro dog grooming kit is 1.2L. If you have a large shedding dog, you may need to empty the dustbin frequently as it is not big enough to store all hair. However, We recommend keeping a trash can nearby to easily dispose of the hair instead of running to the dump while brushing. The canister contains the hair and is easy to remove and empty.

Love!!
So useful. We have a golden retriever who sheds like crazy and this vacuum is such a lifesaver. Worth every penny. Its quiet, efficient, and easy!
Should purchased earlier
Not only does it have a good clean crisp sharp cutting tool but it helps cut the dog in addition to the vacuum of the hair because it pulls the hair up to the blade, so in other words it sucks it up for you helping catch the hair to groom better! The hair stands up better to groom because of the suction vacuum. I did not have one tiny speck of hair anywhere outside of the vacuum chamber! I was constantly chasing hair before. It is not horribly loud. Especially in the low setting! I also tried the brushing deshedding tools on my cat and although he wasn't pleased he didn't run away immediately. So depending on how skittish your cat is then I'm not sure about using it on cats. But for grooming my Maltese this has made the chore go from a couple of hours to 30 minutes. And no hair on my face or up my nose or on the floor or 16 miles away to have yo clean up. I definitely definitely definitely would recommend this! So now a couple of things I wish were better … I do wish the hose was longer, I do wish it rotated easier so that while you're grooming it didn't swivel up and you have to stop and straighten it and of course I do wish it was a tiny bit quieter but I suppose that technology will come with time.
I love this and highly recommend it for dogs that she'd like crazy
Game changer in cleaning up after hair cuts
Tip: if I cut so the hair points in the same direction that the air is sucking into the vacuum, the hair sucks directly into the vacuum and our dog gets scared. However, if I cut so that hair has to do a 180 degree turn around the lip of the vacuum opening to get sucked into the vacuum, the hair doesn't get sucked in as hard and our dog tolerates the vacuum a little better. Also because the hair has to do a 180 degree turn before sucking in, it gives a little more even, longer cut than the comb size I'm using, which i like since bigger combs are a bit more difficult to use (for me). Also the hair comb in sucking in the hair into the vacuum causes all the hair to suck in which gives the dog much more even cut then I used to give her with a non vacuum clipper because all the hair is rising to get sucked into the vacuum. Previously a lot of the hair would stay glad against her skin and not get picked up by the comb. Also the vacuum gives the hair a blower like effect so she looks like she had a professional hair blowing session after she's done. I've been cutting my husband's dog for a few years now and he said the haircut was the best yet after I bought this vacuum hair cutter. Cons: 1) this vacuum scares our dog so badly I have to physically hold her down using a lot more force than even for getting her nails grounded down or the regular hair cutter (both of which scare her badly and causes her to shiver non stop during those sessions). The only thing she hates worse than this vacuum is the sonic plaque/tarter remover for her teeth 2) there is no off switch which will just turn off the blower but let's you keep cutting hair. This is a huge pain when cutting through knots or sensitive areas like eyes, where she wants nothing to do with the vacuum
Awesome
Love this cutting system. Love that it sucks up hair as you cut. No mess and so easy to clean canister. Lot of tools and booklet explains what they all do. I have never used these type of cutting clippers, so it took a little time getting used to it. I was afraid I would cut her hair too short, so I started out with the longest comb on the Clipper. It took me a few times to get her the way I liked her cut, and now I know what size of comb to use for what kind of cut I want. I absolutely love it! I had never cut a dogs hair before, except for just trimming with scissors. It seemed a little high priced at first but when you compare paying $60 plus to get your dog groomed and then you don't even know if it's going to be what you like, it's well worth it. It will pay for itself in a couple of cuts.