INSE is a brand that is dedicated to creating more functional vacuums at a proper price, its product in the cordless vacuum category are especially outstanding. Some customers may hear a lot about big brands like Dyson, Shark, etc., and they are not familiar with INSE vacuums.
If you are wondering if the cordless stick vacuum from INSE is good or not, or if you are looking for a vacuum to meet your specific cleaning needs like a vacuum for pet hair or a vacuum for apartments, maybe the Amazon customers who've purchased more than one INSE cordless vacuum could tell you a bit about the experience of using an INSE cordless vacuum. Let's get through all the cordless vacuum reviews and listen to what they said.
--
INSE S600 Cordless Vacuum - Powerful and Adequate
S600 stick vacuum is one of the hottest products among all the cordless vacuums. With 23Kpa powerful suction and reasonable price, it could sweep and pick up the debris and pet hair from hardwood floors and low/medium pile carpets. It could run at most 45 minutes in the standard power setting, long enough for cleaning an apartment of moderate size.
It is accepted and promoted by many customers. Like Gail D Smiley said, "This cordless vacuum has met all of my expectations. First, let me say this is my first time doing a review, I always take time to read reviews and decide on this cordless vacuum because people stated it had the same power as a Dyson so I gave it a try. I love it, I have a dog who sheds hair like crazy. This cordless is always full when I finish and it truly does a great job. I am so happy with this purchase and I love the power indicators on the front. If you purchase you will not be disappointed, I am even able to clean the tracks of my doors. Totally satisfied!!!"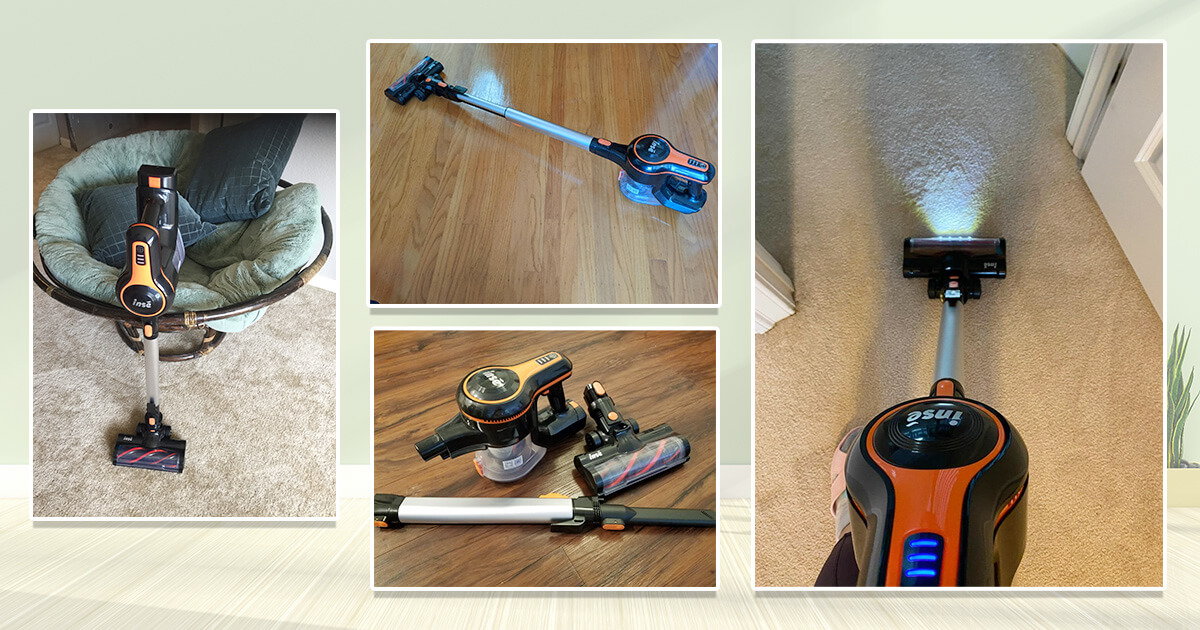 People.com endorsed, "the Inse S600 Cordless Stick Vacuum Cleaner, which shoppers say is so user-friendly, it can be operated from a wheelchair " on its blogs - Shoppers Are Replacing Their $500 Vacuums with This $110 Cordless Option.
"cat hair" pops up on S600's reviews dozens of times, it demonstrates to some degree that it does a good job of picking up pet hair like cat hair. As MediaBoxEnt who is the hall of fame and also one of the top 50 reviewers on Amazon said, "Lightweight and a powerful vacuum to pick up cat hair! this vacuum cleaner is perfect for my cat hair needs, oh my! it picks up cat hair beautifully in a very powerful way..." Therefore, if you got a furry pet in your house and you always feel exhausted cleaning the pet hair, you could try INSE S600.
For more details, please click here INSE S600 cordless vacuum product page.
INSE S6 Cordless Vacuum - Suction Vacuum
This suction vacuum is considered to be the most functional vacuum. INSE S6 cordless vacuum is the most expensive one among all the cordless vacuums with one rechargeable battery currently, but it is also another one that many customers pick.
It has the same powerful suction as the S600 vacuum, but its motorized brush head has more power than S600's, which means it outperforms S600 regarding its clean efficiency. Besides, it performs better on low/medium pile carpets, its exclusive stiff roller brush could efficiently beat and roll up the debris from the carpet fiber. It also has a soft roller brush which could specifically work on the hard wooden floor and polish the floor when vacuuming.
It is also a vacuum for cars, just attach the motorhead with the flexible hose, and it easily maneuvers in, under, and around seats to find runaway dirt and debris. No need to move the whole vacuum in such a narrow space, all the small debris or big particles could be picked up by its strong suction. It is also a vacuum for the bed with the help of the bed brush, removing all the hair, dust, and even bed bugs on the bed.
Many customers would do a lot of research before purchasing a high-value product, and so does Lynda, who purchased an INSE S6 on Cyber Monday in 2020. "...Before I selected this one, I created a spreadsheet with 10 columns & reviewed 44 cordless vacuums I liked on Amazon. The main features I looked at were Battery Strength, Power Time, Amount of Power, Motor Suction, & Tools included. I reviewed & compared all the features of 44 cordless vacuums & selected this one..."
Another Amazon customer also studied a lot before picking the INSE S6. "I researched many different stick vacuums and read an insane amount of reviews on them all. I was inches away from buying a 600-dollar vacuum when I found this one..."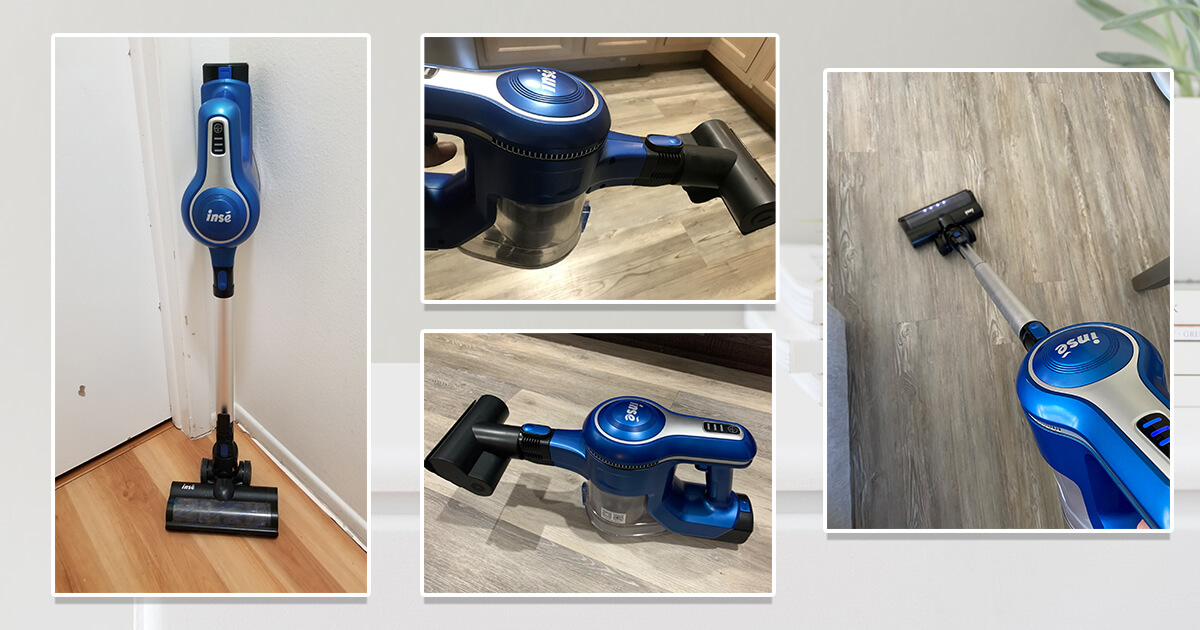 At last, they all choose INSE S6 and get a happy result. "This vacuum is awesome! We have a 1200sqft home, tile/carpet/hardwood, it has picked up anything we've run over, and we've never run short with battery power. All of the attachments are super useful, a good variety of whatever you might need it for. I was sold when I found that the battery can be removed and plugged in elsewhere, I really didn't want to attach anything to my walls. I really enjoy the headlight, my wife loves vacuuming with the lights off, it aluminates every bit of dirt on the tile. An unexpected factor we were both very happy with is it will stand up on its own, so no leaning in a corner or falling over. It's pretty lightweight and you don't have to hold the trigger the whole time, just a click and it stays on. Best little vacuum ever! You won't be disappointed."
One hall of fame reviewer on Amazon, who is also a top 50 reviewer, Sunshine Mel also votes S6 vacuum, "...I decided it was time for an upgrade. I liked that this one has many attachments and can work as a small vacuum or full-size stick vacuum. It was easy to assemble and stays charged much longer than the previous stick vacuum I had owned previously. It has plenty of suction and is easy to maneuver - even into corners."
For more details, please click here INSE S6 cordless vacuum product page.
INSE N6 Cordless Vacuum - Lightweight Vacuum
N6 vacuum is as known as the most lightweight vacuum among all the INSE cordless vacuums, even lighter than other brands' cordless vacuums.
The main body just weighs 2.59lb, even an elderly or a youngster could raise it up. While being a vacuum, it does not lose suction because of its weight, it could still meet household needs like basic light cleaning, for instance, cleaning out hair, small debris, small particles, etc. And some people do love its performance on low/medium piles and picking up pet hair.
Elizabeth is amazed by INSE N6 cordless vacuum. "So, I am super picky about vacuums... My house is old and all the outlets are in annoying and difficult-to-reach locations, so I knew I needed a cordless vac. On a hunch, I purchased this little guy and I am SOOOOO impressed by it! It has 2 suction speeds, the slower speed has taken care of all my needs thus far, and it picks up all the dirt, and human and dog hair without issue... as an experiment, I used high suction to see how long the battery lasted, and I was able to vacuum my entire house once before it needed charging..."
Elizabeth also mentioned other awesome features, "1. It folds down so nicely, it's super compact and I have mine charging/stored under a guest twin bed. 2. The carpet/floor piece has a very bright light that illuminates the floor so you can see all the dirt, dust, and hair! I have some large area rugs but mostly hardwood floor and the light really helps me see where I need to vacuum. And number 3, the carpet/floor piece is so unbelievably maneuverable!!!...and I could not be happier with this little vac that truly surprised me with its awesomeness!!"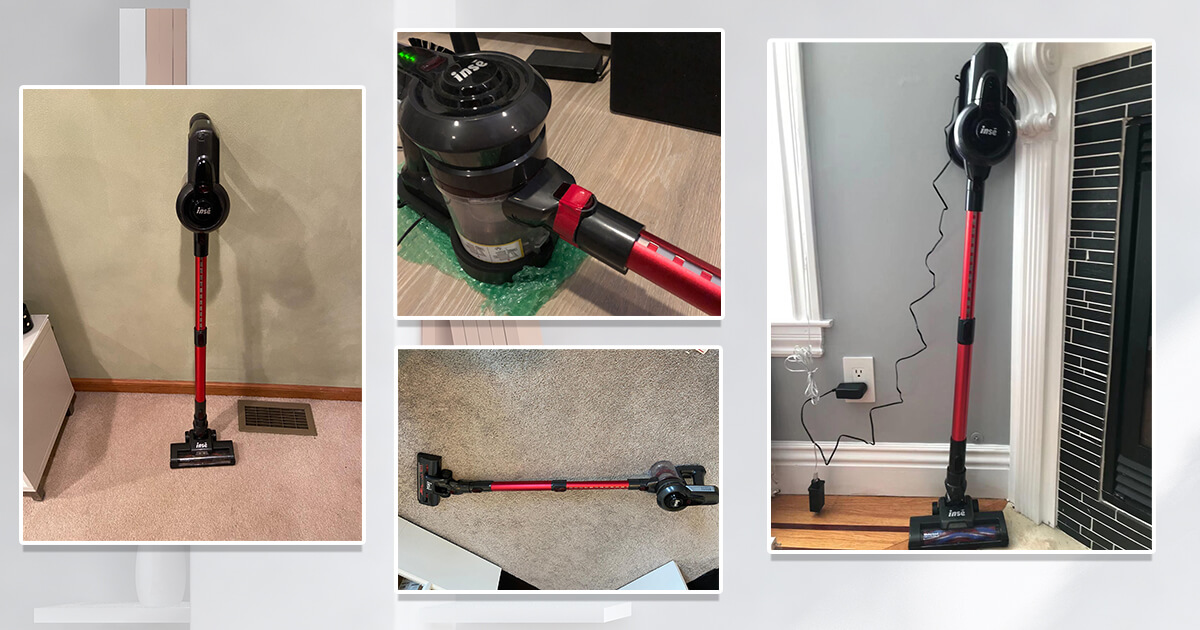 Another Amazon customer's daughter falls in love with cleaning because of this light vacuum. "This is a handy and extendable vacuum for small cleaning for small incidents and accidents in the kitchen. Instead of pulling my bulky full-size vacuum, this is sitting at the corner of my pantry room, ready for immediate use with no cables involved. Weekends are my vacuum day and my daughter always wants to use my other vacuum while I am vacuuming. Now I hand this to her and she loved it, its lightweight is right to her I think. Vacuum-wise, I think it has pretty good suction power."
For more details, please click here INSE N6 cordless vacuum product page.
INSE N5 Cordless Vacuum - Loved by 1000+ customers
N5 cordless vacuum is not an updated version of the N6 vacuum as they are designed out of distinct models, but this N5 is also supported by many customers.
A bit heavier than the N6 vacuum, INSE N5 cordless vacuum could still be counted as a lightweight vacuum. It is a cordless vacuum entry-level that you could choose if you are a starter on using the cordless vacuum. With 12Kpa on the higher power setting, it could sweep the daily waste away without effort.
Tammy said, "Even though it's really lightweight the suction and motorized brush heads do a great job of picking up everything. The lightweight, short length (when not using the tube) and smaller brush make cleaning the stairs much easier than in the past." And Ye agrees, "Very competitive for its price. Super lightweight and easy to use. It has a good battery life and it works for a long time."
Many people like its practicality and flexibility. "This is a great vacuum and with a nice package. It's super light, quiet, and easy to set up and use. I use it on the floor and on the sofa. I appreciate that there are no wires, especially for vacuuming the stairs. Also super easy to clean out. It is very powerful and the battery lasts a long time. Cleaning the trash out is simple just flip a button and it empties the contents into the garbage. The vacuum charges quickly and efficiently."
For more details, please click here INSE N5 cordless vacuum product page.
Excellent Customer Service
Among all of the comments below the INSE products, you would find out that many of them mentioned INSE's excellent customer service. If you enter the word "customer service" on the reviews filters, many good reviews about this content pop up.
Lynda said, "I also emailed customer service with some questions and their reply was prompt & courteous. I feel comfortable reaching out to them again if I ever have any other questions.
Quotes the saying of Chele, "...I speak to a customer service rep. who had actually reached out to me to ensure my satisfaction (which I greatly appreciated) to ask if INSE sold the amount for the attachments separately? The person I spoke with informed me that unfortunately they do not but she appreciated the feedback and she would be forwarding it to the tech team and even invited me to test it once they had created it. I was extremely impressed with INSE's customer service."
We stand at the back of our products, and even offer help to the customers who need help even though it is not the issue with the product itself. "These folks are AMAZING! I broke the clip located at the attachment handle and motorized portion of the unit. This was my fault as it was dropped by me. However, upon reaching out to INSE Customer Service, the rep replied via email with an understanding of my situation. In turn, the rep provided me with an Amazon INSE store link to the replacement part, along with a 30% discount code. How could I have asked for more? Fantastic service. And, KUDOS to Gina, the INSE rep, who assisted me throughout the replacement part process. Thanks!!!!!!!" MLJ said.
Such words emerge frequently. "I had a modest issue with the unit at first. But that disappeared behind their EXCELLENT CUSTOMER SERVICE. It really is stellar, fast, thorough, and not a one-off. They almost got on my nerves for their follow-up. And then follow-up to the follow-up." " Plus, a terrific customer service email offered to answer any questions we might have, but the instructions were very easy." And so on...
--
However, we could still catch some negative comments about our customer service, and the main dissatisfaction points at "no response from us." "I reached out to customer service multiple times but they didn't respond." "There is no customer service number to call for help."
For this, we would like to clarify again that we never refuse to offer help to the customers that need our help on products. We usually reply to customers within 24-48 hours, responding to our customers at a faster speed with a more professional attitude is what we aim for. We deal with a bunch of emails from our customers every day, so our email may be considered spam by customers' email systems. Another reason is that some customers set up email rules that block emails with domains name.
If you need help, you could also reach out to our customer service here.